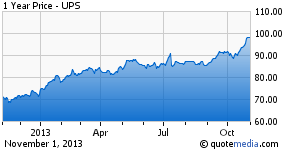 United Parcel Services (UPS) expects a busy holiday season this year, which consists of 26 shopping days between Thanksgiving and Christmas. It is the shortest holiday season since 2002, making it busy for shipping companies. Growing e-commerce sales in the U.S. will benefit UPS, and it expects to handle 4% more U.S. packages than it did during last year's holiday season. The company has already planned to capitalize on the topline growth opportunity from the holiday season. Apart from this, UPS introduced an automated package delivery system that will enhance its operational efficiency.
High expectations from holiday season
UPS expects that online sales will grow by 13% to 15%, for the holiday season, driving shipping package volume growth by 3% to 5% for this period. The company estimates that the peak season daily volume will rise by 8% year over year during the busier days of the season.
The upcoming holiday season will be five days shorter than last year due to a late Thanksgiving. This will prompt more last minute shopping and more shipments. UPS expects to pick up 32 million packages on December 2, 2013, which is the first Monday after Thanksgiving and known as Cyber Monday, this will be more packages than 10% last year. On Cyber Monday, online retailers provide steep discounts for holiday shoppers. To handle this increased workload in the holiday season, UPS will hire 55,000 seasonal employees across the U.S.
Online retailer Amazon (AMZN) is also trying to capitalize on the increased revenue from the holiday season. The company announced free shipping for a minimum order price of $35 for the holiday season, which will attract more online sales. It will also employ 70,000 employees for the holiday season. UPS will capitalize on its strong relationship with Amazon, which uses UPS for e-commerce shipments more frequently than FedEx (FDX). Apart from Amazon, UPS expects to benefit from both internet shopping and traditional retailers, which are getting better at mimicking Amazon.
UPS will make holiday shipping easier for customers with its UPS Mychoice application, which provides subscribers with services such as delivery alerts and redirecting of packages. This application already has more than 5 million subscribers. The new enhancements in the application will allow subscribers to organize their holiday schedule in a much better way. With this, subscribers will be able to manage their online orders with the UPS delivery calendar. The UPS Mychoice will also be available on Facebook (NASDAQ:FB), which is an online home to more consumers.
In the last quarter, the revenue from the U.S. domestic package segment contributed around 61% of the company's overall revenue. We believe that for the present quarter, the share of the U.S. domestic package segment will increase by more than 61% since it will benefit from the holiday season.
What biggest rival is doing to harness the growth from holiday season?
Meanwhile, FedEx expects to carry 22 million shipments on Cyber Monday. This will lead to an 11% rise in shipments on Cyber Monday as compared to last year. For the week December 1 to December 7, FedEx believes it will make more than 85 million shipments. This would be a 13% increase compared to last year. The company expects to handle 260 million shipments from Thanksgiving to Christmas, a 12% rise from last year.
To handle this increasing demand, FedEx will add 20,000 seasonal workers. It will also increase working hours for its existing 300,000 employees. FedEx believes that its newly introduced flat-rate shipping option, which we discussed in our article on FedEx, will increase its share in the holiday-shipping business.
In our last report on FedEx, we compared its cash generation ability and creditworthiness with UPS and C.H. Robinson (CHRW). Now we will discuss these companies regarding their revenue generation ability.
| | | | |
| --- | --- | --- | --- |
| Company | TTM EV/Revenue | TTM price-to-sales | Quarterly Revenue Growth (year-over-year) |
| UPS | 1.66 | 1.66 | 3.40% |
| FedEx | 0.89 | 0.94 | 2.40% |
| C.H. Robinson | 0.82 | 0.80 | 11.30% |
Source: yahoo finance
With respect to valuation, C.H. Robinson's revenue generation ability looks better than UPS and FedEx with a lower trailing twelve months, or TTM, EV/Revenue and TTM price-to-sales. C.H. Robinson is also experiencing high revenue growth compared to the other players. However, UPS generated better quarterly revenue growth year over year compared to FedEx, which indicates that UPS is deriving considerable topline results despite being overvalued.
New automated routing to transform package delivery
UPS introduced a new system named On-Road Integrated Optimization and Navigation, or Orion, after ten years of research and development. The system was designed using data from customers, drivers, and vehicles, leading to a new route guidance system. This new system will help UPS reduce fuel usage and cost. It is also expected to complete more package deliveries per day with Orion. Orion is the world's largest operations research project, requiring $1 billion investment a year in technology. 10,000 out of 55,000 UPS's drivers will be using this system by the end of this year. UPS plans to have all its drivers using Orion by 2017.
As a prior check, UPS installed GPS devices in all of its vehicles. This reduced engine idling by 100 million minutes. UPS moved the project further when it developed its own mapping system. If Orion is able to cut a \mile a day from every driver's route, then it could save around $50 million a year. The Orion service will also complement UPS Mychoice, allowing users to manage deliveries through their computer or smartphone.
It devised the Orion system with algorithms that calculate the best route for each driver for the day. This process takes 8 seconds or less. In this year only, the new technology will help the company to save 1.5 million gallons of fuel and reduce CO2 emissions by 14,000 metric cubic tons. We expect that the company will save more in fuel consumption and CO2 emissions than this since it will expand this system beyond 10,000 drivers in the coming years.
Conclusion
We expect the holiday season will drive revenue for the fourth quarter and will enhance the topline. UPS will derive cost savings from its Orion program. This will enhance the operational ability and profitability for the company. Overall, UPS's fundamentals are strong enough to derive considerable stock returns in the future. We suggest buying the stock since it is expected to provide better results in the coming quarterly results.
Disclosure: I have no positions in any stocks mentioned, and no plans to initiate any positions within the next 72 hours. I wrote this article myself, and it expresses my own opinions. I am not receiving compensation for it (other than from Seeking Alpha). I have no business relationship with any company whose stock is mentioned in this article. Fusion Research is a team of equity analysts. This article was written by Shweta Dubey, one of our research analysts. We did not receive compensation for this article (other than from Seeking Alpha), and we have no business relationship with any company whose stock is mentioned in this article.