Admittedly, REITs have never made up a large portion of my portfolio. When I have held them, I've held them for the sole purpose of diversifying and having a dividend payer. For those of you unfamiliar with REITs, they're basically a security that trades like a regular stock; but one whose assets lie in either direct ties to real estate, or one whose assets are comprised of a portfolio of real estate investments. They're kind of like ETFs for real estate.
The main argument for being bullish on real estate right now is that not only is the housing market rebounding, but bulls seem to think that we still have sufficient demand for real estate churning below the surface of the economy that hasn't even hit the market yet. And, as housing continues to recover, it can act as a macro push forward for REITs.
(Source link - money.cnn.com)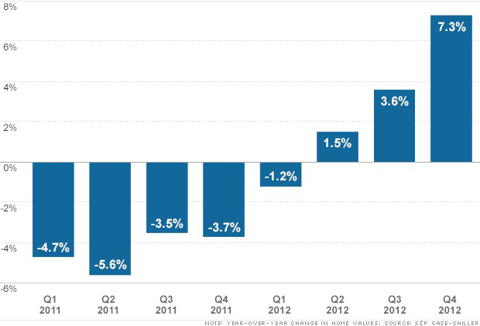 (Click to enlarge)
REITs look like a great investment to me right now because they've lagged over the course of the year, and I love to look at where the overlooked discounts in the market are.
In addition, some of the most consistent REITs pay a dividend yield of 3.5-3.8%, which makes them a much more attractive investment when compares to Treasury notes or bonds. The law in the U.S. requires REITs to distribute 90% of their annual taxable income in the form of dividends, so the shareholders win in that regard.
REITs, which started the year with some force, have pulled back some 10-15% during the middle o the year on the comments that the Fed was going to begin to taper.
(Source link from Wall Street Journal Online)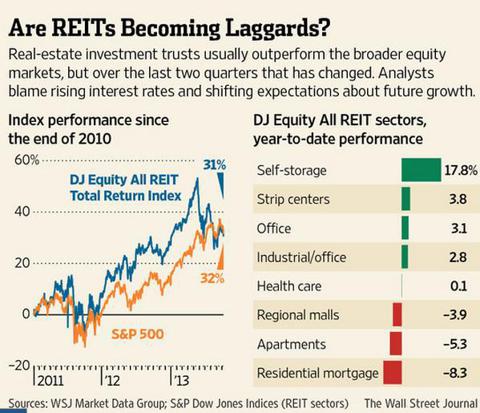 (Click to enlarge)
However, with the Fed continuing at act dovish, yield hungry investors should see this pullback as an opportunity to buy REITs at a discount.
Analysts like Marc Halle from Prudential agree with me:
Currently, "in many markets, there's not a mismatch between supply and demand," says Marc Halle, manager of the Prudential Global Real Estate Fund, up 4% this year through September. "As the economy gets better and we add more jobs, you can't produce more supply overnight…[so] we'll start to see landlords have pricing power." Higher retail sales and increased business confidence might push up demand and prices for many types of real estate.
At this point, I am bullish on REITs for a several year hold. Likely to rebound as the Fed continues to babysit the economy, REITs can be part of a great foundation to a diversified portfolio while providing the security blanket of consistent dividends.
For steady returns, Barron's suggests REITs and trusts like Parkway Properties (NYSE:PKY), Ramco-Gershenson Properties Trust (NYSE:RPT), Rayonier (NYSE:RYN), RLJ Lodging Trust (NYSE:RLJ) and Stag Industrial (NYSE:STAG).
For reference, I've compiled a list of other REITs and subheadings for the type of investment they are vehicles for.
List of Other Real Estate Stocks & REITs
(compiled from this list and this list)
Industrial
Regional malls & Shopping Centers
Office
Apartments
Mortgage
Disclosure: I have no positions in any stocks mentioned, and no plans to initiate any positions within the next 72 hours. I wrote this article myself, and it expresses my own opinions. I am not receiving compensation for it (other than from Seeking Alpha). I have no business relationship with any company whose stock is mentioned in this article.