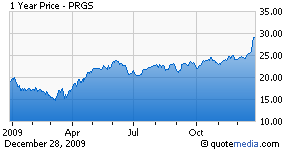 Progress Software Corp. (NASDAQ:PRGS) posted GAAP earnings of $16.7 million for the fourth quarter of fiscal 2009, compared to GAAP earnings of $6.4 million in the year-ago quarter. Excluding special items, earnings per share came in at 50 cents, which topped the Zacks Consensus Estimate by 14%, or 6 cents.
The company reported a 2% reduction in total revenues to $136.8 million during the quarter, compared to $139.4 million in the year-ago period. The decrease was primarily caused by a 7% decline in software license revenues to $52.0 million partially offset by a 2% growth in maintenance and services revenues to $84.8 million. In terms of geographic divisions, North America contributed approximately 43% of total revenues followed by 42% from EMEA (Europe, the Middle East and Africa), 9% from Latin America and 6% from Asia Pacific.
Progress Software's operating income more than tripled to $25.8 million, from $8.5 million in the year-ago period. The growth was primarily the result of management's efforts to aggressively reduce costs, which led to an 18.4% reduction in total operating expenses. Earlier this month, Progress Software announced restructuring of its sales, development and marketing divisions, which will lead to a 12% to 14% cut in global workforce.
At the end of the quarter, Progress Software had cash and cash equivalents of $224.1 million, compared to $118.5 million of cash in the year-ago period. During fiscal 2009, the company received $24.9 million from redemption of investments and deployed $7.4 million towards capital expenditure. The company also stated that during the quarter it received board of director's authorization to buy back up to 1 million shares through September 2010.
Looking ahead, Progress Software expects fiscal 2010 first-quarter revenues to range between $123 million and $126 million and adjusted earnings to range from 44 cents to 46 cents per share. The guidance is higher than the Zacks Consensus Estimate of 38 cents per share.
Moreover, the company also anticipates revenues for the entire fiscal 2010 to range between $520 million and $530 million and adjusted earnings to range from $2.15 to $2.25 per share. The guidance is well above the Zacks Consensus Estimate of $1.90 per share, which has moved up by 28 cents in just the past week.
Progress Software is a global supplier of application development, deployment and management technology, Internet and intranet enabling technologies and support services to business, industry and government. The company's products include application servers, databases, development tools and application management products.
Since the earnings release, shares of Progress Software have advanced more than 11% to close at $29.20 on Thursday, Dec 24, on the Nasdaq. The stock scaled a 52-week high of $29.50 earlier in the same day.