There really is a Santa Claus, as far as investors are concerned. Against the odds, stocks moved higher last week by about 2% with the help of decent existing-homes sales and lowered continuing claims. Never mind the fact that those two items were the only encouraging news.
Even more stunning…. volume was actually pretty strong, considering it was a shortened week. It forces the question of whether or not there were that many suckers last week, or if the bulls are actually growing legs again. We contend it's still a mix of both, and largely depends on your timeframe.
Our Traders Edge outlook on stocks -- a bigger picture view -- is still bullish, identifying the potential that was unleashed last week. That service is effectively recommending staying long, and buying on dips. On the flipside, this outlook – shorter term in nature -- warns of such a dip brewing up within the next few days. (Between the two, timing the market's ebb and flow can be done with laser-like precision.)
So what happens now that the market busted through its ceiling with a little volume? Does this offer an omen of more upside, or does this just set up a slightly-higher starting point for a pullback? We'll stick with the latter as far as the near-term is concerned. The 'why' can be gleaned below, starting with the economic calendar. (Click to enlarge)
Economic Calendar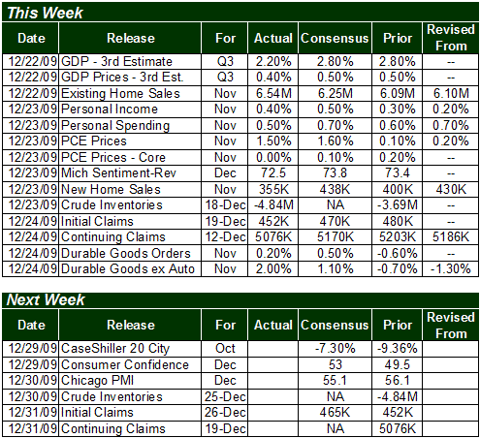 Click to enlargeLike we said above, existing-home sales and lowered unemployment claims were the only real bright spots last week in terms of the economy. New home sales, durable goods, sentiment, income, spending and GDP all showed slowing growth ….which is still better than no growth, but isn't exactly inspiring to investors either.
As for the coming week, a lack of news may be the reason for tepid weakness. Only three monthly pieces of data come out, and though they're all three biggies, even if they're good they may get lost in the year-end shuffle. Take a look at last week and this week's updates.
S&P 500 Index Daily Chart
click below to read more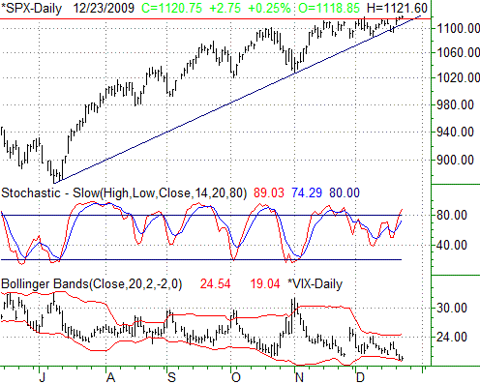 Click to enlarge
We know we've been talking quite a bit about the S&P 500 of late, at the expense of other indices. For the sake of continuity though, we'll stick with it for one more week.

You may have to squint to see it, but the SPX did indeed manage to scoot above resistance at 1119 (red) last week. At the same time, we can also see a strong rising support line (blue) has materialized.
So is that good, or bad? Great question. Taken at face value, it's good -- as in bullish -- to see support remain resilient while resistance fails. And, that's what we're seeing here. One has to wonder, however, if this is the market's way of luring the majority of investors back in when they had been uncertain, only to unload stocks on them now that they're back in a buying mood.
If it were, it would be a classic rising wedge shape coming to fruition as most of them do….bearishly. As we said above, for the near term, we feel this is a set up for a short-term dip, especially now that the S&P 500 is stochastically overbought. We have no reason to feel it wouldn't be a normal-sized correction though, as we've discussed before. The ultimate clue, however, may take a little time to develop, and will likely come from a chart other than the SPX's.
VIX Weekly Chart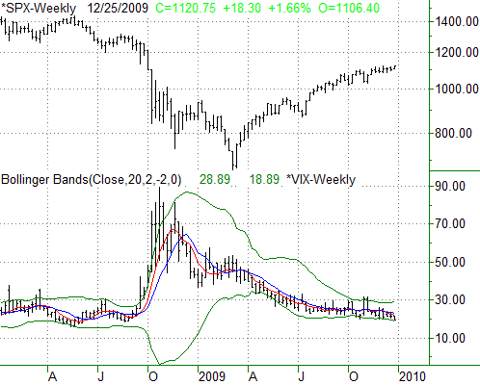 Click to enlarge
There's been little need to look at the VIX over the prior six weeks, as it's been stuck in a range between 20 and 26 during that time. Last week's slide to a multi-year low of 19.35, however, represents a surprisingly-moderated optimism from traders…. the kind that just may end up letting the market move even higher even though the odds still work against them.
The key to the bull trend's longevity will depend on two things on the weekly VIX chart… (1) if the VIX's upper Bollinger band (they're green) starts to point lower again, and (2) if the VIX's two moving averages start to diverge again as the VIX moves lower [they already have somewhat]. Those two hints will confirm that the VIX is actually trending lower, rather than just getting pushed around by some volatility.
This weekly VIX chart is well worth pointing out, if only to illustrate that investors aren't diving into stocks blindly and arrogantly…. it's a well-defended and cautious rally. Oh, even the modest confidence may be errant, but the lack of explosive moves lower from the VIX will stave off on major, bull-crushing setbacks.
That's largely why we're still bullish in our Traders Edge outlook, and why we keep saying buy the dips.
Stay tuned, as the next couple of weeks will take the market through critical inflection points. We'll post updated charts soon, anticipating some concrete answers.
Dow Jones Industrial Average Daily Chart
For what it's worth, the Dow did not break through resistance around 10,550. It was the only index that didn't break through to new multi-year highs. This lagging relative to the less-stable and more aggressive indices also suggests a broadly bullish mentality.
Earnings Calendar
There are no major earnings announcements slated for this week, but a handful of big ones were announced last week. Among them were ConAgra (NYSE:CAG), Jabil Circuit (NYSE:JBL), and Walgreen (WAG). ConAgra beat EPS estimates of $0.47 with $0.52, Jabil beat of EPS estimates of $0.29 by turning in a profit of $0.32 per share, and Walgreen topped estimates of $0.48 by a penny.
Disclosure: No positions