With the recent government shutdown, I have been thinking about the real estate that the government operates. It's hard to imagine how a building that hasn't been occupied for 16 days can produce a profit for the government (according to The Huffington Post it cost $300 million per day). But wait, I forgot that the government does not produce a profit, so paying rent, taxes, insurance, electricity, and water is just like taking a vacation and not worrying about the bill - until I get the credit card bill thirty days later.
A few years ago, I owned a chain of pizza stores and I leased all eight locations. The rent, taxes, insurance, and utilities cost me around $3,000 a month (per location). In addition, my labor cost was around $12,000 a month per store. That's $120,000 for a month (for all eight stores). If I had closed all eight stores for two weeks that would've cost me around $60,000 - or about one-third of the profit for operating the eight stores over a year.
It's truly amazing to watch how the government works. As I sit here typing this article, I am motivated to write for profit. I mean, Seeking Alpha does not pay contributors a lot of money but I do consider the fact that I will get some compensation that will allow me to get a modest paycheck. I also write a monthly newsletter and in order to be successful, I have to write and provide consistent content - or there will be no business.
Not the government. There is simply no motivation to pay the bills. It really doesn't matter whether the lights stay on or not. Many nights I stay up until midnight to write as I know that there will be a payday and I will be able to buy my son a new game or my daughters a new toy. Not the government, there is no motivation to become profitable and I find that truly amazing. Ok, I won't rant… let's talk about government real estate.
Government Properties Income Trust - A Landlord to Uncle Sam
As most of you know, I have covered just about every Triple Net REIT and last week I wrote an article on Realty Income's (NYSE:O) earnings. Also, I recently wrote an article on Spirit Realty Capital (NYSE:SRC) as well Monmouth Real Estate (NYSE:MNR) - see that article here. The recently announced merger with American Realty Capital Properties (ARCP) and Cole Real Estate (NYSE:COLE) has created a stir and the growth of the once retail-centric investment model is becoming revolutionized by larger deals that have gotten the attention of Wall Street.
It's interesting. I used to research the Triple Net REITs with the retail investor in mind, yet more recently I have been thinking more like an Institutional buyer - with a mindset aligned (like an institutional investor) towards consolidation and scale. What is even more interesting is that the Triple Net REITs have a much better business model to gain economies of scale (than the other REITs) because they have lower G&A expenses and there is considerably less management - other than making sure you get a rent check each month.
The fact is, the most essential element to Triple Net investing is acquisitions. Think about it a minute. You buy a Triple Net leased building for one reason - to collect rents over a long period of time. You're not as interested in the use of the property as much as the credit of the tenant and the reliability of the contractual long-term rent payments. Most investors don't care to visit their Triple Net properties regularly as they are most interested in collecting a rent check in the mailbox each month.
So what would it feel like if I owned a government leased building and I knew that my tenant was not occupying the property? Better yet, what would it feel like to watch the television and see that my tenant - the government - was going the subject of a credit downgrade? That's not what I call "sleeping well at night." What would it be like to own 84 government leased buildings with over 10.4 million square feet in 31 states and in Washington, DC?
That's simple; it would be like owning shares in Government Properties Income Trust (NYSE:GOV).
Government Properties Income Trust - The Model
Government Properties Income Trust is a REIT that owns commercial properties, majority leased to government tenants. The company is externally managed by REIT Management and Research (or RMR), which also manages CommonWealth REIT (NYSE:CWH), Hospitality Properties Trust (NYSE:HPT), Senior Housing Properties Trust (NYSE:SNH) and Select Income REIT (NYSE:SIR). I am not in favor of externally-managed REITs; however, since GOV is a Triple Net REIT I am not as alarmed with the unaligned (externally managed) model.
GOV has a $1.7 billion investment portfolio (historical investment basis) with 84 properties in 31 states and Washington D.C. containing 10 million square feet. The tenant mix includes 34 U.S. Government agencies, 27 state government agencies and the United Nations. Around 94% of annualized rental income is paid by the U.S. Government, 10 state governments and the United Nations.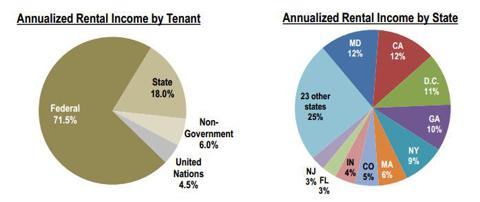 The true value proposition for GOV is the fact that government tenants are not likely to default and have a high historical renewal rate; well above non-government tenants. We all know that the government is not good at running a business, the facts are clear: The government will not go out of business. That means that the rent checks will be steady and reliable. Here is a snapshot of some of GOV's representative tenants: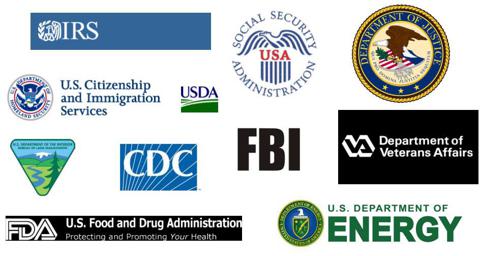 GOV has 113 tenants and 86 are government (federal) agencies that represent around 6.73 million square feet and 72% of GOV's annualized base rent (or ABR).

GOV has 27 state agencies (as tenants) that represents 1.791 million square feet or 18% of GOV's ABR.

I liken GOV's business model with the analogy of "fishing in a barrel." In other words, GOV is the only REIT that is focused on government-leased properties, so there is limited competition in the specialty sector.
The General Services Administration (or GSA) manages the operations and leasing of 9,600 properties containing 354 million square feet and provides work space for more than one million federal employees. There are around 8,100 government leased properties containing around 197 million square feet. GSA's focus is to ensure that government employee space is appropriately utilized. The agency also disposes of under-utilized federal owned assets that aren't mission critical.
GOV is one of the largest owners of government leased space but ownership of leased space is highly fragmented. As illustrated below, GOV owns around 3% of the overall Federal-leased real estate.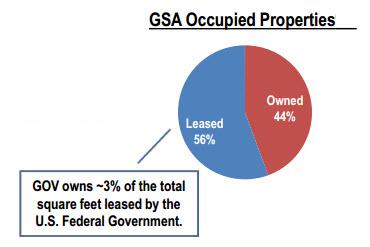 One of the reasons that GOV has little competition in the specialty sector is because of the structure of government leased properties. Most leases are "gross" meaning that the Landlord, not the Tenant, pays for ALL operating costs. That means that the Landlord is responsible for paying for taxes, insurance, roof, structure, parking lot, and in some cases, utilities.
Also gross leases generally have flat rents and annual expense reimbursements over an established base (determined by changes in the regional CPI plus 100% of any increases in real estate taxes over a base amount). In other words, these leases are much more risky than the standard "NNN" leases where the Tenant is responsible for ALL property-level costs.
Like NNN Leases, Gross Leases are usually 10-20 years (base term) with extension of renewal options (5-15 years). However, many Government leases give the agency the right to terminate sometime during the latter term of the lease. That means that the Tenant has the right to "walk away" from a Lease for any reason at all - that includes a government shutdown, closing of the Post Office, or just because the wind blows.
Also government leases offer little inflation protection since there is generally no reimbursement of operating expenses. Many state leases are subject to budget appropriations and that limits any upside and increases the risk of leased assets - especially in smaller markets where many GOV assets are located. Here is a snapshot of GOV's top 25 tenants: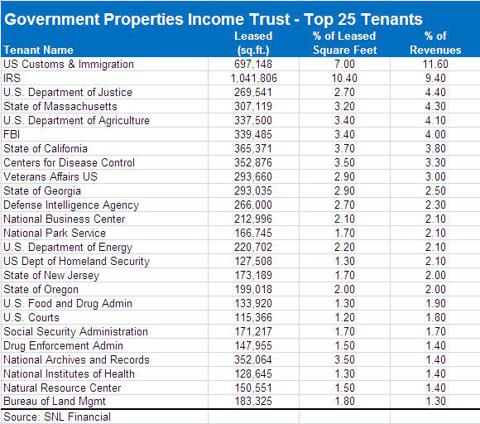 Government Properties Income Trust - The Fundamentals
GOV has a fairly stable lease maturity schedule: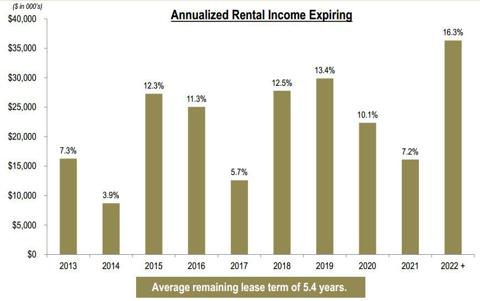 However, I am concerned about some larger rollovers occurring in 2018, 2019, and 2020. Also, I expect that the company's occupancy rate (94.6%) could have some near-term pressure as two large tenants should move-out of their respective spaces in Q4-13. The CDC plans to hand back the keys to 70,000 square feet and The State of California exercised an early termination option for leases aggregating 44,000 square feet. It's likely that the near-term occupancy rate could grow by 80 bps in Q4-13 and then stabilize to around 95% (as Emory University leases around 75,000 square feet).

During 2012, GOV acquired 13 properties for $214 million at an average cost per square foot of $169, a weighted average cap rate of 8.2% and a weighted average remaining lease term of 10 years.
Since July (2013), GOV has acquired or entered into agreements to acquire eight properties for $99.1 million and in August the company acquired an industrial property in Chester, Virginia containing 228,000 square feet for $12.5 million excluding acquisition cost. The purchase price per square foot for this acquisition was $55.00, the acquisition cap rate was 8.3% and the remaining lease term was 7.2 years. The property is 100% leased to the U.S. Government and occupied by the U.S. Army as a logistics center.
In August, GOV acquired an office property in Bethesda, Maryland containing 129,000 square feet for $18.3 million excluding acquisition cost. The purchase price per square foot was $142.00, the acquisition cap rate was 10.7% and the weighted average remaining lease term is 2.6 years. The property is 100% leased to the U.S. Government and occupied by the National Institutes of Health. The property is located adjacent to NIH's headquarter campus and believe to be a permanent part of the agency space needs making a lease renewal in 2016 highly profitable.
Obviously GOV is betting that the Bethesda facility (leased to NIH) will be renewed; however, I see considerable risk in acquiring an $18.3 million property with only 2.6 years remaining on the lease. Regardless of the strong ties that GOV has with government, I don't see that the return (10.7% cap rate) justifies the risk. What if NIH finds a more attractive site nearby or what leverage does GOV have while negotiating a "gross" lease? If I were NIH, would be negotiating free snow removal for the term of the lease and perhaps 30% reduced rent. In other words, that 10.7% cap rate could turn into 5% in a New York second.
Since July, GOV entered into agreements to acquire six properties containing 314,000 square feet for $68.3 million excluding acquisition cost. These properties are all 100% leased with approximately 60% space occupied by two State Government agencies, 16% of this space is occupied by the U.S. Government and the balance of this space is occupied by seven non-government tenants.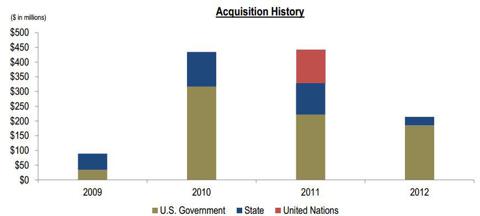 Turning to the balance sheet and liquidity, at quarter-end (Q3-13) GOV had $510 million of debt outstanding including $69 million outstanding on its $550 million revolver. Debt to total book capitalization was 33.8% at quarter end and GOV had approximately $160 million of debt capacity to fund acquisition growth. As noted above, GOV currently has six properties under contract to purchase for an aggregate purchase price of $68.3 million and the company is marketing for sale three properties that have a combined net book value of $25.6 million. GOV has maintained a conservative debt model with less than 40% debt to book (currently 31%).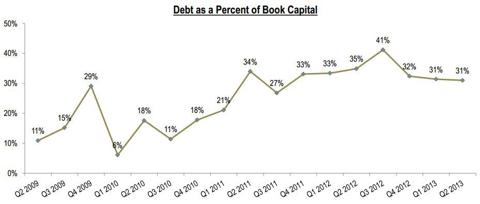 GOV has a well-balanced and conservatively funded capital model that consists of common equity (69%), unsecured financing (23%), revolving line (2%), and mortgage debt (6%). GOV is one of just a handful of Triple Net REITs that also enjoy an investment grade rated balance sheet (Realty Income has BBB+ and National Retail Properties has BBB S&P rating). Since the last quarter (Q2-13), GOV has reduced its mortgage debt from around 20% to around 17.9%.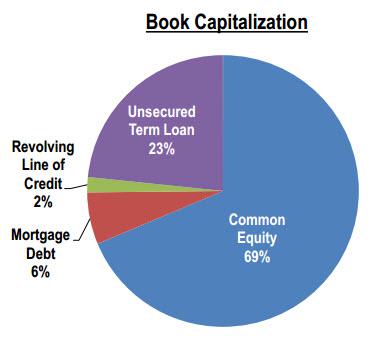 GOV's net debt to EBITDA ratio is 3.9x and fixed charge coverage is at 4.8x. The company has around $480 million of liquidity compared to only $50 million of debt maturing through 2015. The company's leverage metrics are well-below the peer group and it's clear that the company will be able to acquire another $100 million in assets without raising equity (through 2015).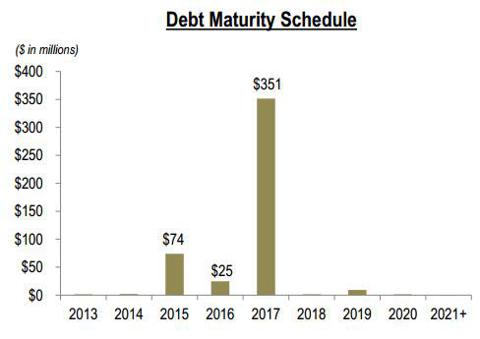 Government Properties Income Trust - Comparing the Peer Group
GOV went public on June 2, 2009, so we can only rely on 3 ½ years of operating history. Currently GOV has a market cap of around $1.349 billion, ranking the REIT in the smaller cap category.

Likewise, based on assets ($1.527 billion), GOV ranks as a smaller peer in the growing Triple Net sector. As of today, Realty Income is the largest Triple Net REIT with assets of around $9.4 billion.

After ARCP closes on the announced mergers (CapLease, ARCT4, and COLE), the New York-based REIT will be the largest Triple Net REIT with combined assets of over $14 billion.

For the third quarter (2013), GOV reported normalized Funds from Operations (or FFO) of $27.9 million or $0.51 per share compared to $25.6 million or $0.54 per share for the third quarter of 2012. The 9% year-over-year increase in normalized FFO is primarily the result of accretive acquisition activity. For the 2013 third quarter compared to 2012, GOV's rental income increased $4 million or 7.6% to $56.4 million and property net operating income increased $1.7 million or 5.1% to $34.6 million. At September, GOV's properties were 94.6% leased.
Same-store operating expenses for the latest quarter increased $870,000 or 4.6% quarter-over-quarter with increases in real estate taxes, payroll, utilities and property insurance cost. As referenced above, GOV operates the portfolio with a large number of gross leases and that provides more risk in terms of expense volatility. Subsequently, third quarter 2013 normalized FFO per share of $0.51 was down $0.03 or approximately 5.5% from the 2012 third quarter.
GOV paid a $0.43 per share dividend during the quarter and the FFO payout ratio was approximately 84%. Although GOV has only been a public REIT for around 3 ½ years, the company has begun to develop a solid track record for paying dividends.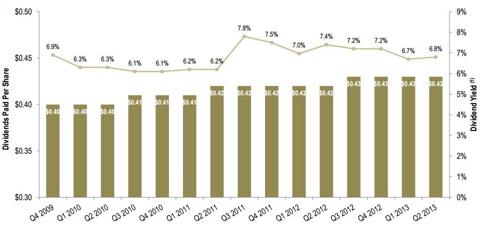 Here is a snapshot that compares GOV with several other well know peers including Realty Income, National Retail Properties (NYSE:NNN), W.P. Carey (NYSE:WPC), and EPR Properties (NYSE:EPR):

As illustrated below, GOV came out of the box paying and increasing some healthy dividends; however, the latest two years have been less glamorous as compared with several of the larger peers: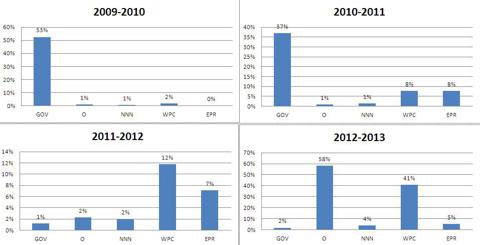 However, GOV has a dividend yield of 6.98% and is now ranked as the highest paying REIT in the Triple Net sector.

Government Properties Income Trust - Not For Me
As I mentioned above, GOV is an externally-managed REIT, and recently the company announced the restructuring agreement with RMR. According to David M. Blackman, GOV's President and COO: (on the latest earnings call):
The changes to the management agreement with RMR will begin in 2014 and include the base management fee being paid on the lower of historical property cost or GOV's total market capitalization instead of historical property cost. And the requirement of 10% of RMR's base management fee will be paid in GOV shares instead of cash. In addition the incentive management fee paid to RMR will no longer be paid based solely upon growth in FFO per share but instead based upon total shareholder returns in excess of benchmarks established by GOV's independent trustees and disclosed in GOV's annual proxy statement.

The incentive management fee will be paid in GOV common shares that vest over time. We view these changes as a positive step in further aligning management's financial incentives with a return to shareholders. Our business strategy of delivering shareholders a safe and predictable dividend from our stable income and our investment thesis of making selective acquisitions of buildings majority lease to government tenants remains unchanged. As a reminder RMR is a full service management company that provides GOV executive leadership, capital markets execution, and other business management services that include asset management leasing, accounting, acquisition underwriting due diligence and execution, legal, Investor Relations, and other related services and exchange for shares in the company and a cash fee which has historically resulted in a lower G&A cost for GOV than the G&A cost of our peer group.
As I mentioned above, I won't throw GOV under the bus for the externally-managed model. If it were any other REIT (managed by RNR) I would. However, the Triple Net sector is not as complex as the other sectors and I'm glad to see that incentives are being addressed such that there is more of an alignment with investors.
Now, withstanding the externally managed model, I do have issues with GOV. In review of the peer group, GOV - with a P/FFO multiple of 11.8x - we see the shares looks cheap.

Also, according to FAST Graph and the limited history of GOV as a public company, the shares look attractive: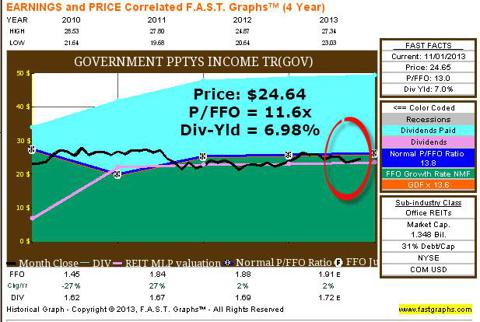 However, keep in mind, the earnings history doesn't tell me much about the risk of the government-backed leases. More specifically, GOV investors are exposed to considerably more risk (than the larger peers) because of the uncertain expense conditions and the fact that many of the government leased buildings are specialized and located in secondary markets.
Let's assume that you own 84 government buildings (you do if you own GOV) and there is another shutdown. Remember, many of the leases have "kick out" provisions and there could be a significant reduction in a certain category. It would only take one or two governmental agency cutbacks and the occupancy rate for GOV could fall below 90%. Also, remember that it's very hard to lease an older government facility in a secondary town - buildings could sit empty for long periods of time.
So that begs the question: Is the risk of owning GOV worth the 6.98% return (dividend)? Consider the options: Realty Income that pays 5.08%, American Realty Capital that pays 6.67%, or even Monmouth that pays 6.34%. Is the risk-premium worth it for owning shares in GOV and more directly, is it possible that GOV shares will outperform the peer group?
I don't think so. As I mentioned at the outset, I have begun to think more like an investment banker and considering the enormous activity in the sector, I think one must contemplate value based upon an exit strategy. So what REIT would buy GOV? None that I know of.
The reason is that being a landlord to government leased property is a specialized sub-sector. It takes experienced and highly-skilled management to be successful. Most of the buildings are uniquely positioned for the governmental agencies and generally the real estate does not appreciate as much as the other "NNN" leased assets. No, I don't think it's prudent to invest in buildings leased to the government - there is just not an attraction to the business model and I would argue that the industry is fragmented because there is not a significant interest in owning such assets.
There are too many other (Triple Net) sectors to consider and until the government decides to take the risk out of ownership (i.e. converting to "NNN" leases) I will stay on the sidelines. In simple terms, the "thrill of victory is simply not worth the agony of defeat."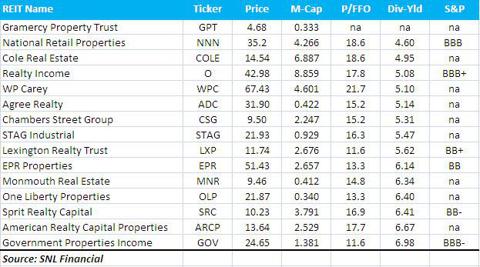 Check out my monthly newsletter, The Intelligent REIT Investor, including a "Nothing But Net" section.
Other REITs mentioned:(NYSE:ADC), (NYSE:CSG),(NYSE:STAG), (NYSE:LXP), (NYSE:GPT), and (NYSE:OLP).
Source: SNL Financial, Barron's, and GOV Presentation.
Disclaimer: This article is intended to provide information to interested parties. As I have no knowledge of individual investor circumstances, goals, and/or portfolio concentration or diversification, readers are expected to complete their own due diligence before purchasing any stocks mentioned or recommended.
Disclosure: I am long O, ARCP, CSG, STAG, ROIC, HTA, VTR, UMH, DLR, GPT, CBL. I wrote this article myself, and it expresses my own opinions. I am not receiving compensation for it (other than from Seeking Alpha). I have no business relationship with any company whose stock is mentioned in this article.