Immersion Corporation (NASDAQ:IMMR) reported its financial results for Q3 2013 last Thursday night, October 31st.
Here are some of the highlights:
Total revenues in Q3 2013 were $11.3 million, an increase of 59% compared to Q3 2012
Royalty and license revenues were $11.0 million, or an increase of 72% from the same period of last year
Net income was $1.2 million (10.6% of revenues), or $ 0.04 per share
Adjusted EBITDA for the quarter was $3.3 million, or 29.2% of total revenues.
Management also narrowed the company's 2013 revenue guidance range to $46M-$48M, from $45M-$48M. Analyst forecasted $48.1M before the company released its Q3 results.
Revenues were $0.3M higher than consensus, while EPS of $0.04 missed by $0.01. We believe Immersion delivered a solid quarter, in spite of the EPS miss, and that the call gave management a good opportunity to disclose two interesting drivers for the medium and long term growth of the company. On Friday, the shares gained 7.9%.
Basic haptic pushing mobility to 71% of revenues
Last year's settlement and license agreement with Google (NASDAQ:GOOG) and Motorola Mobility LLC, resolving the patent infringement litigation pending between Immersion and Motorola, opened the door to several basic haptic agreements throughout 2013, including Samsung (OTC:SSNLF) and LG (OTC:LGCIF).
As a result, mobility has strengthened its importance as a revenue generator for the company, as we may notice from a quick look at how much each vertical represented in Q3 2012, and the corresponding data in the same period of 2013: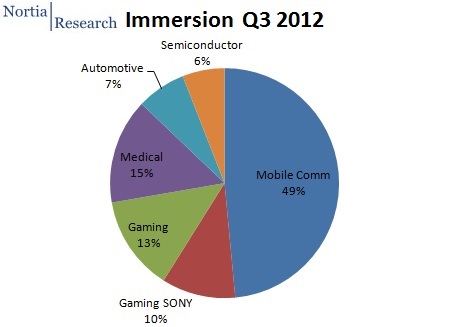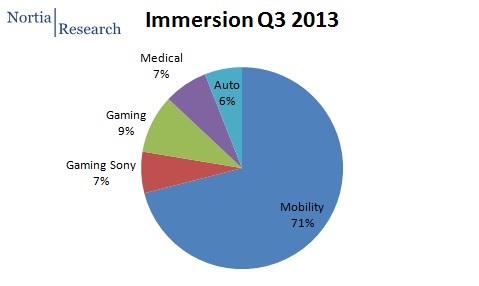 As a small reminder, Semiconductor and Mobile Comm. (55% of 2012 revenues) are now both considered as part of the mobility vertical.
Throughout 2013, the percentage of revenues represented by mobility seems pretty solid: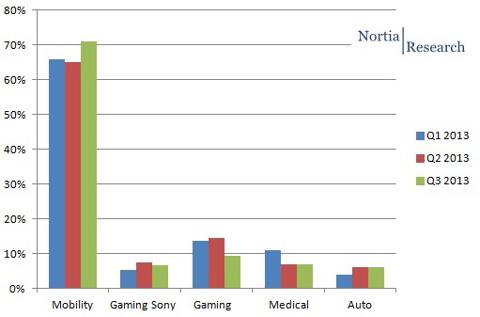 We are still very optimistic about mobility, as recent agreements with fast growing companies like Chinese Xiaomi, growth forecasted in Android based smartphone and tablet sales and lastly the possibility of a positive outcome from the HTC litigation may all represent growth drivers for this key vertical.
However, the most interesting outcome from the conference call was the information that new growth drivers are coming for Immersion Corporation.
2014 catalyst: Sony's PS4
During the conference call, Immersion's management confirmed that Sony will add a new revenue stream to the existing one thanks to the new PS4. Both the new Play Station and Microsoft's (NASDAQ:MSFT) Xbox One will also act as catalysts for increased royalties coming from third party OEMs like Logitech (NASDAQ:LOGI), Mad Catz, , Razer, etc.:
Victor Viegas - President and Chief Executive Officer

On the gaming front, as I mentioned earlier, we are pleased to announce that Sony executed the option to extend its license for Immersion Intellectual Property in connection with the soon to be launched PS4 console. We believe that haptics plays a critical role in the gaming experience, and are pleased to work with Sony to ensure its next-generation platform has the high-quality immersive haptics that gamers have come to expect.

In addition, third-party peripheral OEMs continue to look forward to supporting the upcoming release of new gaming platforms from Sony and Microsoft. The new trigger capability in the Microsoft Xbox One, which usages additional actuators to provide distinctive feedback in the trigger control is a particularly exciting advancement for gaming haptic.
Because Immersion is recognizing revenues in arrears, the news is going to impact 2014 mainly:
Victor Viegas - President and Chief Executive Officer

For example, we're very excited by the opportunity now with Sony, on the PlayStation-4. Those products begin shipping in this quarter, the fourth quarter. And because of the reporting times line, that revenue will be reported in Q1 of next year, primarily.
Right now, as a result of the litigation conclusion and business agreement entered into with Sony Computer Entertainment in March 2007, Immersion continues to recognize revenues as royalty and license through March 2017, for an amount of approximately $750,000 per quarter (which we indicated separately when analyzing Gaming revenues).
Automotive as longer term catalyst
So far, Immersion's technology has been quite successful in high end models, like the Mercedes-Benz S-Class Sedan, and the Lexus RX 350 and 450. Other early adopters of Immersion's technology were Rolls Royce (OTCPK:RYCEY), BMW (BAMXY), Aston Martin and Bentley (OTCPK:VLKAY). Recently, IMMR haptics were implemented into the new General Motors (NYSE:GM) Cadillac CUE Infotainment System, launched in 2012, and The Kia K9 (OTC:KIMTF)/Hyundai (OTC:HYMLF) Equus.
At the conference call, it was officially revealed an interesting new product win with General Motors European branch Opel:
Victor Viegas - President and Chief Executive Officer

Beyond the mobile market, we continue to see innovation and enthusiasm for Immersion's technology in the automotive and gaming markets. At the Frankfurt Auto Show in September, Opel unveiled a mid-cycle refresh to their Insignia Sedan, which includes a redesigned center console that uses an illuminated touchpad with Immersion haptics.
We first mentioned this product win here on Seeking Alpha, and analyzed in more depth why we believe this vertical will represent in the future a very interesting revenue contributor to the company. Expanding haptic implementation to larger volume models will be key to increasing this vertical contribution to revenues. We feel optimistic that the company will be able to achieve this goal given the existing partnerships with system integrators like Visteon (NYSE:VC), Continental, Alps Electric and Valeo, among others.
Conclusion
In our opinion Immersion delivered a solid quarter, and, even more important, took the opportunity to inform investors that it is putting in place solid foundations for further growth even outside of the mobility vertical.
Nevertheless, we still expect mobility, that has been the main positive driver in 2013, to continue to contribute substantially to the company's double digit revenue increase in 2014 and beyond.
Disclosure: I am long IMMR. I wrote this article myself, and it expresses my own opinions. I am not receiving compensation for it (other than from Seeking Alpha). I have no business relationship with any company whose stock is mentioned in this article.