As per documents just filed with the SEC, Seth Klarman's hedge fund Baupost Group has updated its stake in RHI Entertainment (RHIE). According to an amended 13D and a Form 4, Baupost Group sold 3,043,551 shares of RHI Entertainment on December 24th, 2009. Baupost sold at prices ranging from $0.278 to $0.428 and is left with 0 shares of common stock. Below is a list of the transactions: (Click to enlarge)

As you can see from the chart from Google Finance, shares of RHIE dropped severely during the holiday week and Klarman was selling during the massive drop. Many were speculating that Klarman was selling on the 24th as there were some large blocks trading that day. And, that speculation proved to be correct.
Click to enlarge: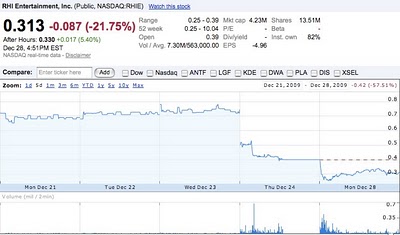 Baupost's exit comes amidst RHI Entertainment's announcement that a subsidiary entered into a Forbearance Agreement. Klarman certainly lost a bundle on this play and this will be a chink in his otherwise strong armor. No one is perfect... even some of the greatest investors like Buffett and Klarman (and they'll be the first to admit that). Even with Klarman's loss on this position, all you have to do is examine the broader picture and remember that he has seen 20% annualized returns. But still, he certainly took a bath on this one.

Klarman received his MBA from Harvard and then went on to work for Baupost at age 25. Nowadays, he runs the show. Baupost is one of the select few funds we have included in our Market Folly custom portfolio.

We've seen a lot of activity out of Baupost recently, especially on the selling side of things. Seth Klarman's hedge fund has sold shares of Syneron Medical (NASDAQ:ELOS) and it has also sold shares of Capitalsource (NYSE:CSE). On the buying side of things, we just learned Baupost will be buying more Facet Biotech (FACT) and rejecting Biogen Idec's takeover offer. The hedge fund also revealed a new stake in Enzon Pharmaceuticals (OTCQX:ENZN) over a month ago.

Taken from Google Finance:
RHI Entertainment is "develops, produces and distributes new made-for-television movies, mini-series and other television programming worldwide. The Company provides long-form television content, including domestic made-for-television (MFT), movies and mini-series. It also selectively produces new episodic series programming for television. In addition to its development, production and distribution of new content, it owns an library of existing long-form television content, which the Company licenses primarily to broadcast and cable networks worldwide."