Opnext, Inc. (NASDAQ:OPXT) recently announced that it participated with JDS Uniphase (JDSU) in the successful operation of IEEE-compliant 100GE optics which further validates the feasibility of pluggable optics for 100GE.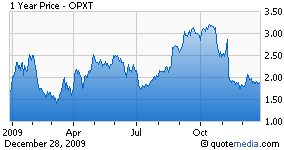 This successful transmission includes transmitting and receiving Ethernet traffic at 100GE through an Opnext compliant optical module using the JDSU Optical Network Test instrument with 100GE module.

JDSU 100GE test suite evaluates and verifies components, subassemblies and network equipment and will be able to help service providers ensure reliable performance on new network builds.

Thus, JDSU 100GE testers are gaining widespread acceptance by network equipment, component, and subassembly manufacturers and service providers in North America, Europe and the Asia Pacific region.
Opnext earlier signed a distribution franchise agreement with Avnet, Inc. (AVT - Analyst Report). Under the terms of this agreement, Avnet will distribute Opnext's line of optical products in the Americas.

Management at Opnext believes that Avnet's extensive and loyal customer base complements Opnext's established level of customer support capabilities. Opnext believes that partnership with Avnet will extend the company's Markey share in the optical device market.

In October, Avnet announced two additions to the company's 40Gbps product portfolio. The company stated that the new DQPSK modules for DWDM transmission and its new compact VSR modules for client applications will respond better to customer demand for longer reach and smaller-size 40Gbps solutions.
The company is one of the smaller players in the optical component and module industry, which is dominated by JDS Uniphase and Finisar Corp (NASDAQ:FNSR).

Based in New Jersey, Opnext designs, manufactures and markets optical modules and components that transmit and receive data. Opnext is a leading manufacturer of 40Gbps optical modules and continues to make innovations in laser and optical technologies.