For as well as the new Apple (NASDAQ:AAPL) iPhone 5S and iPhone 5C have been selling, the rollout of iOS 7 has been largely met with mixed reviews. Apple has gotten some things right with this year's iteration of its iconic smartphone - the inclusion of iTunes Radio, for example - and missed the mark in other areas - apps reportedly crash twice as often on the iPhone 5S than on previous models. Still, with Apple shares continuing to bounce between $450 per share and the low $500s per share, the future is where investors should focus when determining where Apple is going as both a company and as a stock.
New Releases
With the release of the iPad Air and the newest MacBook Pro, Apple is getting positioned for the holidays. Despite the catchy name, the new iPad is simply the next step forward, not a huge leap ahead. This is important considering that, according to IDC, Apple's tablet market share dropped in the third quarter to 29.6% from 40% a year earlier, while Google (NASDAQ:GOOG) Android-powered Samsung (OTC:SSNLF) tablets jumped to 20% market share from 12% the previous year.
Likewise, both Dell (NASDAQ:DELL) and HP (NYSE:HPQ) gained market share on Apple in the PC space. Now that the new MacBook Pro is available, it will be important to see how market share gets divided up. Many argued that potential Mac buyers were simply waiting for the new Apple machine, and that was the cause of the Apple sales slowdown. While I believe there is merit in that position, as PCs become increasingly trapped in the commodity space, the large premium Apple asks for a MacBook makes it hard to justify. Users are keeping PCs longer, meaning the higher price can be justified on that basis, but the disparity is too wide to be sustainable indefinitely.
Another Record Quarter
On the positive side, Apple recently released earnings results, demonstrating that any glitches in iOS 7 have not slowed consumers from choosing a new iPhone. For the quarter, the company sold near 34 million devices, helping to drive $7.5 billion in profits on $37.5 billion in revenues. While margins did contract from 40% to 37%, Apple has clearly not let the increasing saturation of the smartphone market crimp unit sales. To put this in perspective, with roughly 300 million people in the U.S., Apple sold over 1 in 10 of them an iPhone in a single quarter. This is not actually what happened - many sales were made outside of the U.S. - but it demonstrates how fast the company can sell its products.
Looking Ahead
One of the most promising messages for Apple fans and investors is the increasing frequency of credible reports suggesting that the iPhone 6 will feature a larger screen. Jefferies & Co's Peter Misek recently predicted in a research note that he expects a 4.8-inch screen:
"We est ~50% of smartphone shipments have >4″ screens and that iPhone 6 will catalyze a large upgrade cycle. The stock is attractive based on the attitude change, FY15 revs >+15%, and valuation."
Also aiding the upgrade prospects are the proliferation of early-upgrade plans from the major wireless carriers, including AT&T (NYSE:T), Verizon (NYSE:VZ) and T-Mobile (NASDAQ:TMUS). These plans mean that despite strong sales of the iPhone 5S and the iPhone 5C, consumers may still opt for the iPhone 6 when it is released. There have been some rumors that Apple may push for a spring release in order to keep pace with the shorter product cycle being implemented by competitors.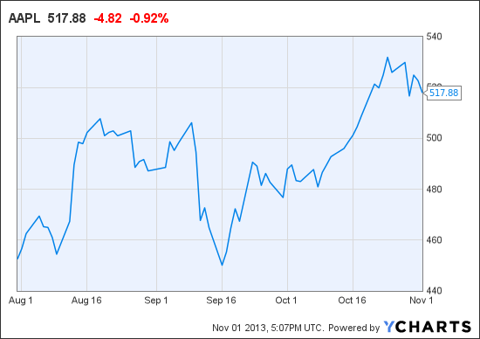 For shareholders, then, the future should look bright, despite the range the stock has traded in over the past several months. Recently, Apple shares have pushed higher, which may signal that the stock is finally ready to break that range, but early numbers on the iPad and MacBook could be important. I like shares here, and with a view toward the next several quarters, Apple is a buy at current levels.
Disclosure: I have no positions in any stocks mentioned, and no plans to initiate any positions within the next 72 hours. I wrote this article myself, and it expresses my own opinions. I am not receiving compensation for it (other than from Seeking Alpha). I have no business relationship with any company whose stock is mentioned in this article.