Infineon Technologies (OTCQX:IFNNY) expects high-single-digit growth in group revenues in the first quarter of 2010 compared with the fourth quarter of 2009. It also expects a high-single-digit margin for its combined segment result.
Previously, Infineon had projected its revenues and combined segment result to be nearly on the same level as they were in the fourth quarter.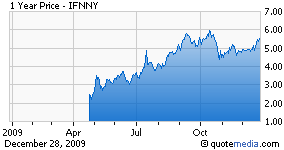 The increase in guidance is mainly driven by the automotive as well as the industrial and multi-market segments.
In the fiscal fourth quarter ended Sept 30, 2009, Infineon returned to profitability. It swung to a profit of 14 million euros ($20.9 million) from a loss of 884 million euros in the year-earlier period.
Infineon Technologies focuses on the three central challenges facing modern society: Energy Efficiency, Communications and Security and offers semiconductors and system solutions for automotive and industrial electronics, chip card and security applications as well as applications in communications. Infineon's products stand out for their reliability, their quality excellence and their innovative and leading-edge technology in analog and mixed signal, RF and power as well as embedded control. Its major competitors are Qualcomm Inc. (NASDAQ:QCOM) and STMicroelectronics NV (NYSE:STM).
We currently have a Neutral recommendation on IFNNY.