The Australian Bureau of Statistics (ABS) latest report on housing prices in Australia's eight capital cities demonstrates a market that remains hot, especially in Sydney. These increasing prices are no surprise given the Reserve Bank of Australia's round of rate cuts earlier this year. The last four quarters of quarterly price gains have reversed an extended period of sluggish prices. This same response will not add more pressure to monetary policy as the RBA continues to lose its "scope" for reducing rates. As I discussed earlier, the RBA's main gameplan for trying to drive down the Australian dollar (NYSEARCA:FXA) seems to consist of jawboning and hoping that the U.S. Federal Reserve finally gets serious about tapering its bond purchases (and in turn replaying the pressure on high yield plays seen in the last tapering scare).
Here are the key charts from the report on housing prices: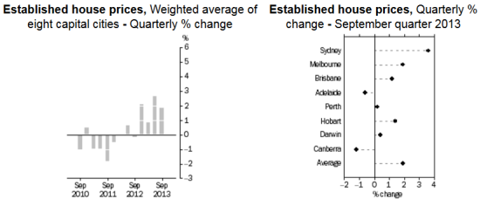 Click to enlarge
September, 2013 Report on Australian Housing Prices
Source: Australian Bureau of Statistics
On an annual basis city-by-city, house prices rose as follows: Sydney (+11.4%), Perth (+8.6%), Melbourne (+6.8%), Darwin (+6.0%), Brisbane (+4.1%), Hobart (+1.1%), Adelaide (+1.0%) and Canberra (+0.6%).
As the chart below shows, the Australian dollar responded positively (as of this writing) to the pricing data…just in time too as it looks like the 50-day moving average (DMA) is still holding as support.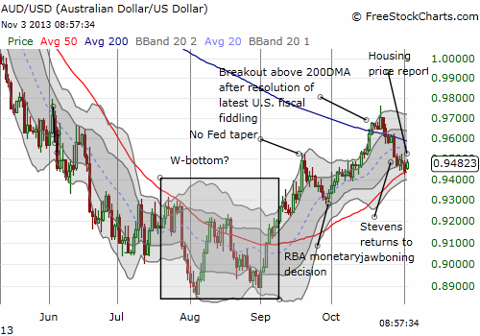 Click to enlarge
The Australian dollar hovers above support at the 50DMA
Source: FreeStockCharts.com
The RBA provides its next rate decision on Tuesday morning (Australian time). This meeting will be a first good test of whether the RBA will directly back up the recent jawboning of Governor Stevens. I will also look to see whether the RBA acknowledges that the heating of the Australian housing market will impact its approach to monetary policy in the coming quarters.
Disclosure: I have no positions in any stocks mentioned, and no plans to initiate any positions within the next 72 hours. I wrote this article myself, and it expresses my own opinions. I am not receiving compensation for it (other than from Seeking Alpha). I have no business relationship with any company whose stock is mentioned in this article.
Additional disclosure: In forex, I am long the Australian dollar