Brian Katz is the Chief Investment Officer of The Colony Group and is the lead Portfolio Manager for the company's large-cap equity strategy, which has assets under management of almost $300mm. The Colony Group's large-cap strategy invests in approximately 30 – 40 securities with market caps generally greater than $5bb. Brian and his analysts endeavor to find growth companies with defendable competitive positions that generate strong free cash flow.
We asked Brian to share his single highest conviction position and provide his investment thesis.
• • •
What is your highest conviction stock position in your fund - long or short?

We purchased VeriSign (NASDAQ: VRSN) this summer shortly after the stock dropped more than 14% in a day on word that an organization called the Coalition for Internet Transparency (CFIT) won its appeal to force the district court to hear its antitrust lawsuit challenging the legality of VRSN's key contract. The stock has since recovered those losses, and we believe the management team has multiple levers to pull that could send the stock price higher from here.
Tell us a bit about the company and what it does.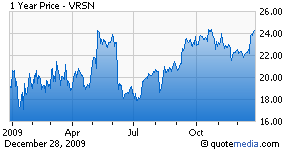 VRSN is a provider of Internet infrastructure services. It is best known for its domain naming services (DNS) business (56% of 2008 sales). VRSN, through an exclusive contract with Internet Corporation of Assigned Names and Numbers (ICANN), the overseer of the World Wide Web, operates the authoritative directory of all dot.com and dot.net domain names (as well as other generic top level domains, or tGLDs). Its next largest segment sells SSL certificates that enable enterprises and Internet merchants to conduct secure transactions online. This segment also operates an identity protection business, called VeriSign Identity Protection, which helps enable consumer-facing applications to provide a secure online experience for end users. In total, this segment accounted for 36% of 2008 sales (29% SSL, 7% IP). The remaining 8% of sales are from VeriSign Japan.

Can you talk a bit about the industry/sector? How much is this an "industry pick" as opposed to a pure bottom-up pick?

We are attracted to VRSN primarily for stock-specific reasons. VRSN holds a legal monopoly on the DNS industry and has the leading brand and market share in SSL certification. The overall growth of the Internet's role in commerce adds to the appeal of VRSN's business model. Virtually every business requires a unique web site for competitive reasons, and the number of businesses enabling customers to buy online will continue to expand for the foreseeable future.

Can you describe the company's competitive environment? How is this company positioned vis a vis its competitors?

We touched on VRSN's monopoly position in DNS and leading share/recognition in SSL in the previous section. As a result, VRSN holds one of the stronger competitive positions of any stock in our portfolio. The DNS contracts for managing the dot.com and dot.net domain naming registries were granted by ICANN in 2006 and 2005, respectively. The agreements expire in 2012 and 2011, respectively, but call for a "presumptive right of renewal," i.e., the contracts should automatically renew with similar terms for another six years as long as VRSN meets its contractual obligations. Under the contracts, VRSN is allowed to take price increases of up to 7% and 10% (for dot.com and dot.net, respectively) in as many as four of the six years in the term. The SSL business also has a sustainable competitive advantage, albeit not as strong as DNS. Its VeriSign Secured checkmark logo is one of the most trusted security marks on the Internet according to some studies. As a result, it has greater than a 50% market share of the SSL certificate market.

Can you talk about valuation? How does valuation compare to the competitors?

We believe VRSN's stock price is depressed at current levels. Its NTM P/E ratio had consistently stayed above 20x until last fall, and at 16.4x currently it is well below its 5-year average of 23.0x. The current multiple is a significant discount to a nominal peer group of Internet firms, although there is no direct comparable. Using a discounted cash flow framework, we believe VRSN may be as much as 30% undervalued at the current price. We estimate that the stock could trade north of $40 in the next three to five years.

What is the current sentiment on the stock? How does your view differ from the consensus?

The above valuation discount is likely a function of two issues. First, on June 8, 2009, the 9th Circuit Court of Appeals remanded CFIT's previously dismissed antitrust suit back to the district court. CFIT claims that the 2006 contract between ICANN and VRSN to maintain the dot.com registry was awarded non-competitively and that the presumptive right of renewal is anticompetitive. While we take the ruling seriously, we believe VRSN should ultimately win the case. The agreement between ICANN and VRSN was reviewed by members of the Department of Commerce and approved. VRSN had won the dot.net contract in a competitive process a year earlier and had demonstrated technological and scale superiority.

Second, VRSN was hurt by the economic slowdown in both its DNS and SSL businesses, which crimped new business formations and e-commerce transactions. VRSN's DNS business appears to have stabilized over the past couple of quarters.

Does the company's management play a role in your position? If so, how?

One of the theses supporting our investment in VRSN was the return of Chairman and founder Jim Bidzos to the role of President and CEO in 2008. Mr. Bidzos returned after an ill-fated attempt by the prior CEO to diversify VRSN into several businesses outside its core competency. Mr. Bidzos promptly began to divest those 13 businesses, a process recently completed, and VRSN is a more focused company now. Mark McLaughlin, who held a number of key positions at the company from 2000-2007, returned to the company in January 2009 and took over the roles of President and CEO from Mr. Bidzos in August.

What catalysts do you see that could move the stock?

VRSN has several catalysts on the horizon that could get the stock moving higher. Under its agreement with ICANN, VRSN is allowed to increase prices in four of the six contract years by 7% and 10% for dot.com and dot.net, respectively. VRSN opted not to take the increase in 2009 due to the weak economy, then on December 17th VRSN announced the maximum price increases to take effect in July 2010, sending the stock up +10% immediately.
In addition, VRSN has spent more than $100mm over the past couple of years to build out its DNS infrastructure. With this spending program mostly finished, management is free to redeploy this cash flow into more shareholder friendly initiatives, like a large share buyback or perhaps the initiation of a dividend. Finally, a strengthening economy will help reaccelerate growth in VRSN's DNS and SSL businesses. Estimates for 2010 EPS have come down from $1.80 in January to under $1.50 today. Ongoing signs that the recovery is gaining traction could translate into higher EPS estimates for VRSN.

What could go wrong with this stock pick?

The biggest risk to the stock is the CFIT lawsuit. We are reasonably confident that the district court, which initially threw out CFIT's claims, will rule in VRSN's favor; however, lawsuits are difficult to handicap.
Thank you, Brian
My pleasure.