McDonald's (NYSE:MCD) had been a growth stock for decades, growing into the largest restaurant operator on the planet. Then, at the turn of the millennium, things started to turn. Growth slowed, same store sales stalled. What to do? Management's answer was to diversify. Sounds logical. They bought Boston Market, a stake in Chipotle (NYSE:CMG), a sandwich shop in England, etc. But, and this is important, McDonald's is so large it's hard to move the needle. That strategy failed, as their forays into the other businesses never reached critical mass to contribute significantly to the bottom line. While their eye was off the ball and tastes were changing, their core business faltered. By the spring of 2003 same store sales were falling 4% a month. The stock hit a low of 14.46 in February.
Jim Cantalupo became Chairman and CEO at the beginning of 2003 and had this to say in the opening paragraphs of the 2003 Annual Report:
As you will recall, our business was in serious need of improvement when I became chairman and CEO at the beginning of 2003, I said back then that we had taken our eyes off our fries, and we paid a price. Our performance had disappointed our customers, our shareholders and ourselves. We know we had a lot of work to do to right McDonald's ship and rebuild our foundation to support future growth.
New management stopped all expansion into new businesses and refocused the company on its core business. To adjust to changing tastes and provide healthier menu choices, salads were added to a burger joints menu, revolutionary at the time. It helped bring in more moms with small children. The menu continued to expand year after year, pushing more food through their existing stores, with 'mighty wings' being the latest example. They started to accept credit cards so you didn't have to stop at the ATM before visiting them. It was a convenience that helped market share. They stayed open longer, pushing more product through their existing infrastructure, first till midnight and now some outlets are open 24/7. They slowed their new store expansion to avoid cannibalizing existing stores and preserving capital. They entered entirely new food categories with McCafe and smoothies, both providing high profit margins.
The implementation of all these measures caused EPS, which had fallen 34.4% in 2003, to grow in the high teens for a decade. This propelled the stock from a low of 12.4 in March of 2003 to 103 in April of 2013, an increase of 730%. In comparison, the S&P was 848.18 on March of 2003 and 1729 on its high, an increase of 103.8%. Gold, as an example, was one of the best performing asset classes of the period, $350 on March of 2003 and up to $1920 by September 1, 2011 - an increase of 448%. My point being twofold: McDonald's performance was truly spectacular, and secondly, trees don't grow to the sky.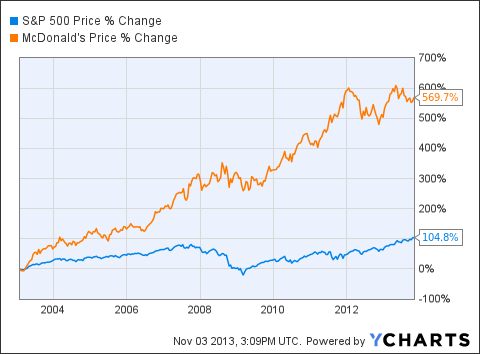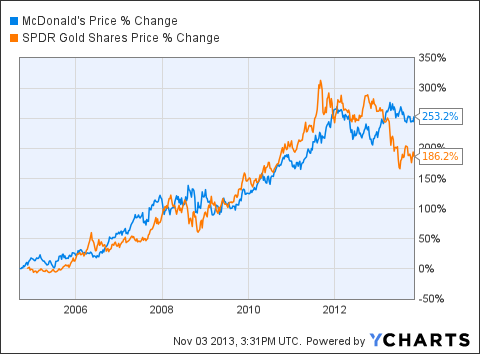 McDonald's is the Walmart (NYSE:WMT) of the fast food world. It's very difficult to tinker at the edges and move the needle. They are a captive of the macro. The flip side of course is that food consumption is very stable and the needle doesn't move down that much unless you really screw things up. The best tonic is for a pickup in world growth and a strengthening Euro, their largest market. The Euro is doing its part, moving higher from 126 in July to 134 currently. but the economic climate remains challenging. As they stated in their third quarter earnings report, they expect the dynamics of the current environment to persist. A return to 5% same store sales growth with 10% EPS growth using some financial engineering, like share buybacks with a nice dividend, selling at a market multiple is what shareholders yearn for. It might be a bumpy road to get there.
Disclosure: I am short MCD. I wrote this article myself, and it expresses my own opinions. I am not receiving compensation for it (other than from Seeking Alpha). I have no business relationship with any company whose stock is mentioned in this article.
Additional disclosure: long puts