The most commonly used 'bearish' phrase nowadays is valuations. The market has by and large accepted that economic fundamentals cannot deteriorate any further (but that doesn't mean that it will improve in the short-term, say the bears). As we head towards the last trading days of 2009, I wanted to see how many stocks are near their 52-week highs or at 52-week highs. Of course, stock prices at the end of Dec2008 were significantly lower than life-time highs (mostly reached in 2007) but the idea is to see how the market outlook on Tech stocks has changed in the last one year and which stock(s)/set of stocks seem to have seen the most favorable change.

Of the ~380 (cut-off of min. marketcap of $500M was applied) Tech stocks on which I had data in the Gridstone Screener, nearly 95% of the stocks have a valuation (as of Dec 24,09) which is at least 70% of the peak valuation reached in 2009.

Distribution Of Stocks With Dec24 Closing Prices as % Of 52-week Highs

(click to view enlarged image)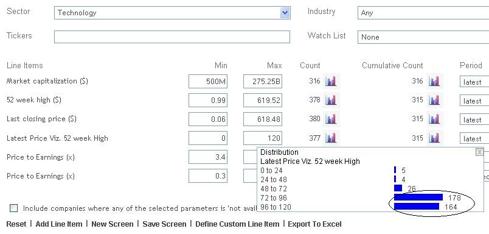 Click to enlarge

Source: Gridstone Research

A closer look at the numbers and some interesting observations from my side:
Nearly ~180 stocks (50% of Tech universe in Gridstone coverage) are at the 52-week highs or at least 95% of their 52-week high.
The split in terms of industry groups for condition 1 above is as follows - Software/Services:78/143 (55%), Semiconductors: 51/101 (50%) and hardware:53/134 (40%). One possible conclusion from this is that the outlook for Software/services and Semiconductors has become more positive compared to the beginning of 2009 whereas for hardware, questions still remain.
Price-Earnings multiples (on a TTM basis) have seen a significant increase in 2009 year-end compared to 2008. As the graphics below shows, the % of companies with a P/E of less than 20 is ~32% as of Dec24,09 while it was nearly 70% as of Dec08. But if we rewind the clock back to Dec07, the figure falls to ~38%. While the lower base effect might make the P/E multiples better once the Dec09 quarter results are out, the moot question is whether the Dec09 quarter results and the outlook for 2010 are going to be better than the views in the beginning of 2008.
P/E Multiples Distribution as of Dec 24,09 (Latest)

(click to view enlarged image)

Click to enlargeSource: Gridstone Research

P/E Multiples Distribution as of Dec2008 End

(click to view enlarged image)


Click to enlarge
Source: Gridstone Research

P/E Multiples Distribution as of Dec2007 End

(click to view enlarged image)


Click to enlarge
Source: Gridstone Research

Here's the list of the top 15 companies whose stock prices are at 52-week highs or the nearest to 52-week highs (Note: Stocks with P/E not calculable, mainly due to negative earnings, have been excluded from lists below). Their P/E multiples at the end of 2007, 2008 and as of Dec24,09 are also provided. A glance at the list shows that most of them are close to or higher than their 2007 valuations.

Top 15 Stocks In Terms Of Prices Being Close To 52 Week Highs

(click to view enlarged image)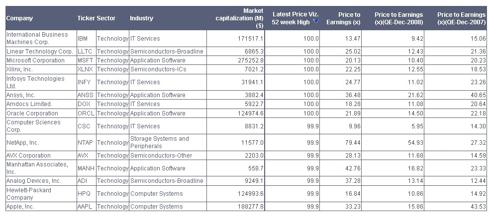 Click to enlarge
Source: Gridstone Research

This is the list of the bottom 15, i.e. The 15 stocks where stock prices are the farthest from their 52 week highs. This too has some expensive stocks and the message clearly is that stocks which have run-up a lot or are at their 52-week highs are not necessarily the most expensive from a valuations point of view (with respect to future earnings outlook). Handset stocks such as Nokia (NYSE:NOK), Research In Motion (RIMM) and Garmin (NASDAQ:GRMN) feature prominently in this list. Interestingly, Apple is in the top 15 list.

Bottom 15 Stocks In Terms Of Prices Being Farthest From 52 Week Highs

(click to view enlarged image)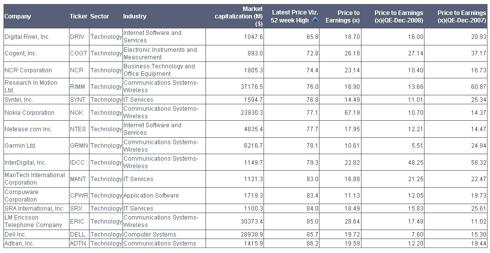 Click to enlarge
Source: Gridstone Research

A Proxy For the Global Economy?

As Tech companies announce their Dec09 quarter results (which is generally going to be above/at consensus), the 2010 earnings outlook could be a key factor for any significant price movement in the sector. If the earnings outlook is not significantly above consensus estimates, valuations would look ridiculously expensive. US-listed Technology stocks are a good proxy for the growth of the global economy as they derive a significant portion of revenues from outside North America and also have a diverse presence across multiple countries. This could also be the reason why valuations seem expensive as investors expect that technology stocks might benefit from growth pockets anywhere in the world, unlike other sectors like Retail/Entertainment which are heavily dependent on the US consumer only. A muted outlook could clearly be an early indicator of global economic growth being in the doldrums for some more time to come.

Disclosure: No Positions