Our subscribers were alerted to this stock's breakout chart on December 16th when shares were selling for $.13 and it has traded up like clockwork ever since. On Monday, Adventrx Pharmaceuticals Inc. (AMEX: ANX) gained 62.38% and closed at $.34. The price is still undervalued given the value proposition that Adventrx presents its shareholders.
Now we're telling our readers the same thing we told them the morning following our first alert: "The stock is expected to go higher in the coming days." It may even see $.50 during Tuesday's trading given the type of activity we observed after hours on Monday the 28th.
Adventrx is a biopharmaceutical company whose product candidates are designed to improve the safety of existing cancer treatments. They recently announced that they intend to submit an NDA for ANX-530 (vinorelbine emulsion) by the end of 2009, having successfully completed the final activities required for that NDA submission
ANX-530 is a novel emulsion formulation of the chemotherapy drug vinorelbine. Navelbine, a branded formulation of vinorelbine, is approved in the U.S. to treat advanced non-small cell lung cancer. The ANX-530 formulation emulsifies vinorelbine into a homogeneous suspension of nanoparticles that may reduce exposure of the venous endothelium during administration of the drug. Worldwide sales of Navelbine and its generic equivalents in 2006 were in excess of $200 million.
Adventrx also announced that a recently completed preclinical study has affirmed the bioequivalence and comparable toxicity of ANX-514 and Taxotere® (docetaxel). Shin Poong Pharmaceuticals, ADVENTRX's partner for ANX-514 in South Korea, independently conducted the study and data analysis.
For each ANX-530 and ANX-514, the company views these bioequivalence trials as registrational clinical studies in that they have the potential to support a marketing application. If approved, the drug prescribing information, or "label," for our products may reflect clinical data generated during the bioequivalence trials, including comparative adverse event information.

The relatively low number of required patients and the single-dose treatment cycles associated with these bioequivalence trials decreases study timelines and costs relative to typical pivotal studies. Accordingly, with relatively modest financial investment, the company was able to assess the pharmacokinetic equivalence of each of their product candidates to the reference product in as little as 12 to 18 months, which information should provide the clinical data necessary to support a Section 505(b)(2) NDA.

By securing in advance the FDA agreement regarding their planned regulatory pathway, as they have done for ANX-530 and ANX-514, they mitigate aspects of the clinical and regulatory risk associated with drug development. Furthermore, if and after they obtain marketing approval, they can conduct additional clinical studies while marketing those products for use in new indications or to expand product labels in ways that might increase their commercial value.

Here is a look at the latest daily chart: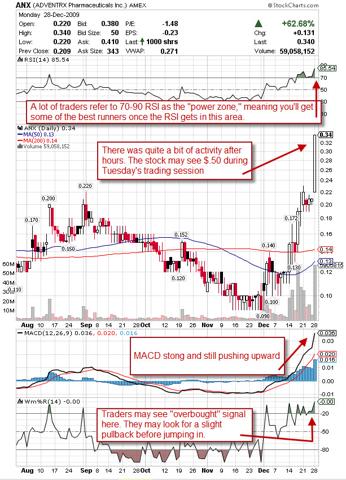 Disclosure: long ANX