One of my favorite parts of being a shareholder in Sandstorm Gold (NYSEMKT:SAND) is that the company is very easy to understand and its earnings very predictable.
To get a fairly accurate estimate for the company's upcoming earnings, to be released on Nov. 5, all you have to do is follow each individual mining company which Sandstorm Gold has partnered with. Most of these gold mining companies release quarterly or monthly production numbers before their actual earnings are released.
Business Model Description
First, if you are unfamiliar with the business model of Sandstorm Gold, I will go over it here briefly.
Sandstorm is a gold streaming company - the company finances mines by giving capital to a company looking to build that mine, and in return, Sandstorm receives a gold stream contract which gives them the right to purchase gold at the mine for a fixed price per ounce (for the life of the mine). I personally love this business model for a number of reasons:
- First, this business model has several advantages over gold mining companies. The biggest advantage, in my opinion, is the fact that Sandstorm has fixed cash costs and no ongoing capital requirements, which mining companies have.
- However, Sandstorm still gets all the exploration upside from the project. A great example is the stream with Luna Gold (OTCPK:LGCUF) - when Sandstorm made this deal, the Aurizona deposit had less than 1.5 million ounces and Luna was also producing 60K ounces on an annual basis. Today, the Aurizona deposit has a measured and indicated gold resource totaling 3.63 million ounces.
Luna expects to produce 125K ounces in 2014 as they undergo their expansion, but this mine has even more upside and the potential to produce more than 200K ounces annually following the phase II expansion. For more on Luna Gold, read my article here.
- The business model allows the company to produce significant amounts of cash flow that they can then re-deploy into purchasing more accretive gold streams for shareholders. No money for exploration, no capital requirements, etc. This makes it highly likely that Sandstorm will pay a dividend down the road; the CEO Nolan Watson has already said that is the company's plan.
Sandstorm's management team has executed this business model pretty well so far, in my opinion. If you bought shares in 2011 when gold was over $1,700, of course you are down as gold currently trades around $1,300. However, early investors have done pretty well and I believe shares will eventually trade much higher than the $14 highs made in 2011.
Here you will see that Sandstorm has greatly outperformed traditional gold mining companies since 2009: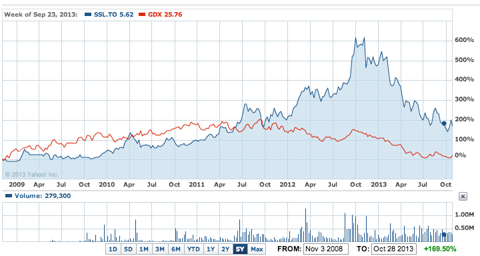 Shares are up 169 percent since inception and have outperformed the Gold Miners Index (NYSEARCA:GDX).
But how have Sandstorm's gold mining partners fared? In my opinion, it is important that Sandstorm's partners are also successful - we want them to be financially sound companies. I also think it is also important when pitching future streams.
You will see below that gold streams have been beneficial for both parties: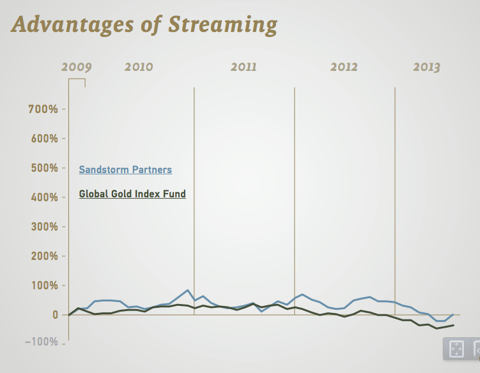 II would also like to show this chart of two of Sandstorm's biggest partners: Luna and Silvercrest Mines (NYSEMKT:SVLC). They are both greatly outperformed the GDX.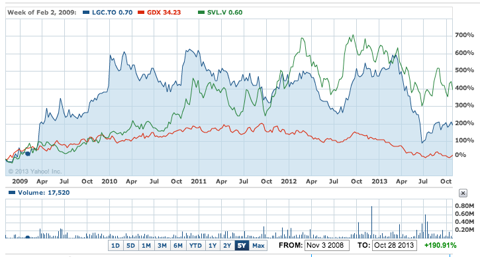 What to Expect for This Quarter?
*Solid Production Number from Partners
Most production numbers have been released by Sandstorm's partners:
*Black Fox Mine - Record quarterly production of 27,174 ounces of gold. Sandstorm gets 8 percent or 2,173 ounces of gold for the quarter at $504 an ounce.
*Aurizona Mine - Production for 3Q13 was 21,000 ounces of gold. Sandstorm gets 17 percent for $400 an ounce, or 3,570 ounces of gold.
*Approximately 1,800 of additional gold ounces from the Aurizona Mine that were in transit as at June 30, 2013 (but not yet received) and will be counted for the quarter.
*SilverCrest produced 7,194 ounces of gold in the quarter at Santa Elena. Sandstorm gets 20 percent at $350 an ounce. This amounts to 1,438 ounces of gold attributable to Sandstorm.
*Gold sales last quarter excluded ounces from Premier Royalty. Those ounces will now be included after Sandstorm completed their purchase of Premier Royalty. It is hard to come up with an estimate but based on previous estimates, I would guess that Sandstorm will receive 1,400-1,600 ounces for the quarter.
*The Bachelor Lake mine produced 3,231 ounces in September and 4,312 ounces in August. A rough estimate for October of 3,000 an ounce and we have 10,543 for the quarter. This comes to 2,108 ounces for Sandstorm, which has the right to purchase 20 percent of the gold for $500 an ounce.
*So if we add all these together, we come up with a quarterly total of 12,589 ounces of gold.
(Note: This doesn't even include other smaller streams such as the Ming Mine and the Summit Mine).
*This total represents a pretty big gain over the 7,473 ounces attributable in the previous quarter.
* This represents a large gain over the three months ended September 30, 2012 total of 9,066 ounces.
*I am expecting cash flow from operations easily over $10 million for the quarter, better than the $8.5 million the previous quarter.
*Revenue should also be in the neighborhood of $15-17 million, greater than $13.3 million recorded last quarter.
What to Expect for 2014 and Beyond?
* Reduction in Administrative Expenses. Sandstorm was able to consolidate Premier Royalty's cash balance following the acquisition.
Here's what Watson said during his Denver Gold Forum Presentation:
"We are focusing on cost reduction. The Premier Royalty acquisition will allow us to eliminate a number of redundancies and G&A. We are targeting 35 percent reduction in our G&A from what it was in Q2...The whole point of what we do at Sandstorm is to create as much value as possible for shareholders."
* More gold production. The company expects an 80 percent increase in forecasted gold production over the next two years. This is all from current gold streams and does not take into account any future gold streams the company might execute.
The company is forecasting gold production of 66,000 ounces in 2016, up from 2013's estimated total of 39,000 ounces.
* More gold streams. The company had held off on completing more streams as the gold price plummeted, but now that gold is recovering the team is getting ready to make their next moves (according to Watson in a recent interview).
If I had to guess, I would say that the company does one more gold stream or NSR before the end of 2013. For 2014, I am expecting 1-2 medium to large sized gold streams and perhaps their largest transaction to date.
* Balance sheet strength gives Sandstorm a big advantage over many mining companies. Sandstorm is well capitalized with $90 million in cash and zero debt (after recently giving a $10 million loan to Luna Gold corp.)
* A cash "Warchest" to complete more deals. In addition to the $90 million cash, the company also has a $100 million line of credit available; I believe this could even be increased down the road, if need be.
Final Thoughts: Between cash on hand, forecasted cash flow of $40-50 million at $1350 gold for 2014 and the line of credit, Sandstorm Gold is in a great position going forward.
For all these reasons and more, Sandstorm Gold remains my largest real life equity holding. Even with the price of gold trading at three-year lows, Sandstorm is a cash flow machine and in a great position to create more shareholder value. When the price of gold finally does rebound, I believe Sandstorm's rise will be pretty quick and I see them outperforming their peers.
Disclosure: I am long SAND, OTCPK:LGCUF. I wrote this article myself, and it expresses my own opinions. I am not receiving compensation for it (other than from Seeking Alpha). I have no business relationship with any company whose stock is mentioned in this article.