I am following MGT Capital Investments (NYSEMKT:MGT) already for a while because I am interested in US-listed fantasy sport operators. This month I was pleasantly surprised to read that they are actively involved in IP monetizing efforts.
Investment Thesis
U.S. Patent No. 8,500,554 is ready to reap the fruits of infringement damages. A reasonable settlement could be negotiated in the short term. In the case of a settlement the stock price could make a nice run up.
The company
MGT Capital Investments and its subsidiaries are engaged in the business of acquiring, developing and monetizing assets in the online and mobile gaming space.
The most important majority owned subsidiary is MGT Gaming, Inc.
MGT Gaming owns U.S. Patent Nos. 7,892,088 and 8,500,554 relating to casino gaming systems. In November 2012, MGT Gaming filed a patent infringement suit against Caesars Entertainment Corp. (NASDAQ:CZR), MGM Resorts International, Inc. (NYSE:MGM), WMS Gaming (NYSE:WMS), Penn National Gaming, Inc. (NASDAQ:PENN), and privately-owned Aruze Gaming America, Inc.
MGT Capital Investments operates also two other subsidiaries.
MGT Interactive, Inc.
The majority owned subsidiary owns REAL DEAL POKER™, an innovative online poker technology system.
This technology uses patented shuffling machines, along with permutation re-sequencing, allowing for the creation of up to 16,000 decks per minute in real time. Each newly created deck is then "dealt" for a hand of online poker, complete with burn cards and the option for a player to "cut" the deck. In addition to providing a higher level of realism, each deck provides an authentic randomized deal and full audit trail (using barcode scanning and imaging); both missing from currently used random number generating algorithms.
MGT Sports, Inc.
MGT Sports is a wholly owned subsidiary. It owns a majority interest in FanTD LLC, an online daily fantasy sports wagering business. FanTD LLC owns and operates FanThrowdown.com, one of the leading daily fantasy sports websites. Launched in 2012, FanThrowdown.com offers daily fantasy game play for the NFL, MLB, NCAA (basketball & football), NHL, NBA and professional golf. Its goal is to offer fantasy sports fans the absolute best play environment and the most popular game play styles with a perfect balance between user-friendliness and in-depth statistical analysis.
In addition to the subsidiaries mentioned above, the company owns Hammercat Studios. Hammercat is a publisher and developer of videogames for digital distribution in the mobile app space. The gaming studio is in the process of building a mobile platform for wagering on skill‐based games. The beta launch is expected at the end of this quarter.
Patent 554
U.S. Patent No. 8,500,554 (the "554 Patent"), is directed to a gaming system in which a bonus game is played on an interactive display. The present invention relates to gaming systems which are linked to an interactive sign. A player plays the gaming machine and upon a certain operation of the gaming machine is then allowed to play the bonusing event. The bonus award is supplemental to the gaming award. The bonus can be cash, a prize, or some other award. The bonus can be redeemable for services, currency, discounts or other goods of value. The gaming system comprises at least two gaming machines and an interactive sign. The payout from the bonus event can be paid separately by the casino or be paid by the gaming device.
Infringement Opportunity
MGT has filed an Amended Complaint with the U.S. District Court for the Southern District of Mississippi seeking to add allegations that defendants in its currently-pending patent infringement lawsuit, (Case 3:12-cv-00741-CWR-FKB), infringe the new '554 patent. The accused products in this lawsuit include at least those identified under the trade names: PARADISE FISHING and AMAZON FISHING (manufactured and distributed by Aruze Gaming, and in use at casinos owned and operated by Caesars Entertainment, MGM Resorts and Penn National Gaming); PIRATE BATTLE and CLUE (manufactured and distributed by WMS Gaming, and in use at casinos owned and operated by MGM Resorts and Caesars Entertainment); and BATTLESHIP, STAR TREK BATTLE STATIONS, MONOPOLY BIGGER EVENT, and CASTLE KING (all manufactured and distributed by WMS Gaming).
We are very pleased to add this new patent to our intellectual property assets," said Robert Ladd, MGT CEO and President. "Our portfolio consists of quality, fundamental patents that we believe will strengthen our licensing efforts to the casino gaming industry."
Recent ruling
On October 23 MGT announced that it has received an Order from the Honorable Judge Reeves of the U.S. District Court for the Southern District of Mississippi that denied the Motion to Dismiss filed by defendants WMS Gaming, Inc. and Aruze Gaming America, Inc. with respect to MGT's claims of direct patent infringement. In addition, the Court denied the defendants' Motion to Change Venue.
In Greg Miller's article, MGT Wins No Summary Dismissal No Venue Transfer In Accelerating Lawsuit you could already read that the judge uploaded a favorable memorandum.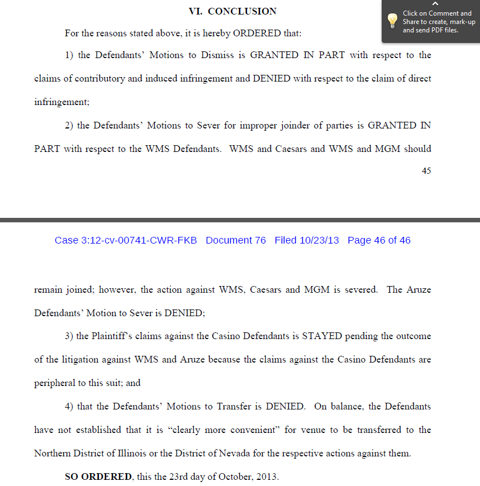 What can we expect?
The recent ruling could lead to a quick settlement if all involved parties think it is in the best interest for their business.
Compensatory damages for patent infringement are generally determined using:
Lost profits due to the infringer's infringing use or sale,
A reasonable royalty corresponding to what is assumed the parties would have agreed during a hypothetical negotiation at a time when the infringement began, or,
A combination of both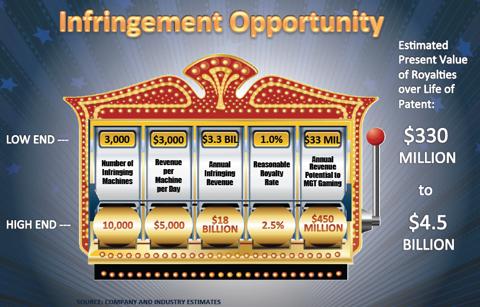 A settlement amount for MGT on the lower end of the spectrum would already be a game changer and could double the company's current market capitalization.
MGT Capital estimates that the present value of its patent ranges from $330 million to $4.5 billion. A large range that includes past trebled damages and future royalties.
Of course, MGT Capital will not win 100% of the award. The law firm Nixon & Vanderheye and the inventor of patent 7,892,088 Steven Brandstetter will also have to be compensated.
Final Note
With more than $6 million in cash and cash reserves the company has sufficient cash on hand to fund their business ventures. MGT is backed up by two former Wall Street veterans who worked for Neuberger Berman, an investment management firm that provides financial services for high net worth individuals and institutional investors.
The company has a market cap of around $20 million and no debt on its balance sheet.
The profit opportunities in the real money online wagering market can be huge for MGT and with the company's expanding patent portfolio and innovative online games the company could reap the fruits in the nearby future.
MGT could be destined for greatness if a settlement could be reached in a decent time frame.
Risks
Enforcing patents can take years of costly litigation because it requires adequate cash flow and cash reserves-even to defend. Litigation often has interim results which are at odds with what reasonable analysis would have predicted, leading in some cases to very large, unpredictable share price movements.
Disclosure: I have no positions in any stocks mentioned, and no plans to initiate any positions within the next 72 hours. I wrote this article myself, and it expresses my own opinions. I am not receiving compensation for it (other than from Seeking Alpha). I have no business relationship with any company whose stock is mentioned in this article.