Equity Futures: Dow +9.00. S&P +0.80. NASDAQ +9.50. Japan Nikkei -20.00. German Dax +9.00

U.S. Trade: Trading was very slow in the U.S. cash session, with the three major indexes barely moving as most trade desks remain quiet during the year-end wrap, with an important note in the fact that sellers were easily held at bay.

In the European session, the markets gained 0.50% around the opening bell, and then the regional indexes came to a virtual standstill. A similar pattern was observed in U.S. trade with the futures markets posting small gains overnight, only to then trade flat during the cash session.

The report calendar was empty, and will remain quiet over the next few days, something that helps keep momentum out of the market. Only 480 million shares changed hands on the NYSE, almost half of the average of the last few weeks of trading. Looking ahead, the trading volumes are expected to remain light, but sometimes these slow moving markets attract large speculators that have the power to influence the market.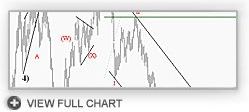 S&P Technical View: TheLFB Member Charts
Daily chart trend: Long. Main price points: 1115-1130. Looking for: Top of a Long wave 5 or C

The price structure on the daily chart is showing two valid scenarios. The left side of the chart shows an impulse structure with five waves up from the 665 lows to the current highs. If this is the case then the wave 4 discussed on the weekly chart below will be rejected since the fourth wave is a corrective wave, which means it cannot be sub-divided by a five wave move. However, in this scenario, a three wave push lower into a corrective blue wave 2 with a target somewhere around the 950 would be is expected.

On the right side of the chart, we have a different picture with a clear zig-zag correction, which is valid for a wave 4 scenario. In this case, a lower Short blue wave 5 will follow.

Overall, the price structure is signaling for an upcoming turning point (between 1115-1130) on both wave counts with at least a three wave push lower since the market is trading around the top of a black wave 5 or black wave C leg.

Sector Moves: The light trading activity was reflected in the major sectors represented in the U.S. market. The utility sector advanced 0.3%, being the best gainer, while on the other hand, the worst return came from the industrial goods companies, which have lost 0.4%. Basic materials, which were the main driver of the market since March, gained 0.1%

The major U.S. airlines fell an average 2.5% in Monday trade, on renewed concerns about terrorist attacks. Within this sector, U.S. Airways Group (LCC) lost 6.80%, while AMR and Delta Airlines (NYSE:DAL) fell 5%. In the S&P 500 index, AIG gained 5%, the most among any member company after it was announced that the Government had removed the aid caps on Freddie Mac (FRE) and Fannie Mae (FNM).

Upcoming Economic Moves: Clear

Crude oil was recently trading at $78.70 per barrel, higher by $0.65.

Gold was recently trading up by $3.20 to $1,108.00.

Treasuries continue to move lower, signaling that bond traders are pricing in a higher inflation rate over the upcoming period. The yield on the 10-year notes reached 3.84%, higher by 3.7 basis points, substantially higher than the yield paid by similar maturity German bunds.

Disclosure: No positions