This article contains the contents of a letter sent on October 9, 2013 to TheStreet, Inc. (TST). The original PDF version of the letter can be found here.
Board of Directors
TheStreet, Inc.
14 Wall Street, 15th Floor
New York, New York 10005
Attention: Elisabeth DeMarse, CEO
Ladies and Gentlemen:
We recently presented an open letter to TheStreet, Inc. (the "Company") shareholders dated September 24, 2013 in which we detailed our rejected proposal to take the Company private and our view of the Preferred Shareholder's position. We wrote that letter because we strongly believe the longer the Company goes without demonstrating significant organic growth, the weaker the position Common Shareholders have vis-à-vis the Preferred Shareholders. We have been asked if we view the Preferred Shareholders as the key inhibitor to value creation at TheStreet. Although we believe it is a key contributor, there are other strategic issues facing the Company that are at least as significant, and perhaps even more so. Among these are:
Lack of real (organic) growth
Insufficient disclosures from management which make it difficult to recognize real growth
Management's apparent indifferent attitude towards common shareholders
Concern about potential conflicts of interest between Jim Cramer and the Company
We remain committed to working with management and have increased our Common Stock position since our previous letters to the Company. However, our recent interactions with the Company give us significant pause. We detect a general disdain for Common Shareholder issues and an air of self-righteousness that is at best counter-productive to creating value for all stakeholders. Although we continue to support current management, this support flows from a belief that they are open to making the changes necessary to create significant value, a belief that has been sorely tested recently.
Our View of Valuation for TheStreet
Before discussing our analysis of the Company's issues in detail, we would like to share with the Board a fairly straightforward valuation analysis of TheStreet using varying multiples of revenue:

Common sense dictates the Company will create the most value by growing organically and reaching sustainable profitability. The faster or more sustainable the rate of growth and/or profitability, the higher the value of the Company. The Company has not been profitable since 2008, and while it has not made profitability a specific goal for this year, CFO John Ferrara did say management is "kind of focusing on breakeven EBITDA" this year.1 While breakeven EBITDA is not the same as profitability, ending the cash drain is clearly better than continued negative cash flows and losses. We believe any trend in this direction would be welcome by all common stock investors. The Company has also not shown the ability to produce organic growth, and we note annual revenue has declined from a high of $70.8 million to a seven year low of $50.7 million in 2012. Management claims to have halted the disturbing trend of net subscriber attrition2 and posted Total Net Revenue growth in its most recent 10-Q, giving the appearance that it has stemmed the disturbing, value-crushing decline in revenue.
Based on the current state of the Company, our value-grid implies a valuation per share between $2.43 and $3.19. The common stock price we suggested in our rejected acquisition proposal to the Company - $2.80/share - was in line with this analysis. Admittedly, our proposal as stated would have given the Preferred Shareholders $15 million and was deemed a non-starter by both the Company and the Preferred Shareholder, Technology Crossover Ventures ("TCV"). However, we expressed to both Ms. DeMarse and TCV's Woody Marshall that our proposal should be seen as a framework within which we hoped to find a set of terms acceptable to all. Using our valuation analysis above, perhaps the final deal would have seen TCV receiving a higher upfront payment in return for the Common Shareholders receiving less per share at the close but a greater percentage of any potential higher offers. We remain committed to participating in such a process should TCV and the Company wish to pursue it.
Barring that, the only path to creating shareholder value lies in organically increasing the number of subscribers to the Company's products and/or delivering significantly greater dollars per subscriber. If the Company cannot achieve these two things in the recent bull market, we shudder to think what will happen to revenue in an inevitable market downturn.
Reporting Clarity Required to Recognize Organic Growth
We believe trading cash for subscribers only makes sense if it is accompanied by future organic growth, derived through the ability to cross-sell products and/or increases in the combined Company's advertising revenue. As neither of these conditions appear to be a reality, we believe the Company should act now to seek strategic alternatives.
The term "organically" is critical to a meaningful definition of growth. Although possible to "grow" the total number of subscribers through the acquisition of companies that have paid subscribers (e.g. The Deal), simply trading the Company's cash or issuing Company stock to acquire subscribers is not the kind of growth that markets reward. Based on reported nominal figures, the Company appears to have increased its subscriber base over the last year, as it reported a 2.5% y/y increase in the number of paid subscribers as of June 30, 2013, excluding the impact of the acquisitions of The Deal and DealFlow Media.3 However, upon further research - in the notes of the 10-Q, as opposed to the high profile earnings press release - we learn that the weighted average number of subscriptions declined 2%.4
Revenue results are even more clear. Ms. DeMarse has repeatedly claimed the Company is growing. On the Company's 2nd Quarter Earnings Call, Ms. DeMarse stated, "This was TheStreet's first year of real revenue growth since Q3 2011."5 While we have no doubt that the Company's increase in revenue due to the acquisitions was "real" - and we hope the Company would not report "artificial" revenue - it was inconsequential. It was not an indication the Company's management team has demonstrated the ability to grow the business or even halt the decline in revenue in the Company's businesses that the management team was brought in to run. In fact, the Company's main business didn't grow, it declined. The Company simply acquired new products which added some revenue and offset the decline in the Company's historical business. Such growth is not meaningful despite Ms. DeMarse implying that it is.
The Company reports in its 2nd quarter 10-Q that of the $2 million in y/y subscription revenue growth the Company experienced in the quarter, $2.3 million of that was the result of the Company's acquisitions of The Deal and DealFlow Media, which were not part of the prior year's figure. The Company reports that excluding The Deal and DealFlow Media subscription revenue for the quarter "decreased by approximately $287 thousand, or 3%."6
Media revenue on a y/y basis for the legacy business was even worse. While the headline figure shows a 28% decline in Media revenue for the 2nd quarter, the Company explains $418K of the quarterly revenue came from The Deal and DealFlow Media. The result: a 39%, or $1.5 million, decline in y/y revenue for the legacy business.7
For the legacy business, the Company experienced an overall decline in y/y revenue of 14.3% in the 2nd quarter. This is actually worse than the Company's revenue decline of 12.2% in the 2nd quarter of 2012 compared to the second quarter of 2011. Despite Ms. DeMarse's attempt to sell her turnaround story, TheStreet still has not seen what an ordinary investor would consider "real revenue growth."
From a shareholder's standpoint, it is impossible to know which products, if any, are growing organically and which are not, and what the true effect of multiple acquisitions has been on subscriber numbers. Ms. DeMarse could only realistically claim subscriber growth, if for example, the number of subscribers to The Deal prior to acquisition were now higher on a same-period comparative basis.8 The same holds true for the Company's other products. We have no way of knowing this and we therefore strongly encourage the Company to change its reporting of performance so the owners for whom they work can get a better understanding of what if any growth is occurring, and if so, where. If the Company is growing organically, show it and let the market reward it. If it is not, give the Company's owners insight into what is and what is not working.
We demand management provide shareholders transparency to clarify its veiled rhetoric.
Caveat Emptor? How about Caveat Venditor?
In a meeting with Ms. DeMarse and CFO John Ferrara on August 20, 2013, I asked if the Company would consider changing its reporting methodology and break out revenue and subscriptions by product line, or at least by division. I also reiterated our concerns about the Preferred Shareholder and added additional concerns over what we deemed a lack of representation on the Board for Common Shareholder interests as well as our concerns about Jim Cramer's performance relative to his compensation. Not only did Ms. DeMarse decline to consider changing the Company's reporting practices, she responded to my list of concerns with a strange series of outbursts that began with, "Buyer beware. That's what I say, buyer beware!" She followed with, "You knew about how we report our numbers. You knew about the Preferred Shareholders, and you knew about our relationship with Jim Cramer. Why did you even buy our stock?"
I have to admit this is one of the oddest questions I have ever been asked by a CEO. Like all stock purchasers, I buy a stock to make money, and I have to believe the CEO is interested in the same goal. But is the correct interpretation of these remarks simply, "You bought a lousy $2 stock and you can expect nothing more. We won't change anything."? I believe Ms. DeMarse's attitude in many ways reflects the insular Country Club mentality of much of Wall Street today, whereby we lowly Common Shareholders have no right to question the divine wisdom of Wall Street royalty. We believe our concerns are valid and should be addressed in a far more serious manner.
Cramer vs TheStreet
We have previously detailed our issues regarding the Preferred Shareholders and the Company's performance, but our concerns about Jim Cramer's value relative to his compensation and our perception that Common Shareholders are not adequately represented on the Board are less well known. The following chart visually conveys our thoughts regarding Mr. Cramer's pay vs. the Company's stock performance: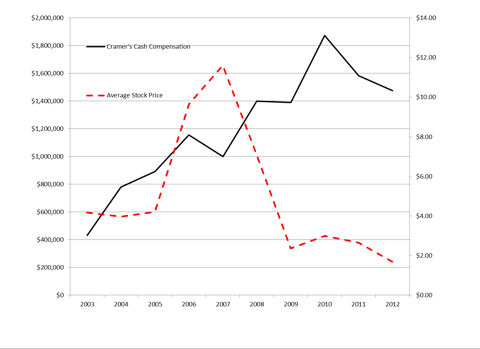 We respect Mr. Cramer and acknowledge he is a talented entertainer. His star has risen significantly over the last decade making him one of the most well-known names in the investing and finance world and perhaps one of the most famous Wall Street personalities of our time. However, if Mr. Cramer were a player on the New York Yankees, his talent and fame would be marginally interesting. To play in the Major Leagues you must contribute to your team's success. Mr. Cramer has failed over the years to do that for his team, TheStreet, and its Steinbrenners, the shareholders. The numbers speak for themselves. Mr. Cramer has received over $13 million in cash compensation and millions more in stock and other benefits, such as a personal driver, all while Common Shareholders have watched almost $400 million in market value evaporate. Unlike a baseball player, however, Mr. Cramer is a director of the Company with a fiduciary duty to put the interest of the Company's shareholders above his personal gain.
It is public knowledge that Mr. Cramer's contract is due to be renewed and renegotiated by year end. As the above chart shows, the Company's Board has failed to tie his pay to stock price performance in the past. We demand the Board retain an independent consultant with experience in compensation and media to review Mr. Cramer's historical contracts and to analyze the compensation expense and other costs compared to the revenue and other benefits which the Company may have received due to Mr. Cramer's efforts. Such a consultant should then provide recommendations regarding appropriate compensation arrangements to the Board for its use in the current contract negotiations with Mr. Cramer. Ms. DeMarse is fond of speaking about TheStreet's "asymmetrical advantages"9 and "dual monetization" opportunities - advantages and opportunities that the Company enjoyed long before Ms. DeMarse's arrival. While we agree such advantages create a foundation for sustainable value creation, we think it should be used for the benefit of the Company's shareholders as opposed to the benefit of its founder.
We also implore the Company to demand Mr. Cramer work solely for TheStreet rather than allowing him to renew his CNBC contract. The Company has the capability of producing its own shows and Mr. Cramer is a brand name. His presence on CNBC is becoming directly competitive to TheStreet, as the Company continues to build its own video business. Clearly, this situation is untenable. Bottom line: what value does Mr. Cramer's CNBC show bring to TheStreet? Does it contribute to or detract from the Company's value? As such, we would ask the Company to detail its view of the value the relationship with CNBC has created for TheStreet over the past few years. We also ask the Company to detail its view of how it can maximize the value from its relationship with Mr. Cramer. We believe both TheStreet and Mr. Cramer have the potential to grow something special in the Company's online video business. Furthermore, unless Mr. Cramer will agree to work directly for TheStreet and not for CNBC or another competitor, we believe he should resign from the Board of Directors immediately to eliminate any perceived and/or actual conflicts of interest. We would then encourage the Company to replace him on the Board with someone who will forcefully support the interest of Common Shareholders and has true independence. We have persistently asked the Board to hire an investment bank to seek strategic alternatives. We do so again today.
In an article on 24/7 Wall Street dated July 24, 2013, Doug McIntyre, a former Board member of TheStreet, made the argument that a sale of the Company is impossible because the presence of Jim Cramer curtails potential strategic buyers' interest in the firm.10 While we appreciate Mr. McIntyre's position and recognize a sale of the Company is complicated by Mr. Cramer's role at CNBC, we believe there is a realistic scenario in which the Company could be broken in two: a Cramer-related set of assets, and all the remaining assets. We believe the Company may be in a position to sell the Cramer-related assets to CNBC or one of its competitors and the remaining assets to the highest bidder. On June 26, 2013, the partners of Spear Point had a phone conversation with Ms. DeMarse in which she stated to us that the revenue directly attributable to Mr. Cramer has gone down as a percentage of total revenue over the years. These statements were made in reply to our concerns about over-concentration of value in Mr. Cramer and the lack of any meaningful succession plan. Therefore, it is our assumption that a breakup of the Company is possible and could prove valuable. Of course, we cannot know that until the Company hires an investment bank and considers strategic alternatives.
More importantly, if the revenue attributed to Mr. Cramer has declined as a percentage of total revenue, and the Company's total revenue had been declining (until the very recent revenue increase which is due solely to acquisitions), then revenue attributable to Mr. Cramer has been declining more rapidly than the decline in the Company's historical business overall. Assuming this is the case, we would expect a renewed contract with Mr. Cramer to reflect the declining significance of revenue attributable to Mr. Cramer and to provide for the possibility of less compensation than the expiring contract. That is, unless the Company and Mr. Cramer revisit their relationship and Mr. Cramer agrees to work exclusively for the Company developing the Company's online video offerings.
Next Steps
Barring the immediate hiring of an investment bank, we demand and intend to call on other Common Shareholders to join us in demanding the Company take the following actions:
Eliminate the staggered Board structure for electing directors prior to next year's shareholder meeting, even if that required convening a special meeting of shareholders. We note that this will be the last meeting prior to the Preferred Shareholder restrictions being lifted and we strongly believe Common Shareholders should have the ability to replace the Board en masse if it is in their best interest to do so.
The Board move to immediately lift any restrictions on the Preferred Shareholders' ability to participate in a bid for the Company. As stated in our open letter to shareholders dated September 24, 2013, the Preferred Shareholders have that right beginning in November 2014. If their strategy is to attempt to take the Company private at that time, it is in their best interest to see the stock price remain depressed. So why not lessen the perverse incentive and let them participate in a bid for the Company now?
The Board agree to report revenue and subscription numbers by line of business starting with the December 31, 2013 reporting period, including historical performance for comparison purposes.
The Board immediately seek to retain an independent consultant to advise the Board in its negotiations with Mr. Cramer in relation to his new contract.
The Board insist Mr. Cramer either work full time and only for TheStreet or moves to remove him from the Board of Directors to eliminate any conflicts of interest.
We remain ready and willing to discuss these issues with Ms. DeMarse and/or members of the Board and respectfully request a response to these issues by October 18, 2013.
Very truly yours,
Spear Point LLC
By: Ron Bienvenu
Its: Co-Chief Executive Officer
1 Q2 2013 Earnings Call; transcript available
2 "During the second quarter, bookings were up 6% year-over-year, and we saw very strong growth in new subscriptions sales." Q2 2013 Earnings Call; transcript available
3 "TheStreet Reports Second Quarter 2013 Results" Press Release dated August 8, 2013
4 See, the Company's 2013 2nd Quarter Form 10-Q, Item 2, p. 17-18.
5 Q2 2012 Earnings Call; transcript available
6 See, the Company's 2013 2nd Quarter Form 10-Q, Item 2, p. 17-18.
7 See, the Company's 2013 2nd Quarter Form 10-Q, Item 2, p. 17-18.
8 We define paid subscriber growth as total subscribers (TheStreet + The Deal + DealFlow Media) in a given period exceeding the same companies' total subscribers during a prior period. TheStreet has not provided subscriber numbers for The Deal and DealFlow Media.
9 Q2 2012 Earnings Call; transcript available
Q3 2012 Earnings Call; transcript available
Q4 2012 Earnings Call; transcript available
Q1 2013 Earnings Call; transcript available
Q2 2013 Earnings Call; transcript available
"Q&A: Advancing the Digital Publishing Model: CEO Elisabeth DeMarse offers insight into TheStreet, Inc.'s evolution"
10"Without Cramer, Takeover of TheStreet Not Viable"
Disclosure: I am long TST. I wrote this article myself, and it expresses my own opinions. I am not receiving compensation for it. I have no business relationship with any company whose stock is mentioned in this article.