Chevron (NYSE:CVX) reported a Q3 diluted EPS of $2.57 compared to $2.77 in the previous quarter. Total Q3 earnings declined to $5.0 billion vs. $5.4 billion in Q2 2013. Upstream earnings increased $143 million q-o-q while downstream earnings decreased $386 million driven by lower margins. The trend of declining refinery margins from record Highs last year has affected nearly every major oil producer in the third quarter. Chevron also repurchased $1.25 billion worth of shares in the second and third quarter each.
Share performance
Chevron is one of the better performing large-cap oil players in the sector. The company has returned 61% in the most recent five year period. This compares to gains of 86% for ConocoPhillips (NYSE:COP), 21% for Exxon Mobil (NYSE:XOM), 12% for Total (NYSE:TOT) and a loss of 6% for BP (NYSE:BP).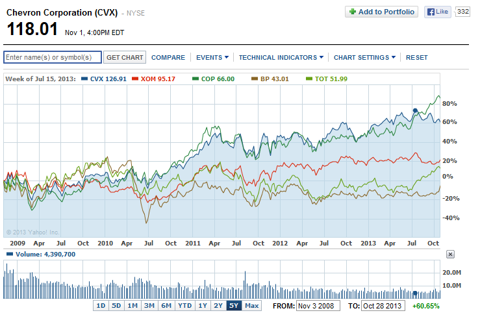 Click to enlarge
Free cash flow
Despite its run-up in price Chevron still has some upside potential left but clearly not as much as other oil- and gas companies which have underperformed over the last five years. I estimate that Chevron's core free cash flow to equity power stands at $15 billion per year after consideration of moderate changes in future net debt. This equates to roughly $7.75 in free cash flow to equity per share. For modeling purposes I assume Chevron's long-term growth in FCFE moves up to 4% until 2017 and equity cost of capital stand at 10%. The DCF model yields an intrinsic value of $128.50 per share which implies about 9% upside potential from a current share price of $118.01.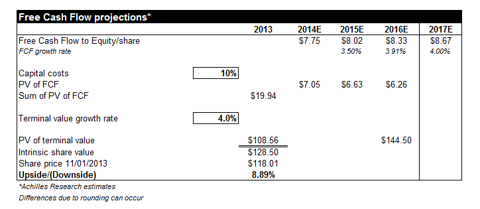 Click to enlarge
Market valuation
Chevron still trades at a low P/E ratio of 9.74 which is a very attractive entry multiple for a diversified, large-cap oil major with prime access to strategic oil- and gas reservoirs. I have previously written about the cheap sector valuation which currently stands at just 10x forward earnings and remains utterly detached from the attractive long-term growth prospects of oil companies. Chevron for instance sees an increase in total energy demand of 30% and an increase of global gas demand of 40% until 2025. Robust demand projections and strong estimated production growth give Chevron shares even more upside potential.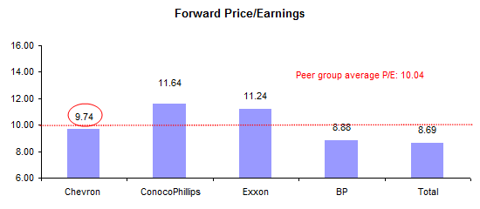 Click to enlarge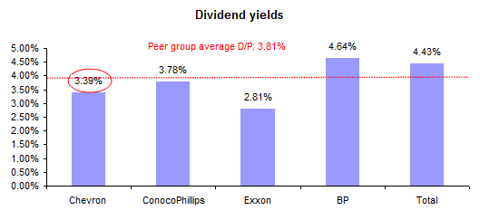 Click to enlarge
Conclusion
Chevron is a great addition to income oriented portfolios. Chevron's international footprint and global development pipeline ensures future energy supply and likely production growth. The long-term dimension of its assets make it suitable for long-term oriented investors who seek international oil- and gas exposure but also want to limit risk by betting on a diversified player. Chevron's low valuation and healthy dividend yield of 3.39% limit the downside risk of the investment. Chevron currently trades at a 10% earnings yield which is a great entry point for long-term investors. Last but not least Chevron remains committed to paying a recurring income stream which is supplemented by share buybacks. The free cash flow to equity approach depicted above also indicates that Chevron has room to grow its valuation. Further production increases and a rebound in refinery margins give the stock additional upside. Long-term BUY for income portfolios.
Disclosure: I am long BP. I wrote this article myself, and it expresses my own opinions. I am not receiving compensation for it (other than from Seeking Alpha). I have no business relationship with any company whose stock is mentioned in this article.