For being a low growth dividend stock, Altria Group (NYSE:MO) sure has a lot going for it. The company is seeing increased profits in key growth segments along with relatively lower than average volume declines in its major smokeable tobacco segment. Altria is also somewhat diversified, with a large 26.8% equity interest in SABMiller (OTCPK:SBMRY). In addition, Altria recently awarded its long-term shareholders with a respectable 9.1% dividend increase, the 47th such increase in the last 44 years. With this increase, Altria now yields slightly under 5.15%.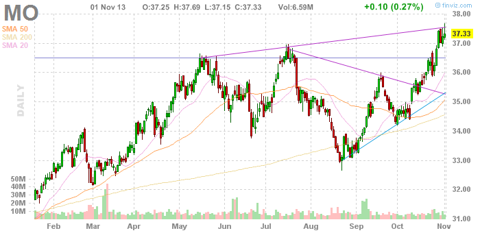 Q3 2013 Overview
In general, Altria's results came in stronger than expected. Net earnings came in at $1.40B, up over 100% from $657M last year. On a per share basis, earnings came in at $0.70, compared to $0.32 last year. Do note that these results were impacted by certain items. Excluding one-time items, adjusted EPS came in at $0.65, up 12% from $0.58 last year. For the first nine months of 2013, Altria's adjusted EPS was $1.81, up 9% from last year's $1.66.
Altria posted surprising strong revenue growth of nearly 5% to over $6.55B. Gross profits were 13.6% to $2.82B while operating income, which excludes $255M of dividend payments from SABMiller, increased 8.3% to $2.12B.
Below is a table which summarizes Altria's revenues for the quarter:

By far, Altria's most important segment remains smokeable tobacco products, accounting for nearly 90% of revenues at $5.80B. This segment saw revenue growth of 3.4%. However, most of this growth was due to higher pricing, somewhat offset by higher promotional expenses. Cigarette volumes did increase slightly to around 34.1B units, up 1.2% from last year. However, when adjusting for an extra shipping day in the quarter, volumes declined around 3.5%.
Altria's smokeless tobacco products continue to be a key driver of revenue growth for the company. Revenues grew 11% to $485M, compared to $437M last year. Unlike smokeable tobacco, smokeless actually saw higher volumes coupled with higher pricing drive revenue growth. Volumes increased 9.5% overall, with Copenhagen posting over 15% growth. However, adjusting for the extra shipping day, volumes were up only 6.0%.
Altria's wine segment, while small at $148M, still posted solid revenue growth of 5.7%. However, volumes actually declined 2.0% overall. This difference is due to changes in trade inventories and improvements in the premium mix, coupled with higher prices.
While Altria's revenue growth was decent, its operating income by segment grew even faster, as shown below: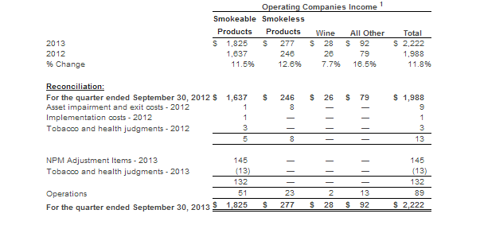 Again, smokable tobacco made up the lion share of OCI at $1.83B, or 82% of the total. This would mark an 11.5% increase from last year. However, when adjusted for certain items, this would mark only a 3.1% increase. Much like revenues, this increased profitability came from higher prices, partially offset by lower volumes. Do note that margins did contract this quarter by 60 bps to 41.8%. This breaks a trend for Altria of steadily increasing margins through cost cutting in this segment. Smokeless tobacco also posted impressive OCI of $277M, up 9.1% from last year. The company note that much of this increase came from stronger revenues, offset by higher selling, general and administrative expenses and promotional expenses.
Recent Debt Refinancing to Impact Q4 EPS
On October 28, Altria announced a cash tender offer for a portion of its long-term debt. Basically, Altria is looking to refinance around $2B of its very high yield bonds with newer, lower yielding, debt. Make no mistake, some of the debt Altria is looking to tender carries a yield north of 10%, which is well above what Altria can currently get on the bond market.
As a result of this tender offer, Altria noted that it expects to take a charge of about $1.1B, or $0.35 per share, against Q4 2013 earnings. Altria also revised its guidance for 2013 FY reported EPS from a range of $2.57 to $2.62 to a range of $2.22 to $2.27, which includes the impact of the one-time charge related to the cash tender offer. Do note that Altria 's adjusted FY EPS guidance remains at $2.36 to $2.41.
Altria made a similar move last year to refinancing some of its legacy high yield debt. These is a wise decision by the company as this will eventually lower its quarterly interest expenses and should be accretive to EPS starting in 2014.
Final Thoughts
Compared to some of the other "safe" stocks out there, Altria is hardly expensive, at only a forward PE of 14.50%. For those seeking income, Altria remains a solid choice. Its current 5.15% yield is one of the highest in the S&P 500. Using the midpoint of its adjusted FY 2013 EPS, Altria's payout ratio is only about 81%, inline with its traditional dividend payout target of 80%. This combination of both value and yield makes Altria a strong hold for nearly any investor.
Disclaimer: The opinions in this article are for informational purposes only and should not be construed as a recommendation to buy or sell the stocks mentioned. Please do your own due diligence before making any investment decision.
Disclosure: I am long MO. I wrote this article myself, and it expresses my own opinions. I am not receiving compensation for it (other than from Seeking Alpha). I have no business relationship with any company whose stock is mentioned in this article.