The past few months have been topsy-turvy for currency traders as central bank guidance and market expectations for future interest rate moves continue to alter.
Only in September, traders were all but certain the Federal Reserve would begin tapering asset purchases, an event that has since been pushed back to January/March of next year.
On that occasion, markets surely got ahead of themselves in pricing in tapering as the reality was that Ben Bernanke actually gave no indication that tapering would occur.
The Fed has stated for some time now that they will wait until the unemployment rate drops to 6.5% before scaling back monetary policy. With US inflation currently around 1.2% and unemployment at 7.2% it seems to me that Fed tapering is still not a major threat.
What these events do tell us, however, is that the mispricing of central bank expectations has become a common occurrence and because of this there are possibilities to profit from going against such expectations.
In the case of New Zealand, I believe there is another mispricing, one which should lead to the depreciation of NZD over the coming weeks and months.
Current expectations
Currently, the market is pricing in future rate hikes from the Reserve Bank of New Zealand to begin next year with 12 out of 15 Bloomberg analysts predicting a quarter rise in March 2014.
The RBNZ have hinted as much and have routinely declared that rate rises are not out of the question in 2014. However, RBNZ officials have also stated that rate rises are difficult while the NZD is strong. And strong it is, with the currency not far away from five year highs against the Australian dollar - at 0.87.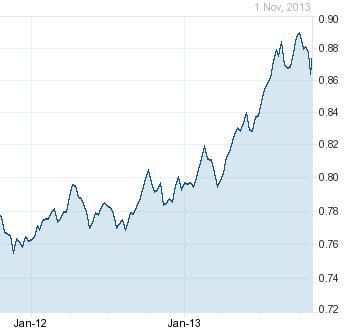 Housing Bubble
One reason why the RBNZ may look to raise rates would be to try and stifle the booming property market which has shown some signs of forming a bubble. Indeed, the central bank has already taken steps to this effect by increasing the level of deposit needed for property purchases to 20% from 10%, effective from the 1st of October.
While most experts agree that this move is unlikely to deter the long term upward trajectory of house prices it is sure to have some effect in the short term and will make it harder for many first home buyers to get onto the property ladder.
The rating agency Moody's is keeping a close eye on these developments and last week declared it was close to stripping New Zealand of its triple AAA credit rating.
Current account deficit
The biggest reason for reducing NZ's credit rating comes from its current account deficit, which at 4.3% of GDP, is one of the largest of the developing nations.
Since a current account deficit larger than 5 is potentially unsustainable, NZ remains particularly vulnerable to shocks, whether they are from overseas, in the form of financial crises, or domestic, in the form of natural disasters. This is particularly true when the currency remains strong.
Raising interest rates at this time is therefore a fairly dangerous activity as it could increase the deficit and make New Zealand even more vulnerable.
Inflation vs Growth
While the RBNZ has spoken of inflation pressures and a possible property bubble as reason for raising rates next year, the truth is that inflation, at 1.40%, is not particularly high, and well below a 2% target.
Growth on the other hand, is not particularly high either, with annual GDP dropping to 2.5% last quarter. As a big exporter of dairy products, a high Kiwi dollar is likely to further dampen growth prospects.
In fact, over the past 4 quarters, NZ GDP has averaged just 0.625% growth.
Open position data
While growth continues to be threatened by a high level of the NZ dollar, another sign for possible reversal has manifested in the form of open positions data. Open position data from the CFTC show that a high number of speculators are long NZD.
And when large numbers of traders take one side of the trade, it's usually a signal that the market will start to turn back the other way. Since there are fewer bulls around to join the market, an influx of bears will likely push the currency down swiftly.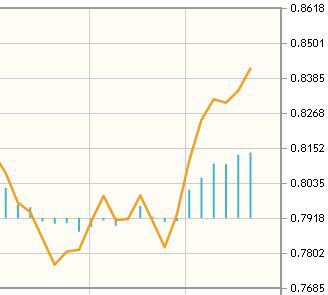 What next?
Now we have established a possible motive for selling the Kiwi, a key question remains: What to sell the currency against?
As usual in foreign exchange there are several possibilities but we can rule out a few of them.
The euro, for example, with ECB officials turning dovish of late and the currency already having been bought up strongly this year, is not a viable option.
Meanwhile, the Japanese yen, although oversold on a long term basis, is at the mercy of Abenomics and could be a risky choice.
The greenback is a possible contender, however, the Australian dollar, is surely the best option.
Having dropped heavily this year as a result of a slowdown in the Australian economy (which forced the RBA to cut rates), the Aussie trades near a five year low against the Kiwi and could be ready for a reversal.
With inflation in Australia around 2.2%, Australia has less room to cut rates and if commodities such as gold begin to bottom, Australia could see a change in fortunes, since the Australian economy is closely tied to the commodity markets.
Conclusion
Accordingly, the RBNZ have plenty of scope to keep interest rates where they are and a fall in NZD would be beneficial all round. Compared to the Australian dollar, where inflation worries are more profound, the RBNZ has far less to worry about. The US, also, has more reason to raise rates than New Zealand.
With this in mind and owing to the high current account deficit, the NZ dollar should adjust in value over the coming weeks to better reflect the underlying fundamentals. This chance appears most prominent against AUD which is why I am shorting the NZDAUD currency pair at current levels.
Traders have an opportunity to get on board a macro trend here that could last until the new year at least.
Some commentators have speculated that the 0.80 level would represent a fair level for the currency. For now, my price targets are more modest and i will re-evaluate my position upon hitting the 0.83/84 area.
Markets are still factoring in a 0.25 rate hike for March 2014. This appears to be another mispricing and the NZ dollar should drop once traders realize that this event is unlikely.
Disclosure: I have no positions in any stocks mentioned, and no plans to initiate any positions within the next 72 hours. I wrote this article myself, and it expresses my own opinions. I am not receiving compensation for it (other than from Seeking Alpha). I have no business relationship with any company whose stock is mentioned in this article.
Additional disclosure: I am short NZDAUD