Health Care REITs specialize in buying and leasing various types of health care properties to health care providers. Such facilities include nursing homes, assisted living facilities, hospitals, medical office buildings (or MOBs), and rehabilitation centers. These REITs don't generally operate any of their properties themselves and this maintains a very low overhead, generating strong returns for shareholders.
One of the reasons that I like Health Care REITs is because tenant defaults are less common than with other equity REITs - unlike, for instance office buildings - supply and demand have been pretty much in balance over the last ten years. Another thing I like about Health Care REITs is that the industry is relatively recession resistant and has not had a problem with overbuilding, for the most part, because, at least with respect to nursing homes, states usually require a "certificate of need" before approving a new facility.
I Own a Few Health Care REITs Now
The long-term prospects for health care REITs depend on the stability and growth prospects for the U.S. health care industry, and in particular the segments served by their lessees. Recently I wrote an article explaining the reasons that I'm attracted (and own) to Healthcare Trust of America (NYSE:HTA), an MOB (medical office building) REIT with a market cap of around $2.7 billion. HTA is set to release earnings on Tuesday (November 5th) and I'm anxious to check out the latest results for the "pure play" operating model.
Another Health Care REIT that I admire (and own) is Ventas, Inc. (NYSE:VTR) and last week the "blue chip" REIT announced third quarter earnings. The dominating diversified REIT reported Normalized Funds from Operations (or FFO) of $307.2 million, or $1.04 per share, compared to $284.9 million, or 96 cents per share, in the 2012 period.
Ventas attributed the growth in normalized FFO per share primarily to investments made in 2012 and 2013; NOI increases in its private-pay seniors-housing communities managed by Atria Senior Living Inc. and Sunrise Senior Living LLC, its triple-net lease portfolio and its medical office building segment; lower weighted average interest rates; and a decrease in weighted average diluted shares outstanding.
Third-quarter FFO clocked in at $303.7 million, or $1.03 per share, up from $289.7 million, or 97 cents per share, in the year-ago period, representing a 5% increase on an aggregate basis and a 6% increase on a per-share basis. The company raised its 2013 normalized FFO-per-share guidance to a range between $4.12 and $4.14, improving over previous guidance issued with its second-quarter results in July of between $4.06 and $4.10 per share.
My Quest for Another Health Care REIT
In my quest for value, I am constantly researching REITs in an effort to find a sound "margin of safety" - or an adequate cushion by which hazardous speculations are segregated from bona fide investment opportunities. Over the last few months I have researched a number of Health Care REITs including National Health Investors (NYSE:NHI), LTC Properties (NYSE:LTC), Alexandria Real Estate Equities (NYSE:ARE), BioMed Realty Trust (NYSE:BMR), HCP, Inc. (NYSE:HCP), Health Care REIT (NYSE:HCN), Ventas, Inc. and the newest addition to REIT-dom, Physicians Realty Trust (NYSE:DOC).
Last week I took another hard dive into Omega Healthcare (NYSE:OHI) and although I really would like to own this stock, I concluded the article as follows:
I still like Omega. Nothing has changed, except the price. I do not see an adequate "margin of safety" today and given the explosive growth of the overall Triple Net sector, I see a greater opportunity to capitalize on the wave of consolidation (in that sector). Omega's current dividend (5.69%) is not compelling and, as noted above, I don't believe the risk and return fundamentals merit an entry price at $33.74 a share.
In the same article last week I mentioned that I was planning to take a look at Senior Housing Property (NYSE:SNH). The shares appear fairly valued (P/FFO of 14.5x) with a solid dividend yield of 6.31%.
However, another Health Care REIT has become attractive and although I was not too excited about the share price back in April (2013), Medical Properties Trust (NYSE:MPW) has now become an interesting idea. Here's what I said (in an article) a few months ago:
During 2012 it became apparent that Mr. Market was warming up (to MPW shares) and that is reflected in the current 16.3 P/FFO multiple. Although MPW was acquiring lower credit quality properties, the market began to accept the fact that hospital-based income was durable and that owning hospitals with "high barrier to entry" characteristics could generate sound earnings.
I went on to explain:
It seems that Mr. Market has seen the mispriced risk associated with MPW's differentiated higher risk value proposition. Simply said, it makes no sense to invest in a REIT that pays out a dividend yield of 5.3% when it's acquiring properties at 9%.
I concluded:
I believe that MPW's management team has been stingy with increasing its dividend and that is evident with the fact that the company has not increased its dividend since 2007. For potential new investors, I recommend a target entry price of $13.50 per share.
Is Medical Properties Trust Fairly Valued Now?
Guess what? MPW is now trading below that price and the shares closed out last week at $13.15. As illustrated below, MPW is now trading at a healthier valuation multiple of 13.2x.

Reviewing the 8-year FAST Graph we can see that MPW cut its dividend (shaded blue area) from $1.08 per share to $.80 in 2009 and since that time the company has NEVER increased its dividend. However, the share price (solid black line) began to accelerate in 2012 as the company began to ramp up its acquisition pipeline (and FFO - the orange line marked "F"). More recently however, the shares have fallen back into sound valuation.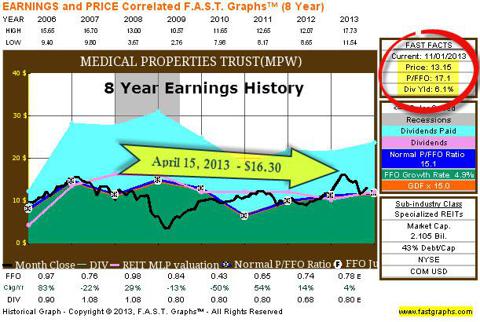 I'm not the only REIT guru who is attracted to MPW now. My fellow "Sherlock Holmes" (aka the "technical expert") writer, Thomas Sobon also spotted the trend. As he wrote:
During the past 22 trading days…the price action of MPW was such that (1) the price line completed a reversal of its moving average trend lines, (2) the relative strength line also showed improvement and the stock could start to outperform the market instead of underperforming it as has been the case, (3) the trading range is shifting upward, and (4) it appears that a hard bottom was put in place about 33 days ago at $11.55. The stock's 52 week trading range was $11.04 to $17.73.
A quick zoom-in on FAST Graph demonstrates that MPW has become a more appealing REIT (since my article in April). The REIT sell-off pushed the shares back into a range that appears to be safe and the dividend sustainable.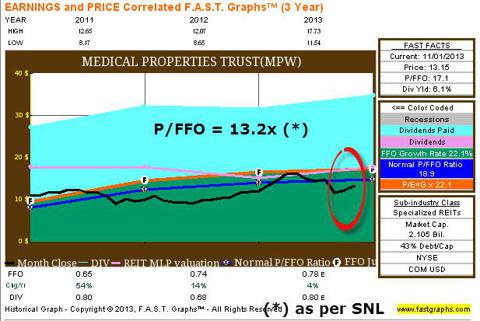 In reviewing the historic valuation trends (below) we can see that MPW is a much more desirable REIT and the current $13.15 price appears to be in a range that is less risky with a sound margin of safety.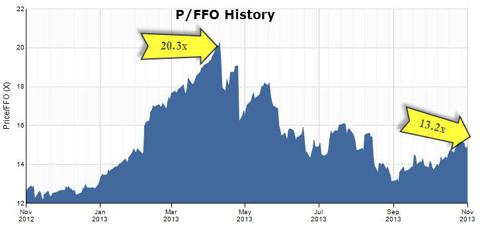 Accordingly, MPW's dividend yield has improved from 4.62% (in mid May) to a more compelling 6.08% yield today. Arguably, Mr. Market (thanks to Uncle Ben Bernanke) was responsible for igniting the trend towards sound valuation and I feel much more at ease with a yield that is more aligned with the economics of the underlying business fundamentals.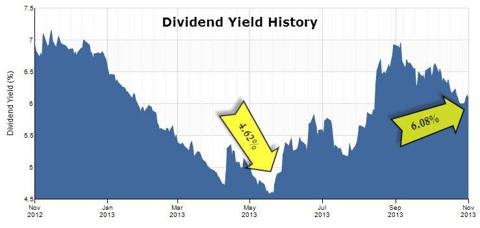 Of course upon further examination we see that MPW is not aligned with other stalwart REITs in terms of dividend growth. The sample of REITs below (VTR, HCP, HCN, and OHI) have all increased dividends; however, MPW has not increased its dividend since 2007. We all know that rising dividends are an important part of value creation and in the world of "dividend champions," MPW has not demonstrated a track record for growth.

As the peer chart below illustrates, MPW may have found a floor price; and based upon the current dividend of 80 cents, representing a payout of 79% of this year's FFO estimate, I would hope to see a future dividend increase. I'm comfortable with the BUY-IN price ($13.15); however, I am less enthusiastic to pull the trigger due to the lack of dividend growth.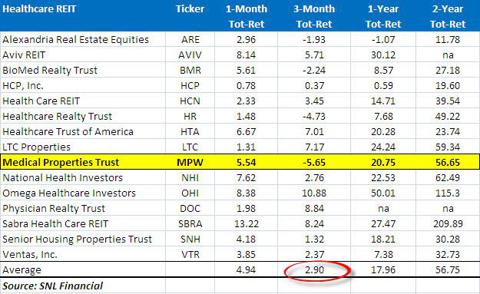 I know I can't have my cake and eat it too. If MPW had HCP's dividend record I would be leveraging my kid's college fund to buy shares. But seriously, MPW shares are now valued fairly and I am much more confident that my principal investment would be safe and the dividend reliable. I'm circling (the wagons) on this one and a mild pullback would put me in the buyer's seat at $13.00. Some things are worth waiting for, especially when it comes to protecting my cake (principal) and icing (dividends) at ALL COSTS. Stay tuned…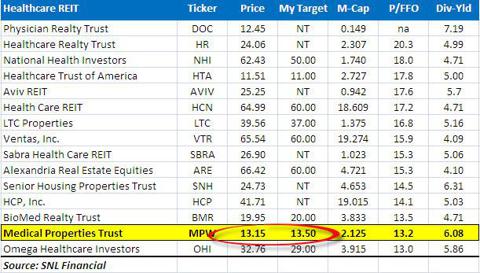 Last year Chuck Carnevale wrote an article (Dividends Provide A Return Bonus) that was the inspiration of the "cake and icing" concept. If you haven't read the article, you should. It was one of the best articles I have read on Seeking Alpha.
Check out my monthly REIT newsletter, The Intelligent REIT Investor. This month (November) I will feature a Health Care REIT Report.
Source: SNL Financial and FAST Graphs.
Disclaimer: This article is intended to provide information to interested parties. As I have no knowledge of individual investor circumstances, goals, and/or portfolio concentration or diversification, readers are expected to complete their own due diligence before purchasing any stocks mentioned or recommended.
Disclosure: I am long ARCP, O, CSG, STAG, ROIC, HTA, VTR, UMH, DLR, GPT, CBL. I wrote this article myself, and it expresses my own opinions. I am not receiving compensation for it (other than from Seeking Alpha). I have no business relationship with any company whose stock is mentioned in this article.