The Number of Deadbeat Banks is on the rise - TARP money was intended to increase business lending and to help homeowners avoid foreclosure. Unfortunately these objectives have not been achieved, and now 55 out of almost 700 TARP recipients have reneged on their dividend payments due on November 16th. Even with this poor track record the US Treasury gave a TARP handout to six more small community banks last week.
The US Treasury touts the TARP successes, but very few reports are issued on the growing TARP failures. In August, 33 banks reneged on Dividend Payments and now there are 55 Deadbeat Banks. According to SNL Financial and the US Treasury these 55 banks received $5.1 billion in taxpayer money, about 3.8% of the total TARP funding to date.
More on Conservatorship of Fannie Mae (FNM) and Freddie Mac (FRE) - Through the third quarter of 2009 Fannie Mae has tapped its $200 billion line for $60 billion and will have $140 billion left at the end of 2012 with all losses between now and then just tacked onto the commitment. Similarly Freddie Mac will have $149 billion left at the end of 2012. In effect both GSEs have been given an open tax payer check book for the next three years.
Under Conservatorship both Fannie and Freddie were to begin to unwind their mortgage portfolios by 10% per year in 2010 to achieve a $250 billion maximum by 2021. That's still the case but the beginning threshold has been raised to $900 billion each, which was the maximum that was not achieved by either at the end of 2009. This cushion will make it easier for the GSEs to stop being active buyers of mortgage backed securities and lessons the immediate need to be active sellers.
Decreasing Home Equity Lending – Another continuation of "The Great Credit Crunch" - As home prices rose from the beginning of the new millennium to the peak of the bubble in mid-2006, homeowners were urged by their lenders to take out Home Equity Lines of Credit and use this new found wealth for home improvements, expensive trips and gifts.
Today when you add the home equity debt to the original mortgage amount, many homeowners owe more than 125% of the homes market value, which makes then ineligible for most mortgage modification programs. This affects 25% of all mortgage holders. Because of this, most lenders are no longer offering home equity lines of credit and are reducing current lines with credit-worthy homeowners.
According to FDIC Quarterly Banking Profiles Home Equity Loans peaked at $674 billion at the end of the first quarter of 2009 with this loan category down to $667 billion at the end of the third quarter. Home Equity Loans will see accelerating losses as defaults and foreclosures rise. Keep in mind that if the second lien is with a different lender than the first lien mortgage, that second bank will have difficulty with repayments if the homeowner is current on the first mortgage. Wells Fargo has the biggest such exposure. Note that since the end of 2007, Home Equity Loans are up $60 billion or 9.9% as home values slumped.
click to enlarge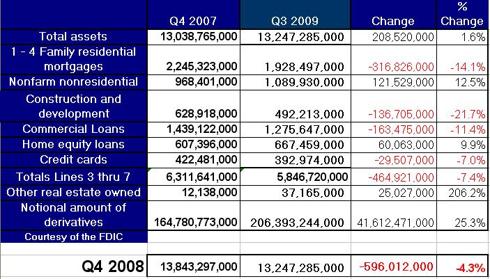 The US Treasury will be expanding its effort to expedite short sales and deed-in-lieu-of-foreclosure transactions by offering lenders fresh incentives. An industry survey showed that in November 2009 short sales and foreclosed properties accounted for 23% of all single-family home sales and 62% of multi-family sales. Under the new guidelines lenders must consider short sales after a borrower missed two consecutive monthly payments on a modified loan or after requesting a short sale. This program takes effect on April 5, 2010 and ends December 31, 2012.
That's today's Four in Four. Have a great day.
Disclosure: No Positions