Introduction
Lion Biotechnologies Inc. (NASDAQ:LBIO), formerly known as Genesis Biopharma Inc., is an emerging player in the biotechnology sector. The company is focusing on the development and commercialization of adoptive cell therapy using autologous tumor infiltrating lymphocytes (TILs) for the treatment of Stage IV metastatic melanoma and other cancers. LBIO seeks to capitalize on three decades of pioneering research in T-cell engineering by Dr. Steven Rosenberg, who is considered as the father of immunotherapy. In addition, the company has very capable management. These factors, along with a technology that has significant potential, make Lion Biotechnologies a company to watch in the biotechnology space.
Company Overview
Lion Biotechnologies' lead product candidate is Contego™, which is based on the adoptive cell therapy regimen using TILs invented by Dr. Steven A. Rosenberg. Dr. Rosenberg is the Chief of Surgery at the National Cancer Institute (NCI). His adoptive cell therapy is currently available as a physician-sponsored investigational therapy for the treatment of Stage IV metastatic melanoma at the NCI, MD Anderson Cancer Center, and the H. Lee Moffitt Cancer & Research Institute.
The existing treatment is very labor intensive, which limits widespread application. This is where LBIO comes in. The company believes that the therapy can have significant potential if it is made more widely available to a large number of cancer patients. LBIO seeks to improve the manufacturing process for TILs, which will result in reduced costs and improved logistics.
Lion Biotechnologies has licensed the rights to the adoptive cell therapy from the National Institute of Health. The company is also in talks with the NCI to license additional rights to next generation T-cells, which it believes will have higher potency and lower manufacturing costs among other things.
LBIO has also entered into a Cooperative Research and Development Agreement (CRDA) with the NCI. The company also has a Manufacturing Services Agreement with Lonza Walkersville Inc. Under the terms of the agreement, Lonza has agreed to manufacture, package, ship and handle quality assurance and quality control of its Contego™ autologous cell therapy products. Lonza has already started developing commercial-scale manufacturing process for Contego as a prospective therapy for Stage IV metastatic melanoma.
Lion Biotechnologies was previously known as Genesis Biopharma. The company took its new name after completing a merger with Lion Biotechnologies Inc.
How Adoptive Cell Therapy Works
The human immune system has the ability to identify cancer cells and develop a response. However, the immune system response is suppressed by tumors, which constrain anti-tumor T-cell growth. While anticancer drugs can reduce or kill cancers, they do not improve the immune system. ACT can do that. The passive immunotherapy attempts to optimize a cancer patient's unique immune response so that T-cells can circulate throughout the patient's body, identify the markers on the surface of the cancer cells, and attack and kill those cells.
LBIO's Contego is based on the ACT procedure, utilizing TILs invented by Dr. Rosenberg. The process begins after a patient's metastatic melanoma is surgically removed at the hospital. The tumor is then sent to Lonza, LBIO's manufacturing partner. At the Lonza facility, the autologous TILs, which have a high reactivity against the patient's tumor-specific cell surface markers, are isolated from the metastatic melanoma tumor. The autologous TILs is then multiplied ex vivo to over 10-50 billion TILs. The process is done under conditions that overcome immunosuppressive influences that are present in a cancer patient. Around a week before the infusion of the TILs, the patient returns to hospital and undergoes chemotherapy to remove immunosuppressive cells that already exist in the body. The TILs are then infused into the patient along with a high dose of interleukin-2 (IL-2).
The treatment has already shown positive results. In September this year, LBIO provided updated results from a Phase II trial for metastatic melanoma conducted by the NCI using TIL technology. Of the 93 patients who underwent the ACT treatment, 20 patients showed complete response and 52 patients overall had their tumors shrunk from pre-existing conditions. There is no doubt that ACT has tremendous potential.
Lion Biotechnologies is currently focused on the development and commercialization of Contego for the treatment of Stage IV metastatic melanoma. In the longer-term, the company seeks to develop its technology to treat certain other solid tumors such as triple negative breast/inflammatory breast duct, ovarian, and colorectal cancers.
The Market
In a recent 10-K filing, Lion Biotechnologies, citing data from the NCI, notes that 70,230 people in the U.S. were diagnosed with melanomas of the skin and 8,790 people died from the melanomas of the skin in 2011. The American Cancer Society expects 76,690 new melanoma cases to be diagnosed this year, with about 9,480 deaths from the disease.
The available therapy for metastatic melanoma includes chemotherapy, IL-2 and interferon. However, ACT is potentially more effective in metastatic melanoma treatment when compared to available therapies.
According to LBIO's internal estimates, right now some 6,000 to 7,000 Stage IV metastatic melanoma patients could be candidates for Contego annually in the U.S. The company also estimates that the number of Stage IV metastatic melanoma patients suitable for treatment with Contego outside the U.S. is approximately twice the size as in the U.S. The available therapies for melanoma have penetration rate of 60%. Based on this penetration rate, LBIO's internal estimates and an average price of $120,000 per treatment, LBIO has the potential to generate around $1 billion in peak sales. More importantly, this is just for metastatic melanoma. Remember, the company is also looking to focus on other treatments in the future. We are therefore talking about multi-billion dollar revenue if LBIO achieves its goals. With a very capable CEO, I think the company will.
Capable CEO
Lion Biotechnologies is led by Dr. Manish Singh, who serves as the Chairman and CEO. Dr. Singh is credited with taking another small biotechnology company, ImmunoCellular Therapeutics Ltd. (NYSEMKT:IMUC) from a $6 million market cap to $180 million market cap in just four years. Apart from IMUC, Dr. Singh has worked at several other biotech companies. His experience will definitely benefit LBIO at this crucial stage. I asked Dr. Singh for an interview, but he declined at this time, as he is prohibited from discussing LBIO till after the close of the offering, Nov 4th. He promised accessibility in December.
Competition
Lion Biotechnologies believes that its main competitors in the market for treating metastatic melanoma will be Bristol-Myers Squibb (NYSE: BMY) and Genentech. BMY has received FDA approval to sell Yervoy® for the treatment of metastatic melanoma. Genentech, meanwhile, has received approval for Zelboraf®. BMY also has melanoma drug in clinical development, which is likely to compete with LBIO's Contego. In addition, the company also expects competition from Merck & Co. Inc. (NYSE: MRK) and Amgen Inc. (NASDAQ: AMGN), who also have melanoma drugs in clinical development.
Risk Factors
The biggest risk for a small company like Lion Biotechnologies is funding. The company will need continued financial support to advance its lead product candidate. In fact, LBIO notes in its 10K filing, that most of its competitors have greater financial, technical, manufacturing, marketing, distribution and other resources. As a result, they are in a better position to develop products that may prove to be superior to LBIO's.
However, LBIO is addressing the funding issue. On October 31, LBIO announced that it entered into definitive agreements with institutional and other accredited investors to raise around $23 million in a private financing. The company expects net proceeds of $21.6 million from the offering, which is expected to close on November 4, 2013.
Of course, that stock offering will result in dilution of existing shareholders. Finally, there is also the risk that Contego fails to get regulatory approval. However, I must add that the clinical trial results have been encouraging so far.
Investment Thesis
Lion Biotechnologies is an emerging player in the biotechnology space. The company has licensed an impressive technology, which has significant potential. If LBIO develops its products for all indications, the company could be generating multi-billion dollar revenue in the next few years. Additionally, the company is led by a very capable CEO, who has an impressive track record. Given all these factors, I believe that LBIO shares, which are currently trading around $4.60, have significant upside potential in the long-term.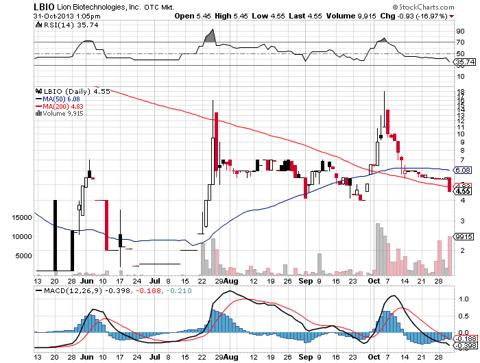 Source: StockCharts.com
Disclosure: I am long LBIO. I wrote this article myself, and it expresses my own opinions. I am not receiving compensation for it (other than from Seeking Alpha). I have no business relationship with any company whose stock is mentioned in this article.