Harbinger Group (NYSE:HRG) "is a diversified holding company seeking to acquire and to grow attractive businesses that generate sustainable free cash flow." A noble goal but rarely one that is rewarded by the public markets. You're almost guaranteed to create a conglomerate discount by combining a variety of holdings and HRG is no different.
Today, HRG is composed of Spectrum Brands Holdings (NYSE:SPB), Fidelity & Guaranty Life Holdings, Salus Capital Partners, Five Island Asset Management and HGI Energy Holdings, an oil and gas JV with EXCO Resources (NYSE:XCO).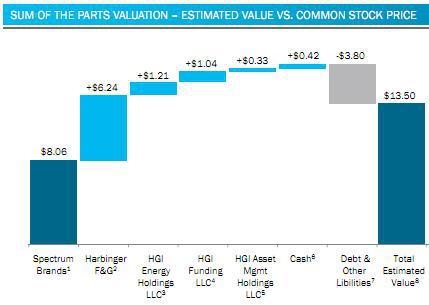 Source: Harbinger Group Inc.
As of June 30th, HRG has an estimated total value of $13.50 per share compared to a current share price of $10.89. Representing an opportunity to earn 24% if the gap between price and value were to close.
Now experienced investors know that these discounts can often persist for long periods of time, 24% may not be enough upside for the time commitment involved.
We suspect the $13.50 understates the real value. Spectrum Brands is fairly straightforward since you can use the current market price, but for the other large holdings they are being valued at book value. Until you sell them, you don't know what they're worth but we suspect they are worth more than book value.
Let's start with Spectrum Brands. The $13.50 estimated value assumes $8.06 for the Spectrum holding, since June 30th Spectrum's public stock has appreciated 16%, so that $8.06 is now worth $9.35 per share of HRG - a $1.30 of extra value.
Moving on to the other large component, Fidelity & Guaranty Life, this is a life insurance and fixed annuity company. Competitors in the category include MetLife (NYSE:MET) and Prudential (NYSE:PRU), while not perfect comps, these companies trade at 1.06x BV and are generally seen as cheap based on the sell side coverage. If we value the $6.24 of F&G at 1.06x BV it becomes another $6.61 - adding another $0.37 of upside.
Combine those two pieces and you have an additional $1.67 of estimated value above the stated $13.50, bringing you up to $15.17, representing 39% upside (almost double what other authors have pointed to as the sum of the parts discount). A sum of the parts discount has been identified in earlier articles written by other contributors, however, they're missing the most important and interesting development... a catalyst to close the gap.
Here's where HRG gets interesting. Earlier this year, HRG announced plans to repurchase shares, acknowledging the wide gap between price and value. A good first step, but there is more...
HRG is 75% owned by Harbinger Capital Partners, "a private investment firm" "founded in 2001 with Philip Falcone as the Chief Investment Officer." As most know, Phil recently settled with the SEC, agreeing, among other things, to be banned from the investment industry for five years. So what does this mean for HRG?
As part of the settlement, a special Independent Monitor will be appointed to oversee the unwind and liquidation of the Harbinger Capital funds, accelerating their need for liquidity. The Independent Monitor will serve for two years to oversee the process. Aha! Now we have what really makes HRG special - a defined catalyst and a specified time frame.
To summarize, HRG presents an opportunity to earn 25-40% return over the next two years, likely with most of it front loaded over the next 12 months as Harbinger seeks to liquidate the current holdings.
Spectrum is easy to sell or distribute, and shares are already up 16% from the value reflected in the June 30th estimate.
Up next is Fidelity & Guaranty Life, which has already filed for an IPO.
Those two holdings represent the largest investments and more than enough liquidity to return the current share price. For those of you that just want to play the arb, you can always short Spectrum to hedge 50% of the estimated value.
Disclosure: I have no positions in any stocks mentioned, and no plans to initiate any positions within the next 72 hours. I wrote this article myself, and it expresses my own opinions. I am not receiving compensation for it (other than from Seeking Alpha). I have no business relationship with any company whose stock is mentioned in this article.