More Loose Money on the Way?
The idea that central banks can somehow print us back to prosperity continues to be promoted left and right. The latest example is the focus on this week's ECB meeting. Reuters informs us that the "ECB may soon join the flight of the doves." Are we to understand that the ECB was "hawkish" up until now? Last we looked, its repo rate stood at a record low.
"Even as the euro zone economy shows faint signs of stirring, the European Central Bank is likely to send a dovish message this week that more monetary help will be on the way before long. After a plunge in inflation to 0.7 percent in the year to October, well below the ECB's target of just under 2 percent, UBS and RBS are among those who reckon a rate cut could come as soon as Thursday's policy-setting meeting.

At the very least economists expect ECB President Mario Draghi to indicate that the balance of risk has tilted toward further easing, partly because the recent strength of the euro will hurt exports with a lag. But many believe it would make more sense for the ECB to hold fire until December, when the bank ' s staff updates its growth and inflation forecasts. "A significant downward revision to its inflation number for next year – let's say at or below 1 percent, from 1.3 percent currently – may push the ECB to act," said Giuseppe Maraffino, a bond analyst at Barclays.

A cut in the ECB's main refinancing rate, now at 0.50 percent, would have the greatest headline impact. Other options include a reduction in the deposit rate to below zero, which would have a bigger effect on money market rates, or a promise of another long-term refinancing operation to ensure banks have plentiful liquidity.

Sarah Hewin, an economist with Standard Chartered Bank in London, agreed that disinflation made the case for a rate cut more compelling. But she said there were signs the euro zone's economy was turning up. The ECB's latest bank lending survey provided evidence that credit constraints might soon ease, while struggling members of the euro zone periphery appear to be touching bottom. Spain returned to modest growth in the third quarter.

"We haven't changed out forecast, which is for no rate cut, taking into consideration way the ECB has approached policy previously," Hewin said. Although the strong euro might be weighing on prices, the drop in inflation fundamentally reflects immense slack in the euro zone. Unemployment in September was a record 12.2 percent.

Other central banks are also grappling with sub-par growth, reduced pressure on commodity prices because of slower Chinese demand and improved energy buffers, notably in the United States, said Alan Ruskin, chief currency strategist at Deutsche Bank in New York. "Though a few central banks will write off disinflation as a lagged response to output gaps, generally G10 monetary policy will remain easier for longer on a global scale," he said."
(emphasis added)
Actually, a cut in the repo rate from 50 basis points would likely have no effect at all, except that banks would likely cut the paltry interest they offer to savers further. Regarding the absurd idea of lowering the interest rate on the ECB's deposit facility to less than zero, this would mainly induce a further shift of bank reserves from the deposit to the current account facility. Other than that, it would simply cut the income of banks and likely lead to slightly lower money supply growth. It is highly doubtful that it would induce banks to rush out and increase their lending.
Lastly, the whole idea that the economy needs a rising money supply or rising prices is completely misguided in the first place. Real economic growth does not depend on a rising money supply – it depends on an increase in (wise) investment and production. Consider also that prices are (according to official "price indexes" anyway) mildly declining in several peripheral countries. Why is that allegedly "bad"? These countries all have record high unemployment. Citizens in these countries can only be helped by a decline in prices, which will make their savings and incomes stretch further.
Anyway, we actually doubt that the ECB will do anything at the upcoming meeting, as there are indeed signs that the bust in the periphery has at least temporarily found a bottom, tenuous as it may be. However, we would not rule out that the central bank will spring into action if euro area "inflation" (in the form of consumer price indexes) continues to decline. Note that euro area TMS (currency and demand deposits) stood at € 5.348 trillion as of September. This means the money supply is still growing at a fairly brisk rate, but the year-on-year growth rate has declined to 6.7% from the 8.8% peak rate of change reached earlier this year. Private sector credit growth continues to be negative, with private loan growth at -1.9% year-on-year as of September (growth of credit to governments continues to be in slightly positive territory at 0.7% year-on-year).
In this context, Bloomberg has provided us with another gibberish headline, namely: "Draghi's Deflation Risk Complicates Recovery". This sounds as if the (so far largely imagined) "deflation risk" somehow belonged to Mr. Draghi, or was his work. Not so – instead we learn he is courageously "facing it down":
"Mario Draghi is facing down a deflation threat with few options left to fight it. Consumer prices in the euro area are rising at the slowest pace in four years, well below the European Central Bank's target of just under 2 percent. The ECB president has a choice of cutting rates that are already near zero, injecting liquidity that may not boost prices, or ignoring the ECB's own definition of price stability, according to banks including JPMorgan Chase & Co. and BNP Paribas SA.

A price slowdown could turn into a negative spiral that derails the recovery in the euro region. While the 17-nation economy exited six quarters of recession in the three months through June, it still has record unemployment and shrinking bank lending."
(emphasis added)
And there we have it again, the patently false notion that "a price slowdown could turn into a negative spiral" that somehow "derails the recovery". It is never quite explained why that should be so, and whenever explanations are forthcoming, they consist of unconvincing Keynesian claptrap (allegedly, consumers will all decide to die of hunger, turn off the heating and never again buy a cell phone or a car because "prices might fall further". Right.).
Apart from this misguided idea, we would also take issue with the term "recovery". The only thing that has actually "recovered" so far are share prices, as the surfeit of global liquidity is leaking into stock markets. Of Europe's real economy the best thing that can be said is that it has stopped getting worse – mainly, one suspects, because there is a limit to how bad things can get and also because the 2012-2013 money supply increase has likely boosted malinvestment and capital consumption, which masquerades as "growth" in some of the aggregate activity data. Since economic activity tends to follow money supply growth with a lag, this growth illusion may persist for a few more months.
---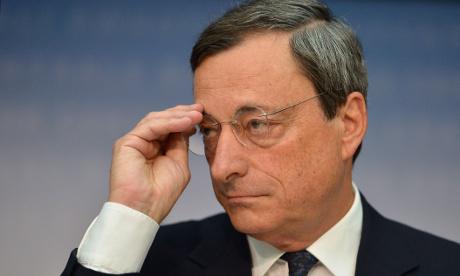 Mario Draghi grimly facing down the "deflation" bogeyman. Whatever would we do without central bank bureaucrats? (Photo via Reuters)
---
Currency Swaps Made Permanent
In a development that should probably not surprise anyone, major central banks have decided to keep the "crisis currency swap facilities" in place forever. This is mainly relevant for financing the dollar liabilities of banks outside the U.S. (and to a more limited extent, also CHF liabilities). In times of financial stress, "dollar shortages" have frequently developed, as US money market funds tended to pull back from buying commercial paper issued by European banks. The swap facilities make it possible for banks to borrow dollars directly from the ECB, BoJ, SNB, etc., with the central banks swapping their local currencies for dollars with the Fed. In other words, "guaranteed" and de facto unlimited dollar liquidity will be available henceforth:
"Central banks in advanced economies from the U.S. to Europe and Japan said emergency currency-swap lines established during the global financial crisis will be made permanent, providing safeguards against future turbulence.

Temporary, bilateral arrangements between the European Central Bank, the Federal Reserve, the Bank of Canada, the Bank of England, the Swiss National Bank, and the Bank of Japan will be converted into standing facilities, allowing lenders access to global currencies when needed, according to statements today from the central banks.

[...]

Officials are strengthening the ties that were forged after credit markets first seized up in 2007 by making dollars, euros and other currencies available around the clock to anyone who needs them. The decision comes as the Fed prepares to start tapering its monetary stimulus for the U.S. economy, which threatens to drive global market rates higher.

"The existing temporary swap arrangements have helped to ease strains in financial markets and mitigate their effects on economic conditions," the Frankfurt-based ECB said. "The standing arrangements will continue to serve as a prudent liquidity backstop."

Dollar-denominated swap arrangements between the Fed and each of the ECB, BOE, BOJ and SNB were first introduced in December 2007. They were followed by the network of agreements among the five central banks in late 2011, as a deepening of Europe's debt crisis threatened the functioning of world financial markets. The swaps were scheduled to expire on Feb. 1. The standing facilities established today effectively convert these arrangements into a set of swap lines between each of the central banks, an ECB spokesman said.

Other than euros, the ECB has only ever lent Swiss francs and dollars to banks in the currency bloc. As much as 25 billion francs ($27.7 billion) were drawn down by banks in multiple 7-day tenders, and dollar tenders reached a peak of $171 billion in October 2008, data provided by the ECB show.

"There's no such thing as too much when it comes to safety nets for global markets," said Daisuke Karakama, a Tokyo-based market economist at Mizuho Bank Ltd. who has worked at the Directorate General for Economic and Financial Affairs at the European Commission."
(emphasis added)
It is amusing that the mythical Fed "tapering" rates yet another mention, but there it is. Of course none of these things would need to be considered if not for the fact that the world's fractionally reserved banks have hopelessly overtraded their capital and are continually standing with one foot in the grave.
Regarding the "tapering" myth, Dallas Fed president Richard Fisher (widely considered a "hawk") just reminded everyone again that it will all be "data dependent". This phrase is clearly running the risk of becoming the new synonym for "never".