It is not often investors can spot a buying opportunity where $26 is on sale for $5. That is what I believe Senesco Technologies (SNTID) is offering at its current price level. This company is at about as low a baseline from a buying standpoint as anyone who believes in the prospects of its technology could hope for. One person in particular who has made a very loud statement regarding his belief in Senesco is its Chairman, Harlan Waksal. Waksal has had an impressive career in biotech, with his largest success coming as the co-founder of Imclone. His current focus is on Senesco, where he purchased stock at $26/share in 2012 and is personally securing a $3 million credit line for the company. This makes a strong statement considering his knowledge and prior success in the biotech space. It is also reminiscent to me of another successful biotech investor I follow in Phillip Frost and his vocal support of Opko (NYSEMKT:OPK), which he has been consistently purchasing as it has gone from $4.50 to $10/share in the past year. I believe Senesco will be following this same path in share price appreciation.
Senesco Has Harlan Waksal's Firm Backing
Harlan Waksal has been the Chairman of Senesco's board of directors since June 2009. He has had success with several growing biotech companies over the years, but his biggest was unquestionably as co-founder and former President of Imclone. Imclone eventually sold to Eli Lilly for $6.8 billion. Waksal served as director of Imclone up until 2005, and first joined Senesco as a director in 2008 prior to stepping up to Chairman of Senesco's board in 2009. It appears that during the gap between his involvement with Imclone and joining Senesco, he was looking for the next growing biotech with the proper potential to put his name on and help build. He got his feet wet first at Senesco joining just as a director, and must have liked what he saw over his first year to then give it his firm stamp of approval and sign on as Chairman.
Waksal is not the only impressively pedigreed backer of Senesco. The company has one of the most distinguished boards relative to its size that I have seen. Christopher Forbes is another director with a big name, and he has served on Senesco's board since 1999. Chistopher Forbes is of the same family that would first spring to mind when reading his name, and he has served as the Vice Chairman of Forbes Media LLC and Forbes Family Holdings, as well as being Vice President of Forbes Management Co.
Together, Forbes and Waksal both participated in a public placement of Senesco's of Senesco's common stock and purchased shares at the current equivalent of $26/share. This is what first stood out to me when I looked through Senesco's most recent 10-K, as it is not often a company goes on sale for 83% cheaper than its Chairman and fellow director purchased it for in the preceding year. Especially not when those two insiders are undoubtedly smart-money investors with impressive track records at multi-billion dollar corporations.
Another thing that stood out at me when looking through Senesco's filings was Harlan Waksal personally securing the company's credit line. On February 17, 2010, Senesco secured a revolving credit line for up to $3 million. From the company's filing:
"The Line of Credit is not secured by any of our assets, but it is secured by certain assets of a member of our board of directors, Harlan W. Waksal, M.D."
Waksal personally secured a $3 million credit line for the company with no assets of the company in line ahead of him in terms of security.
Comparable to Behavior of Other Billionaire Backers
This is also where it becomes more reminiscent of Frost's early days with Opko. When Frost first founded Opko through a merger in March, 2007, The Frost Group gave Opko a $12 million line of credit. This is a big sign of belief in the company from the start, and one that Frost has showed in Opko ever since. Apparently for good reason, too, as the stock has rewarded Frost and his fellow shareholders quite handsomely thus far: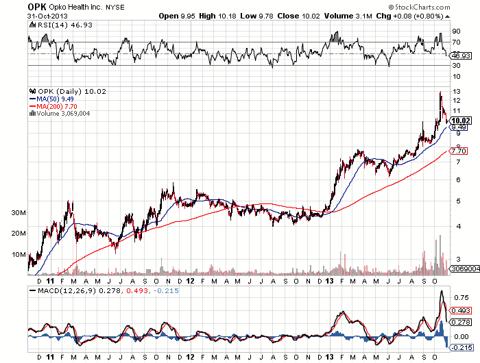 The most recent company I covered on Seeking Alpha, which has had a big breakout since, shares a similar trait in this regard as well. Cancer Genetics (NASDAQ:CGIX) has the backing of big-time biotech investor John Pappajohn and has been on a tear since my article covering the company first appeared. As seen in Cancer Genetics' S-1, Pappajohn personally guaranteed a credit line for the company in the amount of $3.5 million.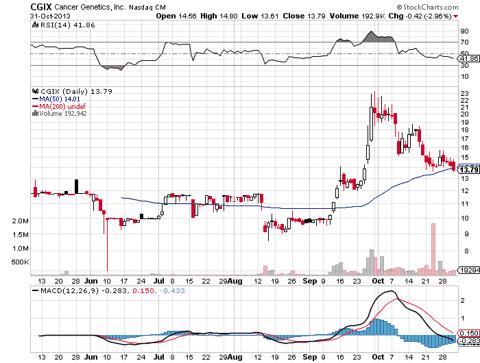 (Important to note Cancer Genetics just raised $46 million, so while the chart looks like it has retraced it has been offset with that cash added to the company's balance sheet)
Very few are in this same echelon of success occupied by people like Phillip Frost, John Pappajohn, and Harlan Waksal. They have each gotten there for a reason, as well, as they have proven several times. Their process entails the utmost due diligence before getting involved, followed by doing whatever it takes to ensure the company is a success for fellow investors once attaching their name tgiven company.
Senesco's Technology
A closer look at Senesco's technology shows a possibly life-changing one if it ends up working as preliminary data suggests it could. The technology is based on the discovery that a gene has the ability to regulate programmed cell death. This gene is known as eIF5A (Factor 5A) and the cell death is known as apoptosis. Senesco has developed SNS01-T which has two active components: a small inhibitory RNA (siRNA) and a DNA plasmid. The two components modulate Factor 5A and an inactive component, polyethylenimine. These serve to assemble the active molecules into nanoparticles to facilitate delivery to the target cells.
Senesco is now generating a clinical program in multiple myeloma patients by using this leading candidate. This technology has been granted orphan drug status by the US FDA. Senesco is also continuing to expand into other potential eIF5A applications in cancer, inflammation and ischemia.
Recent Phase 1b/2a Study Shows Promise
On June 19th, 2013 Senesco released results of their latest study. The results were very strong. Two multiple myeloma patients and one diffuse large B-cell lymphoma patient completed the required number of doses. As previous results showed, there were no drug-related issues or adverse events in the subjects tested. There was also stabilization of serum monocolonal protein levels observed in 3 of the 5 myeloma patients. Multiple myeloma is a cancer that affects plasma cells in bone marrow. Myeloma develops in 1-4 per 100,000 people per year. Diffuse large B-cell lymphoma represents a billion dollar market and is the fastest growing form of non-Hodgkin's lymphoma.
The American Cancer Society's estimates for multiple myeloma in the United States for 2013 are:
About 22,350 new cases will be diagnosed (12,440 in men and 9,910 in women).
About 10,710 deaths are expected to occur (6,070 in men and 4,640 in women).
The CEO Dr. Leslie Browne commented:
"Now that cohort 2 is completed, we are pleased to be recruiting patients into cohort 3 at a four-fold increase in the dose level from 0.05 mg/kg to 0.2 mg/kg, where we have seen efficacy in the preclinical cancer models in mice."
Senesco's work was first validated in agricultural applications.
The original discovery of eIF5A was in plants. The human genetic sequence is very close to that of a plant. Senesco has a number of agreements with major companies in the agricultural world. In November 2006, a collaboration with Bayer Crop Science was signed. Senesco was asked to use its technology on Brassica oilseeds to enhance the yield of canola.
In August 2007, Senesco signed a licensing agreement with another billion dollar company, this time with Monsanto (NYSE:MON). This agreement enabled the two companies to incorporate Senesco's proprietary yield and stress technology into corn and soybeans. Senesco has shown that its technology can yield a variety of beneficial traits in agricultural products.
A number of other companies have agreements with Senesco as well. These include Cal/West Seeds, ArborGen, Rahan Meristem.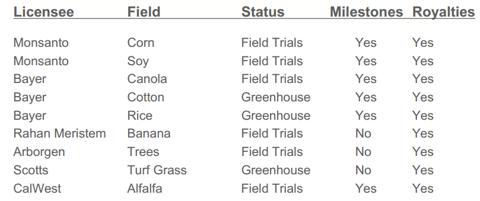 The picture below shows an example of a plant being treated with Senesco's technologies: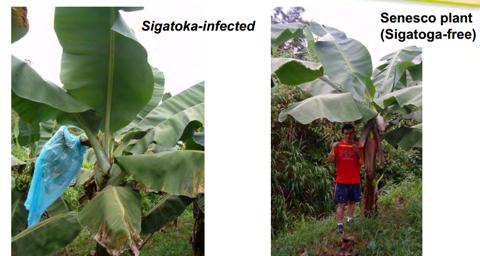 A wealth of patents
Senesco has 101 patents with potentially endless future applications as well, ranging from agricultural studies for increased seed yield to programming of cell death. A list of these patents can be seen here.
Competitors
Senesco does have a number of competitors in the multiple myeloma space. Onyx Pharmaceuticals was one of the largest, and was recently bought out by Amgen for $9.7 billion on October 1st, 2013.
Onyx manufactures the drug Kyprolis (Carfilzomib) which is a treatment for multiple myeloma. There are a few competitive products to Kyprolis. Celgene's (NASDAQ:CELG) pomalidomide is now in phase 3 for myeloma. Takeda Pharmaceutical also produces Velcade, which has been in the market since 2003. Some patients might be intolerant to Velcade and that is where Kyprolis comes in.
Another company that is fighting multiple myeloma is Pharmacyclics (NASDAQ:PCYC). Pharmacyclics has a drug known as Ibrutnib. Ibrutnib is a drug that is used in the treatment of different types of cancer. Goldman Sachs recently upgraded the company and gave Pharmacyclics a price target of $170 while estimating that Ibrutnib has a $7.5 billion market potential.
Bristol Myers is also developing a drug called Elotuzumab. This is a humanized clonal antibody presently under Phase III investigation in multiple myeloma.
Further Risks
Every biotech stock that is undergoing research poses a big risk. Senesco continues to incur large losses and has not yet realized a profit. Additional capital will be needed in the future for continuation of the studies which will further dilute current shareholders. The technology has big potential but the risk every potential investor has to weigh is that if this fails, significant share price depreciation could result. Senesco is also attempting to compete in an intensely competitive field against some of the biggest companies in the world with very deep pockets. Should Senesco continue to return positive data, though, it could become an attractive acquisition target for this very reason. For a more in-depth overview of both the company and its risk factors, see its latest annual report.
Conclusion
I believe in Senesco and the future this company has in store. With the recent financing, the continued interest in insiders owning a high percentage of shares in the company, its potentially life-changing technology in treating multiple myeloma and other types of cancer, I believe Senesco is very cheap at its current level. Now is the time to get in before phase Ib/IIa data is released in six weeks, which should have the company valued closer to peers with similar data out.
Disclosure: I am long SNTID. I wrote this article myself, and it expresses my own opinions. I am not receiving compensation for it (other than from Seeking Alpha). I have no business relationship with any company whose stock is mentioned in this article.