On October 18, 2013, in a piece titled Why I Am Considering Buying J.C. Penney, I outlined my bullish case for J.C. Penney (NYSE:JCP). In the piece, I suggested that I might buy JCP calls and I did so by purchasing the January 2014 $11 strike calls. Since then, as shown by the chart below, shares are up by more than 16%.
Reasons For The Rally
1. Ullman Says Sales Are Improving
On Monday October 28, JCP CEO Myron Ullman told investors that sales were improving and called for increasing same store sales into quarter end. Ullman's comments sent shares of JCP higher as investors bet the worst may be behind JCP. A possible surprise to the upside in holiday sales was one reason why I turned bullish on JCP on October 18. Ullman's comments have made me more confident that JCP holiday sales will be better than expected. Furthermore, I do not believe this is a "buy the rumor sell the news" situation because investors have lost confidence in Ullman following JCP's decision to raise capital. In other words, I expect JCP shares to move higher if positive sales numbers are reported even though the stock has already been moving higher on rumors of better than expected sales.
2. Marc Lasry: Go Long J.C. Penney Bonds
On Tuesday, October 29, JCP shareholders got more good news when noted investor Marc Lasry of Avenue Capital Group told investors to buy the bonds of JCP. Lasry's call was predicated on the idea that bankruptcy risk is being overstated by the markets. Lasry's comments are in line with my thinking from before that a JCP bankruptcy became less likely following a recent stock issuance. I agree with Lasry that the bullish case for JCP bonds is strong.
3. ITG Investment Research Upgrade
On Friday November 1, ITG Investment Research lifted its sales forecast for JCP sending shares nicely higher. ITG's upgrade seems to back up the comments recently made by JCP CEO Myron Ullman.
Why The Upside Is Limited
I firmly believe that more upside lies ahead for JCP. (This is why I own the January $11 call options) However, I believe JCP's upside is limited to the mid-high teens for three reasons. Firstly, JCP's stock offering of 96 million shares was highly dilutive. The liquidity was much needed and may have prevented a bankruptcy but, at the same time, the stock issuance has decreased the possible upside. The second reason why I believe JCP's upside is limited has to do with increased debt and interest expense. As shown by the chart below, JCP quarterly interest expense has increased from just over $60 million per quarter to $95 million per quarter. This means that JCP has an annual interest expense of $380 million.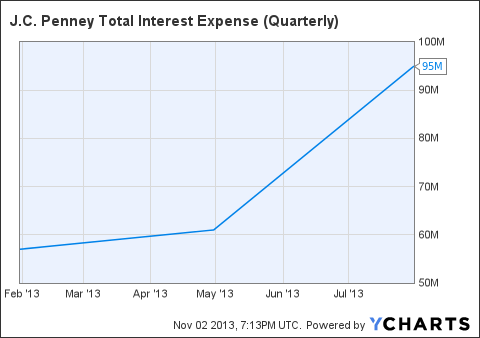 JCP Total Interest Expense (Quarterly) data by YCharts
As shown by the chart below (blue), in the past, when JCP was doing quite well, the company generated about $200 million per quarter in net income. During this time, JCP shares tended to trade between $20-$40 per share. My point here is that even if JCP is able to completely turn around its operating business, JCP's increased interest expense will keep earnings depressed from previous times.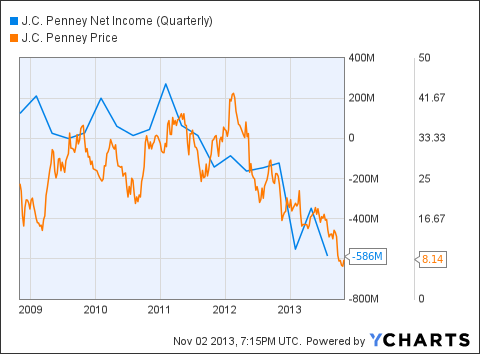 JCP Net Income (Quarterly) data by YCharts
Finally, I believe JCP upside is limited to the mid-high teens because of valuation. As shown by the chart below, historically, on average, JCP has traded at a price/book value of about 1.5. Certainly, this is a discount to Macy's or Kohl's, two of JCP's biggest competitors. This makes sense given that both Macys (NYSE:M) and Kohl's (NYSE:KSS) are better operators. That said, based on the current valuation, JCP can double from current levels and still be relatively cheap based on price/book value. However, for JCP to trade at $20 per share, the company would be trading for about 2 times book value. This seems highly unlikely given the company's current state.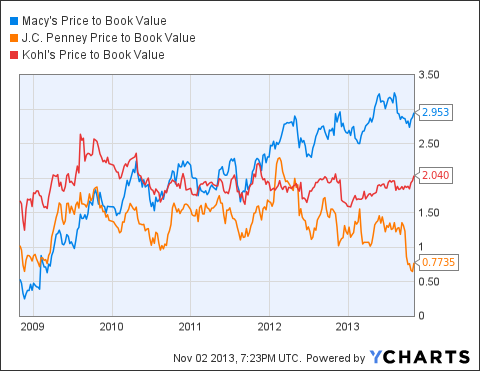 M Price to Book Value data by YCharts
Conclusion
At just over $8 per share, I remain bullish on JCP as the critical holiday season approaches. However, I believe the upside is limited to the mid-high teens. JCP's large equity issuance, increased interest expense and possible upside valuation of 1.5 times book value make it difficult to see how JCP shares can move above $20 per share.
Disclosure: I am long JCP. I wrote this article myself, and it expresses my own opinions. I am not receiving compensation for it (other than from Seeking Alpha). I have no business relationship with any company whose stock is mentioned in this article.