Is it really that difficult to see that American Capital (NASDAQ:AGNC) has its hands full of late? Seriously, take a look at the earnings report, and just let the "highlights" sink in for a second or two:
$1.80 NET loss per common share.
$(0.03) per common share of estimated net carry loss (also known as "dollar roll income/loss") associated with the Company's net short position in agency mortgage backed securities ("MBS") in the "to-be-announced" ("TBA") market.
$25.27 net book value per common share as of September 30, 2013. (Another 1% drop)
7.8x average "at risk" leverage during the quarter
Commenting on the third quarter, Gary Kain, President and Chief Investment Officer, said:
"During the third quarter, we continued to see substantial volatility in both interest rates and mortgage spreads. Consistent with what we said during our last earnings call in late July, we remained disciplined in our approach to risk management and prioritized book value preservation over short term earnings. To this point, we continued to migrate the portfolio into shorter maturity securities, lowered leverage somewhat, and maintained relatively high hedge ratios. Given the changes we have made to our portfolio and the significant reduction in risk positions across the entire fixed-income landscape, we have gradually been increasing our duration gap and begun to transition in the direction of a more normal balance between risk and return. That said, we remain acutely aware of the idiosyncratic risk associated with the markets today given the fixation on the actions of both the Federal Reserve and fiscal debate in Washington." (Emphasis added by the author)
The stock has now dropped by about 34% in the last 12 months. The current yield is about 14%, so to me that looks like a 20% loss of total return. To me, that is indicative of the turmoil that I have been talking about in the mREIT market.
I am of the opinion that a deep dividend cut will be announced for this coming quarter, and the stock will sell off once again.
One Look At This Chart And Even I Can Take An Educated Guess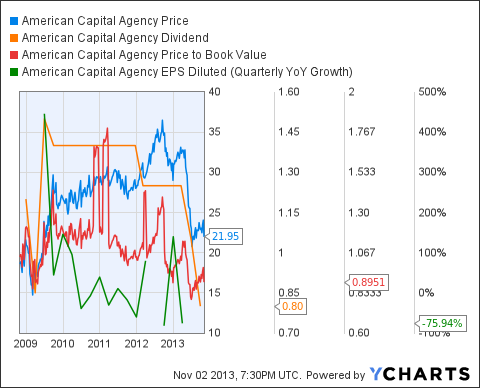 This chart seems to tell us all we really need to know about where the stock could be headed. The share price seems to track the dividends paid. The dividends paid seems to track the quarterly YoY growth (in this case it is now -75%), as well as the price to book value.
Now if you take a look at the last 3-6 months, the share price has appeared to disconnect from the dividend cut (the blue line is the share price, orange is the dividend). I believe that the well timed share buybacks that AGNC made, helped keep the share price up a bit.
Also, whenever that book value is at such a deep discount, investors looking for "bargains" will gravitate towards it. Especially when the dividends seem so sweet. Well, here we have that "hope and dream scenario again.
Those investors who will buy shares right now, are hoping and dreaming that the headwinds that the mREITs are facing will just go away, or the company will clean off its crystal ball and wind its way around all of the question marks and unknowns.
Take a quick look at the conference call to gain a bit more insight to what might lie ahead for American Capital.
Gary Kain opened up his remarks with this comment:
This is a very volatile quarter with substantial moves in both interest rates and mortgage spreads. However, if you just looked at the quarter-over-quarter changes and ignore what happened intra quarter things look relatively benign with small moves in rates and modest increases in most MBS prices. However, that approach to analyzing the quarter is somewhat short sighted as any prudent portfolio manager should not have simply just hoped that the Fed was not going to taper Janet Yellen would get the nod, the last two employment reports would miss the mark, money manager redemptions would slow and rates would recover.
Kain is obviously being candid here, but that will not change what the company faces in the near to medium term.
I want to be clear that a key determinant of our willingness to increase our duration gap is related to the shorter spread sensitivity of our portfolio, and the fact that our asset portfolio becomes considerably less risky over time. While we remain relatively positive on the near term spread outlook for mortgages, we are unlikely to proactively take up leverage significantly as we remain more concerned about the intermediate term landscape and the idiosyncratic nature of the risk inherent in today's market.
Ouch, that last line in which I highlighted tells me all I need to know; more pain ahead for shareholders is more likely than not.
Back Of The Napkin Guesstimates
Any sort of prediction is a fools game to be sure, but in my own simple minded way, I think that based on the earnings reported, the dividends could be cut by 50%. If the company earned only $.45/share overall (as stated in the earnings report), 90% of THAT number is around $.40, which is half of the current dividend of $.80.
That might or might not happen, but I think I am pretty close. The second part of this weak scenario could be that shareholders finally get tired of seeing their overall total returns remain negative, in the face of further dividend cuts. Many just might finally dump their shares and that in turn could send the shares below $20.00, for the first time in one year.
If you plot that number over the dividend cut and the price to book value in the chart shown above, you can see that the trajectory is pretty close to a new 52 week low in the share price. Of course if the share price does hit $19.00, the dividend yield would STILL be pretty close to 10%. At that point, if some of the headwinds do become stable and the interest rate climate calms down, it might be the right price to take some risk dollars and buy a few shares.
For now, my money is staying away.
Disclaimer: The opinions of this author is not a recommendation to either buy or sell any security, and the author is NOT an expert in the mREIT sector. Please remember to do your own research prior to making any investment decisions.
Disclosure: I have no positions in any stocks mentioned, and no plans to initiate any positions within the next 72 hours. I wrote this article myself, and it expresses my own opinions. I am not receiving compensation for it (other than from Seeking Alpha). I have no business relationship with any company whose stock is mentioned in this article.