Transocean, Inc. (NYSE:RIG) shares were trending up on news that it would be added to the S&P 500 Index (NYSEARCA:SPY) after the close of trading on October 28. However, the shares have pulled back after an analyst at Goldman Sachs (NYSE:GS) downgraded the stock to sell with a $50 price target over a variety of concerns. These concerns included the fact that Transocean shares had recently outperformed the market, (however, this is not really the case now after the recent pullback) and that the company faces "significant contract renewal risk" as several of its deepwater rigs will be up for renewal in the next 6 months. The analyst also pointed out that Transocean has an aging fleet that could use upgrading, but this is hardly a new concern.
While some of these concerns seem to bring up valid points, it also seems that these issues might already be priced into the stock which still looks inexpensive when compared to the S&P 500 Index which now trades for about 16 times earnings and yields around 2%. By contrast, Transocean shares trade for about 9 times earnings estimates of $5.28 per share for 2014 and it yields a whopping 4.5%. Furthermore, the inclusion in the index is a long-term positive for the stock and the company is bound to upgrade its fleet and newer equipment will command high rates, which will offset the costs.
Another potential positive "wild card" is the fact that legendary activist investor Carl Icahn is bullish on this stock and increasingly involved in management. Earlier this year he sought a $4 per share dividend which was not approved, but he did get one of his nominees appointed to the board. Mr. Icahn has been generating very strong returns with some of his investments including Netflix (NASDAQ:NFLX) which he recently took some profits in, after making gains of around 500%. I would not be surprised if he used some of those proceeds to increase his stake in Transocean which was reportedly already at about 5.6% of the company and worth nearly $1 billion. I would not bet against Mr. Icahn and buying Transocean stock on pullbacks could pay off in the long-term, especially since investors can collect a hefty 4.5% yield while waiting for a high share price.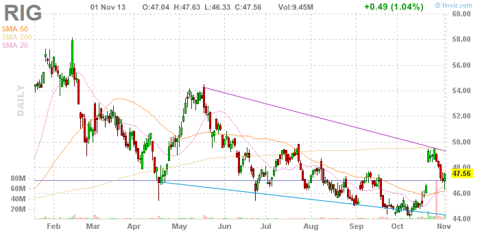 Click to enlarge
As the chart above shows, Transocean shares have pulled back from
recent highs and now trade right between the 50-day moving average of $46.20 and the 200-day moving average of $49.36. The company is expected to report third quarter earnings of $1.06 per share after
the market closes on November 6. According to EarningsWhispers.com, the "whisper" estimate is slightly lower at $1.03 per share which would indicate a small miss. Because of this, cautious investors might want to wait for earnings and consider any post-earnings selloff as a buying opportunity for the long-term.
Here are some key points for RIG:
Current share price: $47.56
The 52 week range is $43.65 to $59.50
Earnings estimates for 2013: $3.98
Earnings estimates for 2014: $5.28
Annual dividend: $2.24 per share which yields 4.5%
Data is sourced from Yahoo Finance. No guarantees or representations are made. Hawkinvest is not a registered investment advisor and does not provide specific investment advice. The information is for informational purposes only. You should always consult a financial advisor.
Disclosure: I am long RIG. I wrote this article myself, and it expresses my own opinions. I am not receiving compensation for it (other than from Seeking Alpha). I have no business relationship with any company whose stock is mentioned in this article.