Surely a couple of you have noticed that NQ Mobile (NYSE:NQ) has appeared on both the biggest decliners and biggest gainers list several times throughout the month of October. For those of you unfamiliar with the story, here's what has happened in the saga that is likely to provide something to continue to pay attention to for those that don't find Ackman vs. Icahn as enough drama in the markets.
God, you've got to love Wall Street feuds.
NQ Mobile is a global mobile security and productivity company that's co-headquartered in both Beijing and Dallas. As of June of 2012, NQ claimed it had about 200 million registered user accounts.
Chinese companies like Longwei Petroleum (OTC:LPIH) are commonly targets for short sellers, and for a good reason - there's seeming to be an increasing number of U.S. listed Chinese companies that are fraudulent, which can sometimes be ignored by (or even assisted by) the Chinese Government.
Towards the end of October of this year, research firm Muddy Waters called the company a "massive fraud", issuing a near worthless price target - NQ subsequently was halted and the price of NQ plunged as low as $7 from it's former valuation in the $20's.
Muddy Waters claimed that almost 75% of NQ's major revenue was non-existent, claiming the company is its own biggest customer. They made allegations across the board, claiming that NQ's market share was about 1.5% versus the 55% that the company claims. They alleged that NQ's software wasn't safe and actually made phones more vulnerable to security breaches.
(From muddywatersresearch.com)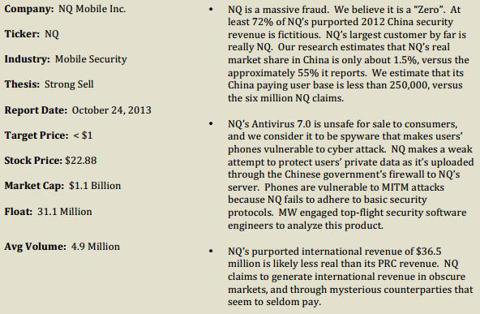 (Click to enlarge)
Muddy Waters' report is available for full viewing here.
NQ's stock was crushed as the company lost nearly $500 million in value. The year prior, NQ was up almost three fold.
NQ, right off the bat, responded by saying that they were going to "respond quickly, transparently, and forcefully".
NQ made an immediate attempt to validate its cash balances, which MW claimed were non-existent. They initiated a transfer of $100 million in funds to show that they had it. From there, they filed the obligatory lawsuit against Muddy Waters. As NQ continued to transfer funds in the subsequent week, the stock bounced back - up almost 70% from their pummeling that came at the hands of MW's report.
NQ also put out an almost 100 page rebuttal to MW's claims, which it is hosting on its website, and is available for viewing here.
In the latest round of allegations, Muddy Waters' CEO appeared on Bloomberg television on Friday, sticking with his company's research and continuing to claim that NQ is likely to be delisted. NQ's CEO, Omar Khan appeared shortly after to refute, but NQ had again been hit to the tune of 10%
As you can see from the following chart, NQ's trading over the past week has been extremely volatile.
The trade I took after NQ had crashed was to play an options straddle, hoping for continued volatility. When the stock bounced back up almost 70%, I cashed out. I don't plan on getting back into NQ at any point, and am arguing that it's not a great idea to get on either side of this trade.
Unless you're sick and twisted, there's really no reasons to stake a claim on either side of this argument. The situation that NQ is in is about as binary as it gets - one of the two parties in this argument isn't just wrong; they're demonstrably wrong - and it's going to lead to near total losses for either longs or shorts.
This is definitely going to be an interesting story to follow in the coming weeks, as it's proof positive that one of these two parties is sorely misguided.
Best of luck to all investors on both sides of the NQ trade.
Disclosure: I have no positions in any stocks mentioned, and no plans to initiate any positions within the next 72 hours. I wrote this article myself, and it expresses my own opinions. I am not receiving compensation for it (other than from Seeking Alpha). I have no business relationship with any company whose stock is mentioned in this article.