Was is just me, or was this past quarter's earnings season all about mobile?
For Facebook (NASDAQ:FB), mobile advertising represented 49% of advertising revenue for Q3 2013, up from 41% for Q2 2013 and 30% for Q1 2013. Noticing a trend? Facebook is monetizing its mobile users so successfully mobile revenue has become nearly half of total advertising revenue, outpacing traditional fixed users.
But it's OK, FB doesn't have a choice in the matter. As shown by this simple graph, mobile users are becoming a larger part of total users proportionately speaking as well: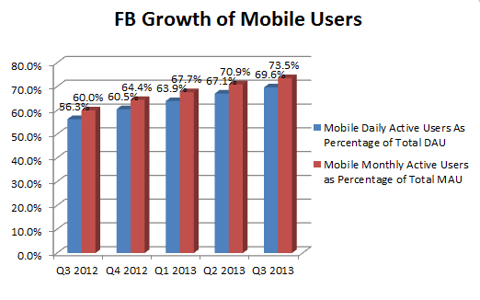 Totaling about 69.6% of total Daily Active Users and 73.5% of total Monthly Active Users, mobile users are clearly outgrowing that of fixed users.
To add even further insult to your grandpa's desktop, Facebook retains a statistic called "Mobile-Only Monthly Active Users." This metric grew to 254 M users, doubling from the same period a year ago.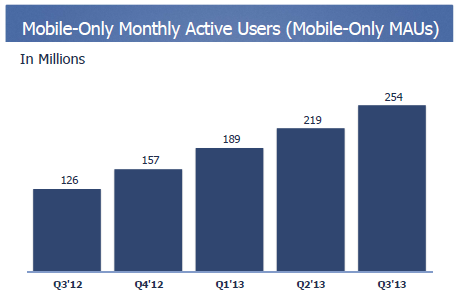 Also interesting to note was the 254 M Mobile-Only MAUs amount to 21% of the total 1.1B Monthly Active Users FB reported. This statistic is amazing, and truly speaks to the importance of mobile users to Facebook's profits.
So it was impressive to see Facebook successfully monetize mobile users. Somehow they were able to cram advertisements on those tiny little screens without annoying their users much, which is a huge positive considering the growth forecasted for mobile internet. What do I mean exactly? Well back in the Spring of this year, Cisco projected huge growth for internet data, namely for mobile: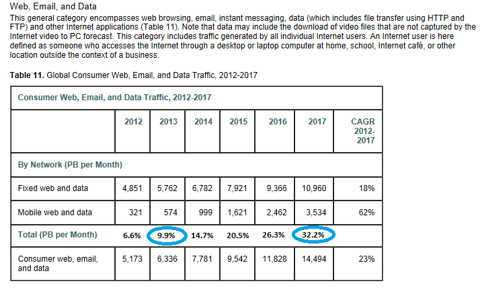 This condensed table from CSCO shows a 23% CAGR for consumer basic web, email and data traffic from 2012 through 2017, which obviously encompasses the type of data FB would fall under. Notice mobile web and data's 62% CAGR is expected to drastically outpace fixed data's 18%. For 2013, CSCO estimates mobile use will total about 9.9% of fixed use, but will grow to over 30% by 2017.
If Cisco's internet growth projections are even remotely correct, Facebook's growth of mobile users will continue to overwhelm that of the standard user for quite some time. Mobile metrics are a critical element to FB's success, and it is definitely something to focus on going forward.
In my opinion, it was a huge positive to see FB's mobile use outpace that of fixed use as this trend seems to correspond to the broader internet growth forecast given by Cisco. Obviously, Facebook's ability to successfully monetize this growing class of user is a huge positive since mobile is just beginning to rocket higher. As long as Facebook's revenue growth can match mobile userbase growth, the stock should perform as I believe this growth correlation is what the market is watching.
Hopefully, growing screen sizes in mobile devices will help Facebook meet advertising expectations. 2013's average screen size is expected to grow to 3.3 inches from 2012's 3 inches and 2011's 2.6 inches. Does a bigger screen make for more advertising space? Perhaps that's a debate for another time.
Disclosure: I have no positions in any stocks mentioned, and no plans to initiate any positions within the next 72 hours. I wrote this article myself, and it expresses my own opinions. I am not receiving compensation for it (other than from Seeking Alpha). I have no business relationship with any company whose stock is mentioned in this article.