Although we are seeing weakness in the energy complex, other commodity sectors are still showing strength and with Goldman's report this morning it appears that the spectrum of well performing commodity sectors shall be widening as steel joins the party. We like the materials right now for trading purposes as they have been underperformers as of late. Long-term we are not ready to call the start of another prolonged bull market as there are quite a few questions we still have which are yet to be answered by our research. As it stands right now we remain interested buyers on dips in the oil and natural gas names and traders in materials names, with the one exception being our long-term bull call on Freeport-McMoRan (NYSE:FCX).
Stocks To Watch:
AK Steel (NYSE:AKS) was upgraded at Goldman Sachs from a "Neutral" to a "Buy".
US Steel (NYSE:X) was upgraded to a "Buy" from "Neutral" as well by Goldman Sachs.
Chart of the Day:
Gasoline prices continue to head lower and with the recent dip we are now in a position to test the lower levels of support on the chart. These lower prices are great for the U.S. consumer - and just in time for the holiday season. One has to be concerned about the refiners and their margins though, and that might be a big story this winter if we do not have a cold snap in the Midwest and Northeast soon.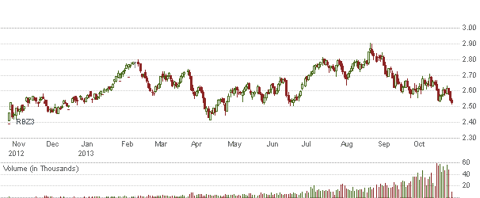 Source: CNBC
Commodity prices this morning are as follows:
Gold: $1316.90/ounce, up by $3.70/ounce
Silver: $21.795/ounce, down by $0.042/ounce
Oil: $94.47/barrel, down by $0.14/barrel
RBOB Gas: $2.5239/gallon, down by $0.0215/gallon
Natural Gas: $3.43/MMbtu, down by $0.083/MMbtu
Copper: $3.26/pound, down by $0.0385/pound
Platinum: $1453.80/ounce, up by $1.70/ounce
Commentary
Goldman Sachs has moved their opinion of the steel industry to a bullish stance as they believe that all of the oversupply and pricing issues are already priced into the current valuations and that the industry will see better days ahead. The company moved both AK Steel and U.S. Steel to 'Buy' ratings from 'Sell' while also upping their outlook for other names such as Steel Dynamics (NASDAQ:STLD) - which was moved to 'Buy' from 'Neutral'. The Goldman analysts see value in all three names and believe that each possesses reasons to be bullish at these prices as their cost cutting programs are taking effect and margin expansion should soon follow as the economy turns up. The one name that Goldman's analysts were bearish on was Reliance Steel (NYSE:RS) which they view as fully valued at these prices. Readers might want to watch for underperformance in Reliance's shares moving forward.
Both Reliance and Steel Dynamics have been the leaders in the sector over the past year, but recently U.S. Steel and AK Steel have assumed the leaders role as speculation has started about whether an upturn in the sector is underway.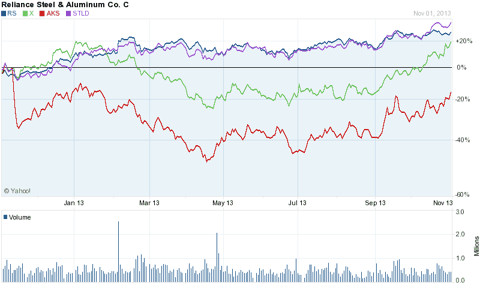 Source: Yahoo Finance
We have been bullish U.S. Steel versus AK Steel for some time now as we first viewed AK Steel as overvalued and U.S. Steel as the safer bet. That trade played out accordingly and as we saw the numbers in China begin to improve we thought that the entire sector would benefit, especially as they had an opportunity to buy cheap iron ore initially. We remained bullish of U.S. Steel for the purpose of keeping our readers in a name which had less volatility but did point out that AK Steel would have outsized gains as the market fully turned. The market has not fully turned, but we are seeing analysts come around to the sector and all of the bullishness seems to indicate that the bottom has in fact been put in on these names. We still like U.S. Steel these days and continue to believe that AK Steel will show the best gains once a recovery has happened, but our view is that the best play with that stock is to time your move. Waiting for the upturn to form and then buying the momentum seems the 'safer' move there, and until then we would simply use U.S. Steel for exposure to the sector.
Disclosure: I have no positions in any stocks mentioned, and no plans to initiate any positions within the next 72 hours. I wrote this article myself, and it expresses my own opinions. I am not receiving compensation for it (other than from Seeking Alpha). I have no business relationship with any company whose stock is mentioned in this article.