Getting Up to Speed
In my previous article, I explained why Tower Group collapsed by over 40% on Tuesday, October 8th. I also pointed out that Tower Group (NASDAQ:TWGP) had fallen more than 20% three times in the last 2-3 months.
You can see two precipitous drops plus TWGP's flatline price since my previous article. Although the price edged up a bit from the 40% drop, you can eyeball the fact that the price is creeping lower and lower.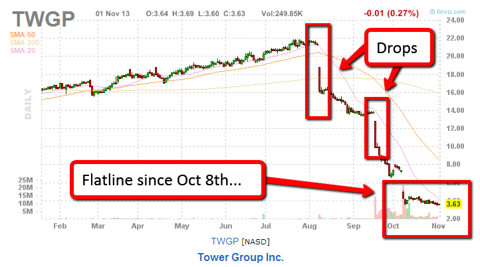 Click to enlarge
But, maybe Tower Group is a great company and I'm missing something. Or, maybe Tower Group is full of value that I don't understand. Let's look at that now.
Is There Any Love For Tower Group?
When I explained why Tower Group was getting destroyed, a few people jumped in to support the company. Specifically, they talked about the opportunity to speculate on the stock more than they professed their conviction in the long-term value of the company. I'll talk about that difference in a bit. First, I want to point out some "good things" I didn't previously emphasize.
First, I mentioned that Michael Lee, TWGP's CEO, sold a bunch of stock on 18-September. However, it appears that this was a forced sale. Of course, there are many reasons for a CEO to sell and in this case, it doesn't appear it was to cash in before the collapse. The sale was required. It appears it might have just been serendipity, nothing sinister. Frank Zhang explains it all this in this article. In fact, Mr. Zhang thinks TWGP's price drop is an opportunity. So, he's a fan.
Second, on 11-Oct Guggenheim lowered its price target from $11.00 to $8.00, on 08-Oct Compass Point lowered its price target from $20.00 to $8.00, and on 08-Oct FBR Capital Markets dropped its price target from $17.00 to $7.00 (view analysts' ratings history). Guggenheim and Compass Point both have Buy ratings and FBR Capital Markets has a Market Perform rating for TWGP.
Here's the point. Even after slashing their price estimates, these analysts see value in TWGP. And, perhaps more importantly, their price estimates are roughly 100% more than the current market price.
Furthermore, I'm not seeing any analyst freak out about insolvency or bankruptcy. If things continue to decay, Guggenheim analyst Bijan Moazami thinks there's even some potential for a takeover.
Third, although TWGP appears to be in trouble, it's still getting support from banks like Barclays and Bank of Montreal. Take a look at the October 2013 8-K. And TWGP has recently entered into agreements with three reinsurers (Arch Reinsurance Ltd., Hannover Re and Southport Re) to improve its financial position.
So, let's summarize. The insider trading is nothing to worry about. Frank Zhang makes it clear that Michael Lee, the CEO and a major shareholder, was hit with margin call and $12.6M in shares were liquidated by Citigroup to repay a loan. Analysts dramatically lowered their estimates but these estimates are still about 100% greater than TWGP's current price, suggesting potential upside. And finally, TWGP is getting support from banks like Barclays and Bank of Montreal, but also reinsurers. This is an interesting story of institutional strength.
My Original Thesis Still Holds
Now, I want to invert. As I originally stated:
"The key reason Tower is getting destroyed is a lack of confidence."
Although analysts, banks and reinsurers are providing a certain level of support to Tower Group, the fact remains that there's a high level of uncertainty. And this isn't just a general malaise but instead it's targeted and very specific: loss reserves uncertainty, impairment charges and reevaluation of goodwill and intangible assets.
The uncertainty is driving down confidence. And, as long as confidence remains low, the stock price will remain low over the medium and long term. In the short term, I expect high volatility and maybe an opportunity. I'll explain that shortly.
This uncertainty is also being reinforced by the "Fat Pile Of Doom" which as I previously explained is the growing number of lawsuits against TWGP. For example, if you head over to Yahoo and take a look at its newsfeed for TWGP you'll see a lot of this:

Click to enlarge
(Source: Yahoo)
It's largely irrelevant if these cases are valid or not at this point. The reason is that this pile of lawsuits has a psychological impact. Of course, we cannot measure the financial impact in relation to the psychological factors but it is almost certainly negative.
If you agree that TWGP is in crisis mode, then I'd like to emphasize that it hasn't issued a press release in over 3 weeks. This does not give me a warm and fuzzy feeling.
Two Ways to Play TWGP
I believe that there might be substantial value in Tower Group, ready to be unlocked. And Frank Zhang might be right that there's been serious overselling.
Furthermore, analysts, banks and reinsurers seem to be supporting TWGP. That institutional support is perhaps more than backstop. It might turn into the catalyst for a short term, speculative price movement. And, apparently, Tower Group has asked JPMorgan to help sell the business.
Therefore, you may want to place your bet with the institutional forces in the market. Although I see this as a gamble, the potential upside short term is enormous. Almost any good news will send this stock up.
So, that's the short term story. There are intelligent reasons to speculate. I believe this short-term approach is strongly based on the emotions of Mr. Market and it could be a winner with 50% to 100% upside in the short run.
My bonus idea for TWGP speculators is this: Take a look at the Apr 2014 $2.00 calls. They are in the money right now and they come with a $0.20 premium. If you feel like gambling, they will buy you about 6 months of time to enjoy a "pop" if some good news flows in. Of course, caveat emptor.
However, all that said, I am not a short-term investor. Even when it's rational, I avoid almost all speculation and look for long-term value, long-term growth and stability.
I get freaked when it appears there is the potential for permanent capital destruction. I want protection from potentially catastrophic impairment charges, serious loss of economic goodwill and the evaporation of intangible assets. This is especially true for an insurance business. Therefore, I recommend against holding a long position. I also recommend against shorting TWGP. For me, this is a "No Play!" long or short. There's too much uncertainty.
In summary: Tower Group is an interesting gamble for short-term traders, especially with calls. It might even be perfect. But, it's toxic right now for long-term investors who want to minimize their potential for a catastrophic loss of their capital.
Disclosure: I have no positions in any stocks mentioned, and no plans to initiate any positions within the next 72 hours. I wrote this article myself, and it expresses my own opinions. I am not receiving compensation for it (other than from Seeking Alpha). I have no business relationship with any company whose stock is mentioned in this article.