As mentioned many times in the past, Facebook (NASDAQ:FB) executives appeared in denial over the teen usage debate. Over and over the executives have claimed that teen usage and engagement continues to grow while every credible report suggests teens no longer favor the social network. Most of the debate probably stems from semantics of what counts as teen usage. Sure teens still use the site on possibly a monthly or even daily basis and possibly even more kids use the site as parents become more and more comfortable allowing them access to it. In that essence, Facebook might technically have been correct all along that teen usage remained strong. Evidence all along continues to suggest that teen engagement and interest in using the service continues to decline. Piper Jaffray again disclosed that the teen survey it conducts places Twitter (NYSE:TWTR) and Instagram as favorites. In fact, the below chart showcases how Facebook popularity has plunged in the last year.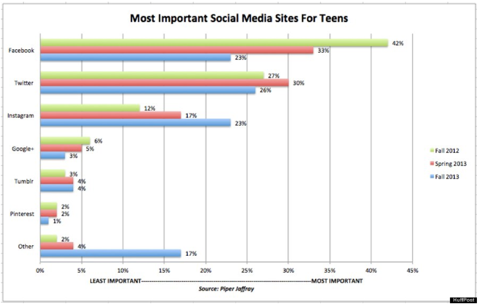 Click to enlarge
While all the media outlets continue reposting the statement from the CFO on the earnings call finally disclosing less engagement from teens, the most damaging interview all week came from a teen. A young lady that writes op-eds for Mashable made the most alarming statement about Facebooks' teen issue. On CNBC, the 13-year old stated "I go on Facebook if I'm bored". Her interview summed up the issues facing Facebook. She sees Facebook as old, but she does use the site. Clearly she counts as a daily active user (DAU) and monthly active user (MAU), but she isn't engaged.
What Does This Mean For The Stock?
For now, monetization of existing traffic rules the investment thesis. The biggest reason to not short the stock, regardless of teen issues and sky-high valuation, has always been its ability to increase the rate it monetizes exiting traffic. Not to mention, the traffic data according to Facebook continues to show solid daily and monthly growth in the 20% range. A huge part of that growth is emerging markets. In Q313, the US revenue per user jumped to $4.85 from $4.32 in the prior quarter helping push revenue up 60% to $2 billion. With the company able to keep costs under control, earnings soared. Facebook is now in the sweet spot with ad rates increasing and older users and emerging markets masking teen user trends.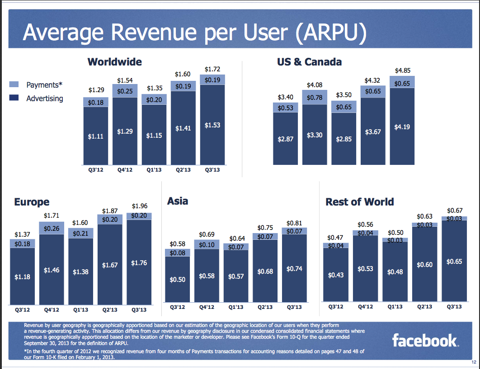 Click to enlarge
What If The Teen Trend Doesn't Revert?
The typical bullish investor likes to claim that the teen crowd doesn't matter, that those users don't click on ads or buy products. The problem with that logic is that teens are the ones that dictate and control the hierarchy of the network. If teens leave, will parents stay? If parents leave, will grandparents' still have any reason to use the service? The interesting part about Twitter is that service relies more on influential media, news, and sports leaders to drive traffic. As with any service, Twitter needs to remain relevant and the source of the fastest information. In the recent shooting, LAX informed interested parties to obtain the latest news on the airport via the Twitter feed. So while Twitter needs the news and sports figures to continue tweeting, these leaders also need Twitter to stay relevant. On the other hand, Facebook has the most influential group (teens) that wants independence from parents and grandparents. Like MySpace and AOL Messenger before it, once a user leaves it breaks down the network. Now that users best friend, co-worker, or parent has one less reason to use the service. Once the dominoes start falling, Facebook won't be able to reclaim users.
Focus On Monetization
The overt focus on monetization helps revenues now, but it will undoubtedly cause users to flee. Product innovation no longer appears at the core of development. Now the questions are whether to monetize Instagram now or later. Unlike services such as Yelp (NYSE:YELP) that has always been tied to generating revenue. Note that Instagram and Yelp have similar user bases. In fact, Forrester Research recently suggested that Facebook generates the lowest benefits to advertisers.
The question really appears to be when will users replace Facebook and not if it becomes irrelevant, like every social network before it. SnapChat provides the ability to share pictures with friends away from the prying eyes of parents, but it doesn't allow for a connection with everybody. As mentioned, Twitter allows for catching the latest news and opinions from anybody. Instagram provides the ability to share photos with everybody. In the end, Facebook is quickly becoming the utility service for the items that new services don't cover. Increasingly, it's the connections such as parents and old high school friends. A user might have connected two years ago on Facebook with a old high school friend, but the person sure isn't connecting with them via SnapChat or Instagram. In that light, Facebook might always offer a valuable utility type service for contacting an old friend, but it appears increasingly likely that the primary method of connecting won't be Facebook going forward.
Traffic Trends
The hardest part about tracking Facebook usage is the lack of quality data points by third party vendors. The current trend shows a massive decline in US user growth. The hidden part is the amount of time spent on Facebook. The difference between spending 5 minutes a day and 60 minutes is huge. That daily user that has dropped down to a few minutes a day could quickly turn into only a monthly user. For now though, the slide from the earnings presentation shows a slight increase in DAU in both North America and Europe.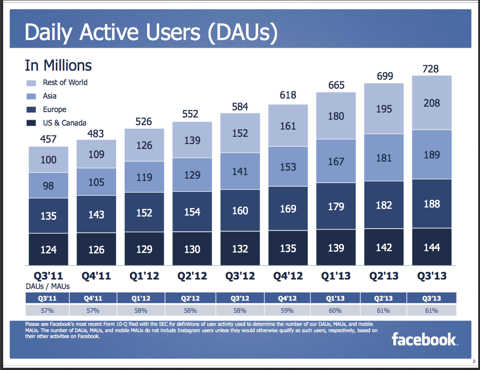 Click to enlarge
When parsing the MAU total, one quickly sees the net additions greatly declining each quarter. In sequential quarters over the last seven, net additional users in millions were as following: 56, 54, 52, 49, 54, 45, and 34. Even worse is North American user additions stalled to only 1 million additional users this quarter. European users have only increased from 269 million to 276 million over the last six months. In total, the prime users of North America and Europe have only increased 2.3% in the last six months.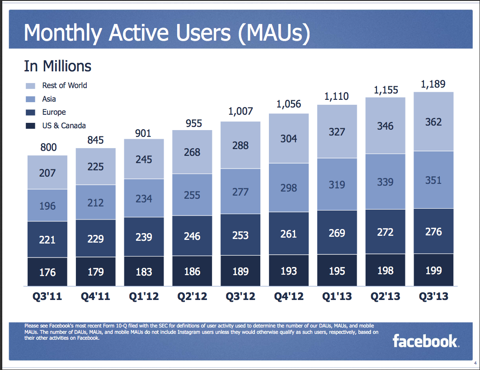 Click to enlarge
Conclusion
As monetization increases per user while user growth is stalling, investors need to see the big picture on Facebook. The social network is going to quickly transition into a utility type service. If ARPU rates double while usage stalls, revenue would reach roughly $4 billion a quarter. How much would you pay for a stock with a low growth rate on annualized revenue of $16 billion? My guess would be anywhere from 3-5x revenue or a market cap of roughly $50 billion to $80 billion. The stock could easily plunge 50% based on becoming known as a utility. Now what happens if North American traffic declines at $4.85 ARPU and is replaced by Rest of World traffic at $0.67 ARPU? What if the teen bored issue becomes a bigger problem?
Facebook will have a hard time monetizing traffic that no longer exists and investors won't be paying up for such a scenario. Facebook has always had the potential for being an ultimate short considering the historical demise of all social networks, but the recent 100% gain in the stock price has helped set up that probability.
Disclosure: I have no positions in any stocks mentioned, and no plans to initiate any positions within the next 72 hours. I wrote this article myself, and it expresses my own opinions. I am not receiving compensation for it (other than from Seeking Alpha). I have no business relationship with any company whose stock is mentioned in this article.
Additional disclosure: The information contained herein is for informational purposes only. Nothing in this article should be taken as a solicitation to purchase or sell securities. Before buying or selling any stock you should do your own research and reach your own conclusion or consult a financial advisor. Investing includes risks, including loss of principal.