"Alcohol may be man's worst enemy, but the bible says love your enemy." - Frank Sinatra
Cheers, Let's Have A Drink
People like Ernest Hemingway drink to make people more interesting. Other people drink for several reasons, such as from habit, to fit a social norm, to take the edge off or to increase their perceived social abilities. Whatever rhyme or reason one has to imbibe is only fodder for the investor as the fact remains that aggregate U.S. alcohol consumption trends higher each year. According to the Distilled Spirits Council of the United States, domestic alcohol consumption has increased from $37.86 billion in 1999 to $63.13 billion in 2012, an increase of 64.1% over the 13-year period.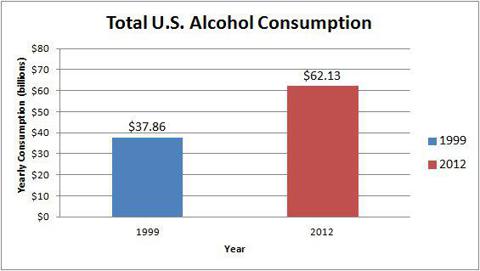 When viewing this uptrend in terms of beer, spirits and wine, each category increased in total volume over the 1999 to2012 time period. Spirits led the volume increase by $11.33 billion, while beer and wine increased $9.12 billion and $4.53 billion, respectively.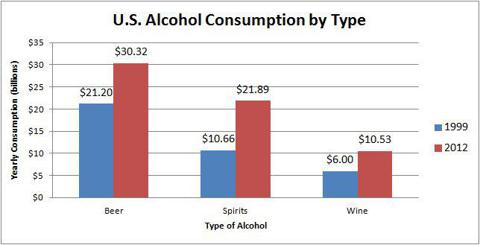 In this recent time period, aggregate alcohol consumption increased each year regardless of the business cycle. Through the dot-com boom and bust cycle, the global financial crisis and its subsequent recovery, Americans continued to drink more alcohol each year. On a categorical basis, spirits and wine increased each year while beer reflected zero or negative growth in only two years (2005, 2010).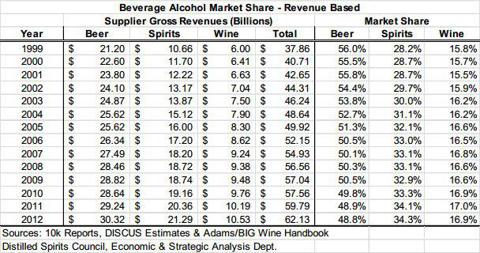 When viewing the change in aggregate consumption on a percentage basis, spirits increased 105.35% since 1999, whereas wine and beer were up 64.1% and 43.02%, respectively.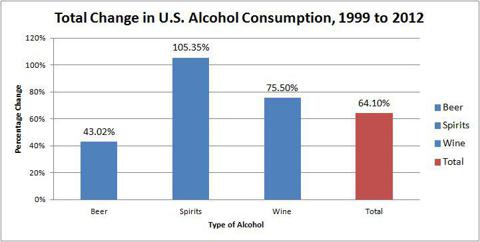 With this data it is clear that the domestic alcohol preference is shifting from beer to spirits and wine. While beer remains the volume leader, spirits and wine have increased their shares at the expense of the beloved brewski.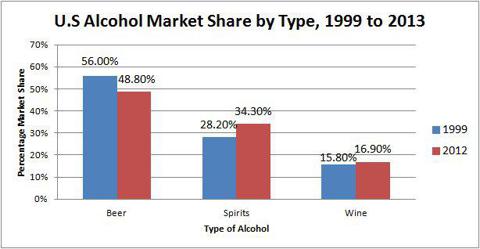 In looking beyond volume and market share trends, the most efficient way to measure long-term secular growth is to calculate the compound annual growth rate [CAGR]. Since trends take years to form, we will use our 1999-2012 data from above.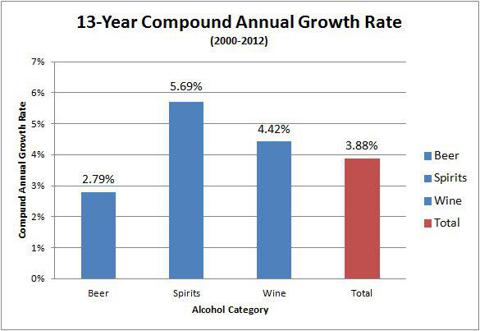 In this regard, spirits consumption has increased 5.69% per year, wine improved 4.42% per year and beer increased a more modest 2.79%.
The Icing On The Cake
Not only are Americans are spending more money on alcohol each year, they are also consuming more on a per person on a per capita. According to the U.S. Census estimates, from 1999 to 2012 the U.S. population increased from 274,076,000 to 315,255,000, which leads to a population growth rate of 1.08% per year.
As noted in the chart above, aggregate alcohol consumption increased at a 3.88% annual rate during the same period. By dividing the cumulative alcohol sales by the respective population, consumption increased 42.67% per capita from 1999 to 2012.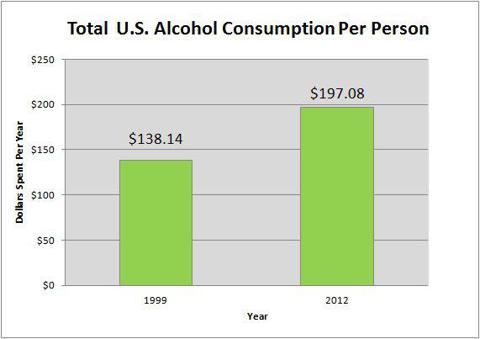 While consumption has recently increased faster than population growth, the fastest growing category is spirits. In this regard, alcohol companies with a primary focus on spirits are operating in an environment more suited to growth versus wine and beer companies. As such, the income investor may opt to invest in spirit companies for the possibility for more rewarding long-term growth.
The Spirit Companies
When searching for an income investment, two major considerations are safety and yield. The following spirits-focused alcohol companies are traded on the New York Stock Exchange, have a market capitalization of over $10 billion, have an annual dividend yield of over 1%, have regular historical dividend increases and have paid uninterrupted dividends since the 20th century.
1. Diageo PLC (NYSE:DEO), 2.3% TTM Yield
Diageo, based in London, is a liquor powerhouse that commands several of the top brands in the world. 73% of sales are from spirits, 21% is from beer and 6% comes from wine. A few name brandson the Diageo docket include Johnnie Walker, Crown Royal, Bushmills, Smirnoff, Ketel One, Ciroc, Captain Morgan, Baileys, Tanqueray and Guinness. They have 7 of the top 20 premium spirits brands in the world and 17 out of the top 100 premium distilled brands worldwide.
The DEO dividend is semi-annual, with about 40% coming in March and 60% in September. The distribution is based in London, which makes the U.S. payout dependent on the prevailing pound/dollar exchange rate. With a stronger GBP/USD, the U.S. dividend will be higher (and vice-versa). The DEO payout is 47% and the company is trading at 18.7 times forward earnings.
2. Brown-Forman Corp (BF.B), 1.4% Yield
Brown-Forman is focused on spirits as well as wine. The company is valued at $15.63 billion and is based in Louisville, Kentucky. The largest brand they command is Jack Daniel's. Other brands include Canadian Mist, Chambord, Early Times, Herradura Tequila, Korbel, Southern Comfort, Tuaca, Woodford Reserve and Sonoma-Cutrer wine. While the company has several names brands, they are heavily focused on whiskey.
The BF.B dividend is quarterly and has been increased regularly since 1985. The company payout ratio is lower than DEO at 33% and the company is trading at 24.7 times forward earnings.
3. Beam, Inc. (NYSE:BEAM), 1.34% Yield
Beam, Inc. is a $10.85 billion global spirits manufacturer that is based in Deerfield, Illinois. The company used to be called Fortune Brands and was also involved in the home furnishings, hardware and golf industries. Fortune decided to sell or spin-off the non-alcohol businesses in 2010 and focus on its liquor business.
The name change reflects their flagship brand, Jim Beam. Their other leading brands include Maker's Mark, Knob Creek, Canadian Club, Laphroaig, Courvoisier, Sauza Tequila, Pinnacle Vodka, Skinnygirl Margarita and the Dekuyper cordials and liqueurs including Pucker, Peachtree schnapps and ButterShots.
BEAM has a quarterly dividend that has regularly increased since 1977 when it was Fortune Brands. The payout ratio is 35% and the company currently trades at 23.2 time forward earnings.
Conclusion
For safety in numbers and the most exposure to various spirits categories, Diageo PLC comes out ahead as both Brown-Forman and Beam are focused highly on whiskey and bourbon. DEO also dominates the pack with a larger market cap, a greater yield, a higher payout ratio and a much larger global presence.
While each company has strong brands, DEO has the most top brands by a landslide. When betting on America, however, Jack Daniel's is growing fast and may offer more growth upside while BEAM commands the almighty Jim Beam as well as several other important brands.
With alcohol investments, one may choose to purchase a stake in a company that they also support in a glass or a mug. For safety and dividends, however, the income investor appears best served with shares of DEO straight-up.
Disclosure: I have no positions in any stocks mentioned, and no plans to initiate any positions within the next 72 hours. I wrote this article myself, and it expresses my own opinions. I am not receiving compensation for it (other than from Seeking Alpha). I have no business relationship with any company whose stock is mentioned in this article.