Aluminum has been outperforming the market this year. The aluminum chart below from the London Metals Exchange clearly shows its rapid progress.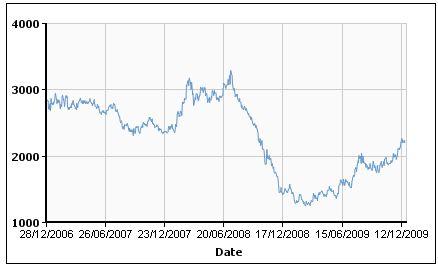 As aluminum has gone up in price the aluminum manufacturers have gone up in tandem. Normally one would think that just means everything is right with the world. In this case it appears that for some aluminum stocks their move up has been too much of a good thing. As aluminum prices have risen, their EPS and revenue estimates have risen. However, their stock prices have gone stratospheric.
Is it really a straight line up?
Unquestionably these stocks are growing. Still there has to be some dose of reality in their moves up. Two stocks that are getting too far from reality (fundamental value) are Alcoa (NYSE:AA) and Century Aluminum (NASDAQ:CENX). Both have had big rallies recently. Both have reportedly lost money in 2009. Currently both are estimated to have positive earnings in 2010.
Like many stocks in this post-recession time, the market seems to be evaluating them based on their FY2010 earnings. Yet even on this basis they are over priced. The FY2010 PE's are AA=26 and CENX=86. CENX is by far the worst offender. If you look at the CENX chart, you can see that the only real good support for a retracement is at approx. $9 - $11. The current price is $16.42. A $6 drop seems a lot for a $16.42 stock. When you consider that the FY2010 PE would still be a hefty 55 after a $6 drop in CENX's price, the idea of such a drop does not sound so unreasonable.
Consider the airline industry took a big hit from Al Qaeda recently. Consider Ryanair (NASDAQ:RYAAY) recently ended talks with Boeing (NYSE:BA) to buy 200 of its airplanes. Consider that Ford (NYSE:F) recently announced buyouts for 40,000 employees. Consider that GMAC (NYSE:GMA) Financial Services is about to get another $3.5B from the U.S. government. Are future earnings of aluminum makers really all that secure? Are they sure to explode upward? If GS economists have predicted unemployment to peak in mid 2011 (and be 10.5% at the end of 2011), is manufacturing in the U.S. and worldwide likely to explode upward in the near future, or are these stocks likely getting ahead of themselves? To me it looks like they are getting ahead of themselves.
Technicals
The fact that both AA and CENX are far above their 50-day SMAs is another indication that they are most likely to return to earth soon. AA is +23% above its 50-day SMA. CENX is +49% above its 50-day SMA. I have included the charts for AA and CENX below. Both have reasonably good Price/Book ratios. That is not a problem. However, many of the other fundamentals are poor compared to other companies in their sector. This likely explains why CENX has 17% short interest currently. AA has only 7% short interest. It is less over extended, but it still seems likely to retrace soon. CENX is near its top Bollinger Band. This indicates the next move is more likely to be down. The Fast Stochastics on the CENX chart indicate that it is over bought.
CENX Chart: (Click to enlarge)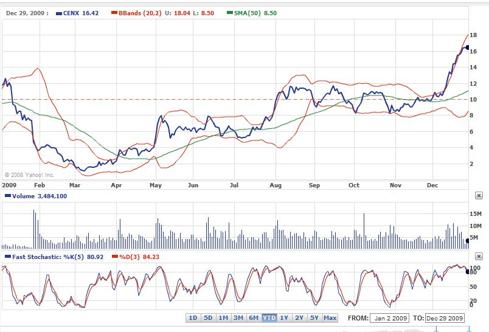 AA Chart: (Click to enlarge)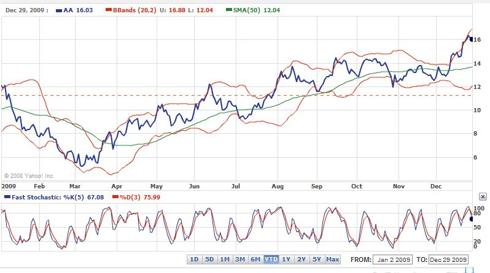 I have also included a table with some of the valuation statistics (from TDameritrade and Yahoo Finance) for the above two stocks compared to their industry.
| | | | |
| --- | --- | --- | --- |
| Statistic | CENX | AA | Industry Average |
| Short Interest | 17 | 6.83% | N/A |
| Held by institutions | 50% | 67% | N/A |
| Price/Book | 1.25 | 1.19 | 5.22 |
| FY2010 PE | 86.42 | 26.28 | N/A |
| Current PE | Neg. EPS | Neg. EPS | 42.1 |
| Total Debt/Capital | 28.82% | 38.31% | 27.64% |
| Quick Ratio (MRQ) | 1.1 | 0.90 | 2.12 |
| Return on Equity (NYSE:TTM) | -64.26% | -11.71% | 8.61% |
| Revenue Per Employee (TTM) | $763K | $215K | $729K |
| EPS Growth (MRQ) | -22.10% | -80.25% | -31.90% |
| EPS Growth (TTM) | -106.38% | -192.95% | -77.69% |
| Revenue Growth (MRQ) | -58.59% | -33.79% | -30.07% |
| Revenue Growth (TTM) | -47.479% | -33.81% | -19.34% |
| Price/Cash Flow | -- | -- | N/A |
| Annual Dividend Rate | 0 | $.12 | $1.09 |
| Gross Profit Margin (TTM) | -13.64% | 7.60% | 31.62% |
| Current Price | $16.42 | $16.03 | N/A |
| 1 yr. Analysts Target | $11.33 | $15.92 | N/A |
| Avg. analysts Rating | 2.7 | 2.8 | N/A |
Both stocks have quite good price/book ratios. However, by most other measures they are lagging their industries. Plus there are a lot of uncertainties to come. The GS economists' unemployment estimate, the recently revised downward GDP (to =2.2%), and the recent news from the auto makers, Boeing, the Al Qaeda airline attack, and the continuing real estate dilemma, all indicate that there are still significant problems to be faced.
Neither of these companies is currently profitable. Aluminum prices have been rising fairly consistently. They are likely to rise still further over time as the BRIC and other emerging markets start to use more aluminum. Longer term both of these companies ought to see their stock prices rise still further. Still many economists are predicting a very slow recovery for the U.S., Europe, and much of the world. No one wants to bad mouth China, but its stimulus may have pushed it into over production for the near term. Within the next year China may suffer a slow down as a result. The predicted end of the U.S.D. carry trade may exacerbate this.
Market indicators flashing
The stock market is generally only thought to predict events 6 months in advance. We seem to be stretching that to a year or more since we are coming out of a recession. However, even by those standards CENX is far overvalued. It is due to retrace soon. It may retrace to its support point. Notably the one year average analysts' price target for CENX is only $11.33. AA is not as much overvalued, but it is far from its 50-day SMA. It too is likely to retrace soon.
Copper has reached overhead resistance, it may retreat soon. The Chinese government is trying to get Chinese businesses to cut back on steel production. The U.S. steel industry is still operating far from its total capacity. The U.S.D. has been strengthening recently. The market is set up to retrace in industrial metals after a long recent rally upward.
CENX is likely a good short in this environment. Its chart seems to indicate that it is turning over. I would suggest shorting it. I would suggest a tight stop on the upside though. If the market rallies strongly, CENX will likely go up with it on a short squeeze. If metals rally sharply, the same thing will happen. A target of $11 actually seems reasonable for CENX. However, if you do not want to be a glutton, you might consider getting out with an approximate 50% retracement of the current move upward (at about $13). Good luck trading.
Disclosure
: I am short CENX