Last week, Glu Mobile (NASDAQ:GLUU) released its third quarter results. Despite better than expected results and better guidance for 4Q2013, investors were selling off the stock. The company's share price decreased by 13%. A lot of investors were surprised by this negative move. However, there were several explanations, such as the continuous increase of shares, increasing total expenses and the net loss, which is still huge.
On the positive side, revenues for 4Q2013 will be 20% higher according to Glu's guidance. For the full year 2014, the company expects revenues of approximately $120 million.
To match as much as possible the reality, I estimate a gross margin of 70% and total expenses of 85% of total revenues, in line with 2013 numbers. In my opinion, it would be difficult for the company to increase revenues by 18% and, at the same time, decrease total expenses. Moreover, total expenses have been increasing since 2010.
On the negative side, Glu won't be able to become profitable in the near future for one simple reason. It spends too much to design and sell its games. R&D expenses and S&A expenses have been increasing by approximately 100% since 2010. Have a look at the table below to see the exact numbers. The bulls will come with the breakeven point in 4Q2013, which the company is expecting to achieve. As a reminder, the fourth quarter is always the best, thanks to the festive season, so I won't bet on this to estimate my numbers.
A second negative item, which is not currently pointing out by most analysts, is the current dilution of shareholders. As you can seen, the total number of shares is expected to grow from 64.3 million to 71.4 million shares.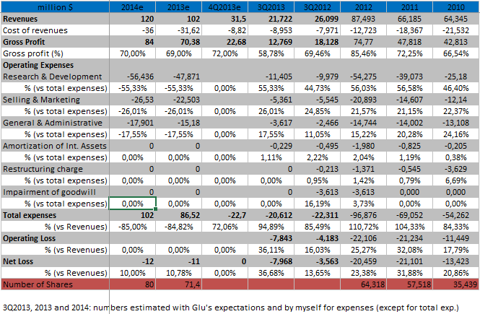 Click to enlarge
Anyone who thinks Glu Mobile will be bought by Zynga (NASDAQ:ZNGA), is totally wrong. I have written an article about it saying why Zynga wouldn't buy Glu. It is still relevant. In my opinion, you shouldn't own the stock, if you are expecting a speculative takeover, because I don't think it will happen with the current financial situation.
Conclusion
There are improvements in Glu's financial situation. In fact, the company has more cash than before and increasing revenues year over year. It's encouraging but it's not enough. Glu needs to spend less to develop its games in order to become profitable in the near future. The company won't be able to issue new shares each year, in order to consolidate its cash balance. At $3.37, I wouldn't initiate a position. With a P/B of 5.5, a P/S of 2.2 and current financial situation, Glu is currently overvalued in my opinion.
Disclosure: I have no positions in any stocks mentioned, and no plans to initiate any positions within the next 72 hours. I wrote this article myself, and it expresses my own opinions. I am not receiving compensation for it (other than from Seeking Alpha). I have no business relationship with any company whose stock is mentioned in this article.