Growing AFFO and increasing the dividend rate have become routine matters for the management team at the RAIT Financial Trust (NYSE:RAS). In Q3 it posted another 10% gain in AFFO from the year ago level. And the quarterly dividend rate was increased for the fifth time in a row as it was boosted from 8 cents per share in Q2 of 2012 to 15 cents in Q3 of 2013. The outlook for profitable growth remains favorable. At $7.76, the stock is currently priced at 6.2 and 5.5 times my $1.25 and $1.40 AFFO estimates for 2013 and 2014, respectively. And it sports an indicated dividend yield of 7.7%.
In this article I will update my series of articles on the subject company (there were four previously) and conclude that the stock can be held for its total-return potential or it can be used as a good trading vehicle for active investors.
Re: Company Operations
The RAIT Financial Trust has two main business lines: (1) commercial real estate (CRE) lending and (2) commercial property ownership and management. Both lines are performing well.
The company is vertically integrated and has a scalable commercial real estate platform. Its CRE lending activities are focused on small- to medium-sized cash flowing properties. It offers multiple loan products which include (1) permanent fixed rate loans against stable income producing properties that are originated for sale to third parties, (2) shorter-term floating rate bridge loans that are made against transitional properties and are typically held on its balance sheet, and (3) mezzanine and preferred equity loans that it also holds on the balance sheet. Its secured liabilities are all match funded and it only makes variable rate loans. Therefore, it doesn't take any interest rate or maturity risks. Its unsecured debt has no debt maturities until April 2016.
RAIT still has legacy issues on the books resulting from securitizations and interest rate hedges it committed to during the real estate boom year in the past decade. Such practices are no longer germane to the company's operations. Any charges relating to the legacy issues are of a non-cash nature and although they have negative effects on GAAP accounting earnings results, they really don't reflect the current earnings power of the company nor its dividend paying ability.
The loan financing market in which RAIT participates is substantial. There are about $1.5 trillion of commercial real estate loans maturing through 2018. Therefore, the loan origination potential for its lending services during nearby years is favorable. RAIT's focus is on small- to medium-sized commercial real estate properties where there is less competition and therefore higher profit margins. Its loans are typically $5 million to $30 million and management believes that to be the sweet spot for profitability.
RAIT has a $250 million warehouse facility from both Citibank and Barclays for its conduit or fixed rate loan business. These are loans it originates for sale when it contributes them twice a quarter (one each to Citibank and Barclays) for securitization. Historically, it earned between 4 and 7 points on each loan sold. With three times leverage that equates to a 12% to 21% return on equity for loans that it originates and holds for about 30 days. That is a very attractive rate of return on an annual basis.
The bridge loans it makes are warehoused and securitized through Credit Suisse. These are floating rate three to five-year term loans that are match funded on RAIT's balance sheet. RAIT recently completed 135 million of these loans through its first floating rate CMBS transaction as it sold $101 million worth of bonds at a LIBOR-plus-185-basis-point spread to Credit Suisse and RAIT held the other $34 million on its balance sheet. The return on equity for that $34 million is approximately 18%. RAIT expects to be a serial issuer of floating rate CMBS pools as it continues to make floating rate loans. Management thinks that the spread on the type of CMBS loans that it is originating should be between three and four points. But recently it was realizing somewhere between four and six points on each sale.
CRE loan production is the largest segment of RAIT's operations. At the beginning of the year management thought that CMBS originations and securitization would contribute about $16 million to cash flow in 2013. It now appears that the actual number will exceed $20 million. This is a dynamic marketing opportunity for RAIT which is well positioned to capitalize on it.
RAIT's physical real estate properties are mostly multifamily housing but it also rents office and retail space. In Q3, it acquired a 288-unit, garden-style apartment property in Richmond, Texas, for $30 million to expand its participation in that market. It owns 6,000 apartment units directly and controls another 2,500 units through Independence Realty Trust (NYSEMKT:IRT) which was recently spun off as a publicly traded company. IRT is now externally advised (managed) by RAIT which owns 60% of IRT's shares. As IRT's advisor, RAIT receives an advisory fee of 75 basis points based upon the book value of assets as well as the dividends declared on its owned shares of IRT common stock.
In Q3, IRT completed its IPO of 4 million shares of common stock for $8.50 per share and raised gross proceeds of $34 million. Its mission is to acquire well-located apartment properties in geographic submarkets that can support strong occupancy and have the potential for growth in rental rates. It recently completed its first acquisition since the IPO and entered into agreements to purchase additional properties. It has now deployed all of the capital raised from the public offering. And it recently entered into a $20 million acquisition line of credit with Huntington National Bank. At the present time IRT pays a monthly dividend of 5.333 cents. With IRT shares trading at $8.60, the indicated dividend yield is 7.4%. The stock is too thinly traded for me to be interested in or recommend even though it appears to have some growth potential.
RAIT also manages 2,500 apartment units for third parties for a property management fee of 4%. And the company owns 2.9 million square feet of office in retail properties but these do not loom large in its growth plans.
Re: Sundry Considerations About 2013 Operating Results and Some Thoughts About 2014
(1) For the nine-month period ending with Q3, RAIT reported AFFO of $0.95 per share based on 66.8 million diluted shares outstanding. That represents an increase of 25% from the comparable number for last year which was $0.76 based on 48.0 million diluted shares outstanding.
(2) The dividend increased each quarter to 15 cents in Q3. In the first article I wrote on RAIT last November, I stated that the rate could rise from 9 cents in Q4 of 2012 to 15 cents in Q4 of 2013. I guess the board of directors didn't read my article because it raised the rate to that level in Q3. The company is now paying out about 65% of its cash flow as dividends and it is likely to stay at that payout level.
(3) The company originated $433.2 million of loans in the nine-month period this year, up 52% from the $285.2 million of loans in the same period last year. It sold $301.0 million of conduit loans during the nine months ended September 30, 2013, and generated $14.9 million of fee income. It should be noted that no bridge loans were made in the year ago period so the nine-month results are not fully comparable.
(4) Rental income increased 11% to $29.2 million from $26.4 million a year ago. The average effective rent per unit per month in the multifamily portfolio increased 8% to $753 in Q3 from $699 for the quarter last year. This is the second year in a row for 8% rent increases and they are expected to moderate to 3-5% in 2014.
RAIT's investments in real estate properties totaled $986.3 million at the end of Q3, up 7.4% when compared to $918.2 million at the end of 2012. While the average occupancy of its apartment operations tended to increase and rents escalated, office occupancy increased but rents were flat. Retail was the weak spot with occupancy flat and rents down.
And (5) my estimates for AFFO are $1.25 for 2013 and $1.40 for 2014. One analyst is forecasting $1.63 for 2014. I think his estimate is too high because RAIT is having a banner year in 2013 with regard to the volume of loans being written and sold and the profit margin exceeds management's expectations. That could moderate in 2014. Also, earnings growth from multifamily housing should moderate as rent increases moderate. I'd gladly settle for AFFO of $1.40 next year but wouldn't be surprised if it was exceeded by as much as 10 cents.
Re: The Technical Investment Merits of the Stock
The chart below was constructed from data in my workbook.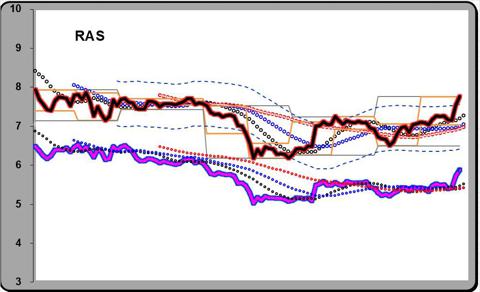 (1) The bold black line on top is price and the bold pink line below it is relative strength. (2) The three dotted lines (black, blue and red) are moving averages and there is a set of those for price and a similar set for relative strength. They are used to define trends and detect trend reversals. (3) The 5 sets of gray parallel lines and the 10 sets of orange parallel lines (the two overlap half of the time) that frame the price action are 22-day and 11-day trading ranges. Their progression shows how the trading ranges shifted during the 110 days charted. And (4) the two wavy-blue hashed lines that straddle the price line are Bollinger Bands. They are used to detect overbought or oversold situations.
Any of the items listed as (2) or (4) is independent of the others and it could be considered as a valid technical indicator for making buy or sell decisions. But in order of importance, the moving averages are of primary importance while the trading ranges and the Bollinger Bands are of secondary and tertiary importance, respectively.
For 110 days, or five months, prior to those charted, RAS and the REITs as a group outperformed most industry groups in the market by a wide margin. Since peaking five months ago, they grossly underperformed the market and lagged most major industry groups. While the market as measured by the popular averages peaked when the REITs did, it rallied after a brief sell-off and went on to make new highs for the year. It backed off in recent days but is still trading near its high. The REITs generally couldn't sustain their attempted rally. They had mixed performances in the market during the past five months and outperformance was the exception and certainly not the rule. Some are currently trading near their lows for the year. It is fair to say that, as a group, the REITs are still out of favor with the investment community but there are exceptions.
The price chart shows that RAS (1) established a hard bottom about 44 days ago at $6.18. (2) It then managed to reverse its downward trending moving average lines and is now indicating strength on both absolute and relative strength bases. And (3) the trading ranges have shifted upward.
With a 7.7% dividend yield and favorable growth prospects, RAS is certainly attractive for its income producing potential. The stock has tended to be a somewhat volatile performer as it moved in spurts and that made it a good trading vehicle. I attribute that to the fact that few analysts follow the company so the stock lacks sponsorship. The stock's 52-week trading range was $5.01 to $8.85. My initial purchase of RAS was $5.66 and I sold shares as high as $8.60. I also bought and sold shares for trading purposes a couple of times at prices in between those levels as I held a core position and took smaller trading positions. The shares I currently own have a cost basis of $6.45. I will continue to do what I have been doing as an investor/trader. And what I do will be dictated by what happens on the stock's price chart as well as the indicated performance of the overall stock market. I will continue to post a comment to this article whenever I buy or sell shares in RAS, as has been my wont with any stock I recommend.
I have not been ordained to preach so I am not going to pound the table and tell you (the reader) that you must do as I do. I just wrote the article on a company I think has considerable investment appeal and told you what I am doing with the stock. It is up to you to discount what I wrote as you see fit and make your own decision according to your personal investment criteria.
Disclosure: I am long RAS. I wrote this article myself, and it expresses my own opinions. I am not receiving compensation for it (other than from Seeking Alpha). I have no business relationship with any company whose stock is mentioned in this article.