For years, I have told my readers to keep a close eye on the graphite sector. I recently highlighted Graftech (GTI) eight weeks ago and believed the stock was about to make a major move as it was trading below book value around $10. At that time, Graftech's market cap was below its revenue which signaled an excellent value play. Since that time Graftech has soared over 40% while the S&P500 has gained under 7%. Why is the breakout in Graftech so important for resource investors?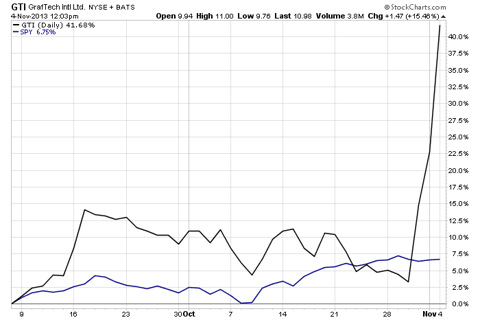 Click to enlarge
The answer may be that Graftech is a bellwether for the entire graphite, steel and industrial materials sector. Graftech is one of the world's largest manufacturers and providers of high quality natural and synthetic-graphite products used in our latest technologies such as lithium-ion batteries in smartphones and laptops.
Graftech recently reported that it had a better than expected quarter and has since risen on huge volume making a bullish golden crossover of the 50 and 200 day moving averages. Many analysts consider this technical phenomenon a major turning point in the medium to long term trend of a company.
Graftech announced that they may see the EU stabilizing and may emerge to return to growth in 2014. Global steel production was down in 2013, but there may be a rise in 2014. We may see a turnaround in the steel sector (NYSEARCA:SLX) which could support stocks in the metallurgical coal and graphite sector.
I am usually early on my predictions as now Goldman Sachs has upgraded the steel sector and says it is improving with higher demand and declining inventories. Since the 2008 financial crisis the steel, coal and mining sectors have underperformed on weak economic growth. Many steel plants have closed in North America after many quarters of consecutive losses. This has significantly reduced supply.
Graftech believes we are still in a challenging steel market, however, they see a bottom in the global recession. Graftech's breakout may be showing us that the graphite, coal (NYSEARCA:KOL) and steel market is about to end its downtrend and turn higher.
Graftech and some junior graphite miners should benefit from the upturn in the steel sector. Graphite's use is growing in high tech materials used in smartphones, jets, high efficiency lighting and steel manufacturing.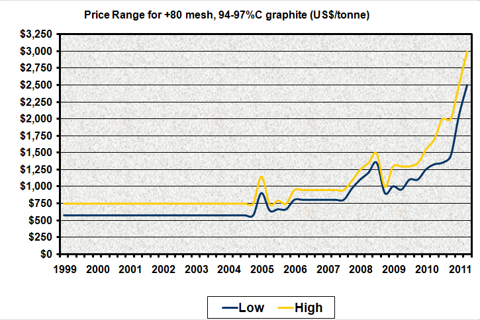 Click to enlarge
Graphite prices have risen exponentially in the past decade as China, the large supplier has raised taxes on exports. China may continue to squeeze Western end-users who will continue to look for stable and secure supplies of graphite. Some of the more advanced junior graphite miners which may benefit is Flinders Resources (FLNXF), Focus Graphite (OTCQX:FCSMF) and Northern Graphite (OTCQX:NGPHF), however conservative investors should remember these are all cash flow negative as they are still developing their mines.
Disclosure: I have no positions in any stocks mentioned, but may initiate a long position in GTI over the next 72 hours. I wrote this article myself, and it expresses my own opinions. I am not receiving compensation for it (other than from Seeking Alpha). I have no business relationship with any company whose stock is mentioned in this article.
Additional disclosure: I have recommended GTI in my newsletter, which means many of my friends and family may own the stock.