Northrop Grumman Executes Nicely in 3Q But Reveals Declining Backlog
Northrop Grumman (NYSE:NOC) reported strong third-quarter results considering the competing budget priorities in Washington and the subsequent difficult revenue environment. The defense contractor's revenue dropped 2.6%, as expected, but its segment operating income increased 4.5% thanks to roughly 90 basis points of segment operating margin improvement. Third-quarter diluted earnings per share leapt 17.6%, and free cash flow swelled to $860 million (14.1% of sales), up from $748 million (11.9% of sales). We very much liked the profitability improvements and its increased free-cash-flow conversion during the period, but the firm's backlog performance in the quarter wasn't stellar:
As of September 30, 2013, total backlog was $37.5 billion compared with $40.8 billion as of Dec. 31, 2012. Third quarter 2013 new awards totaled $5.9 billion and book-to-bill was 97 percent. The decline in backlog is primarily due to reduced and delayed customer awards resulting from the current U.S. government budget environment as well as Information Systems backlog adjustments of $1 billion primarily to reduce unfunded backlog for expired periods of performance on active contracts.
Still, the firm raised its guidance for 2013 across the board. Sales are now expected to be $24.4 billion (was $24.3 billion), margins are anticipated to be slightly better than previous internal forecasts, while diluted earnings per share is targeted to be $8-$8.15 per share, up from the previous range of $7.60-$7.80. Cash flow from operations and free cash flow are also expected to be greater than management originally thought for 2013. While we like that expectations are being ratcheted up thanks to superb execution, we place greater fundamental weight on the trajectory of the backlog, which was lower in the quarter in every category (as shown below).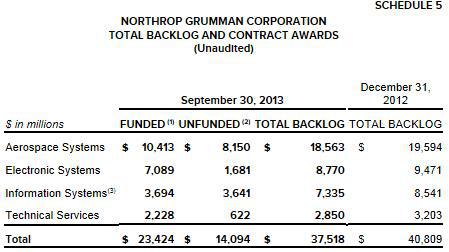 Image Source: Northrop Grumman
General Dynamics Weighed Down By Combat Systems; Backlog Shrinks
General Dynamics (NYSE:GD) reported better-than-expected results in its third quarter report that followed a similar theme to that of Northrop Grumman: lower revenue, but higher operating income on stronger margin performance. Revenue dropped 1.7% in General Dynamics' third quarter as a result of significant weakness in its 'Combat Systems' division, but operating earnings advanced 5.7% thanks to a 90 basis point jump in company-wide operating margins. Earnings before income taxes, net earnings, and diluted earnings per share each advanced more than 8%. Cash from operations totaled $467 million in the quarter, and free cash flow came in at $364 million (or about 4.7% of revenue). As with Northrop Grumman, General Dynamics' backlog shrunk:
Total backlog at the end of third-quarter 2013 was $47.9 billion (was $51.5 billion in year-ago period), and the estimated potential contract value was an additional $27.4 billion ($26.1 billion in year-ago period), representing management's estimate of value in unfunded indefinite delivery, indefinite quantity (IDIQ) contracts and unexercised options. Total potential contract value, the sum of all backlog components, was $75.4 billion (was $77.5 billion in year-ago period) at the end of the quarter.
All-in, we liked General Dynamics' margin performance in the quarter, but weakness in its backlog remains a red flag over the intermediate term. We'd also like to see some stabilization in the firm's 'Combat Systems' business, where revenue dropped more than 30% in the quarter.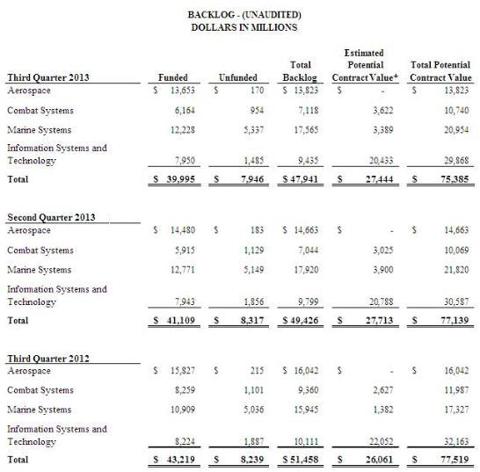 Image Source: General Dynamics
Lockheed Martin Bucks Backlog Pressure; Measure Still Down from Year-End
Lockheed Martin's (NYSE:LMT) third-quarter results seemed to buck the trend a bit. Sales fell 4% to $11.4 billion and consolidated operating profit expanded modestly during the period, but Lockheed's order strength facilitated an increase in the company's backlog, to $78.7 billion (up from $75.6 billion on a year-over-year basis). However, the measure is still down from the $82.3 billion mark at year-end 2012. We think that the order strength this quarter reflects more the inherent "lumpiness" in defense-related demand, which is evident in the slide below.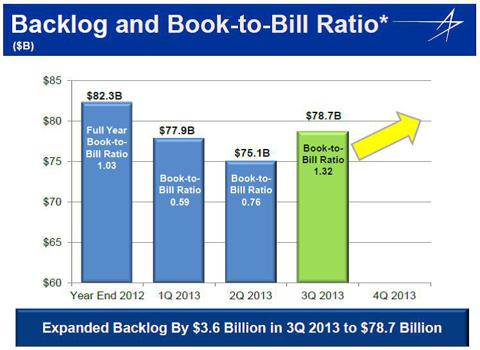 Image Source: Lockheed Martin
Looking ahead, Lockheed raised its 2013 outlook for diluted earnings per share to the range of $9.40-$9.70 (was $9.20-$9.50). Though the midpoint of its yearly revenue target was lowered from the range issued in July, most of the better-than-expected earnings performance will come from business segment operating profit (a high-quality improvement). In 2014, Lockheed also expects revenue to face pressure, suggesting the order strength it received in the most recently-reported period may be short lived.
Boeing Shines Bright in 3Q; Backlog Hits Record High
Boeing (NYSE:BA) reported fantastic third-quarter results that beat on both the top and bottom lines. Unlike its defense-contractor peers, Boeing benefits tremendously from its exposure to commercial aerospace, an industry that continues to experience burgeoning demand for new aircraft. In its third quarter, revenue advanced 11% thanks to higher commercial plane deliveries, while core earnings per share leapt 16%, to $1.80. Also unlike its defense-contractor peers, backlog grew to a record $415 billion, which reflects an impressive $27 billion of net orders during the period.

Image Source: Boeing
As a result of the strong performance and burgeoning backlog, management raised its 2013 core earnings per share guidance to the range of $6.50-$6.65 per share (up from the previous guidance of $6.20-$6.40 per share). We continue to believe Boeing remains the fundamental standout in the 'Aerospace & Defense - Prime' group thanks primarily to its heavy exposure to commercial aerospace, which unlike defense, is not facing pressure from competing US government budget priorities.
Valuentum's Take
We're not rushing to put money to work in a pure-play defense contractor at this time. The group can only cut costs so far to improve earnings before declining revenue and backlog starts to punish bottom-line performance. Our favorite idea in the 'Aerospace & Defense - Prime' industry is Boeing, though we point to commercial aerospace supplier Precision Castparts (NYSE:PCP) as our favorite idea in the commercial aerospace industry. We continue to hold Precision Castparts in the portfolio of our Best Ideas Newsletter.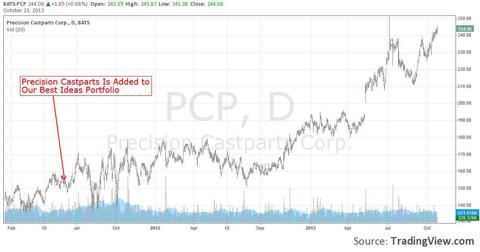 Disclosure: I have no positions in any stocks mentioned, and no plans to initiate any positions within the next 72 hours. I wrote this article myself, and it expresses my own opinions. I am not receiving compensation for it (other than from Seeking Alpha). I have no business relationship with any company whose stock is mentioned in this article.
Additional disclosure: PCP is included in the portfolio of our Best Ideas Newsletter.