After 4 quarters of failing to cover its distribution, Eagle Rock Energy Partners (NASDAQ:EROC) finally went ahead it cut it 32% to $0.15 per share per quarter, down from the previous $0.22. EROC's stock has not reacted well to this news, down around 15% since the announcement. However, even with the recent reduction, EROC's distribution is still on shaky ground. As shown by its recent Q3 2013 report, EROC is still paying out nearly 100% of its cash flow to cover the reduced distribution. In addition, it was very clear that the company is looking to lower its leverage, which may result in an equity raise which would dilute current unitholders.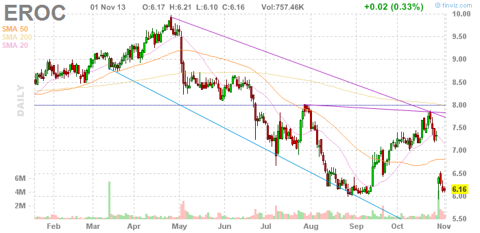 Q3 2013 Overview
Not much good could be read from EROC's Q3 results. Adjusted EBITDA did improve 12% from Q2 levels, while DCF inched up 10% to $24.9M. However, these are still well below where they should be given EROC's much increased size.
Regarding its midstream operations, EROC was able to get a full quarter of cash flows from its Wheeler County cryogenic processing facility which allowed midstream income to grow over Q2 levels. Gathering volumes increased 7% from last quarter, which combined with higher realized prices for NGLs and similar products, boosted midstream operating income 68% higher from Q2 levels. The company noted in its CC that it is looking to increase its footprint across the Texas Panhandle, which should be a volume growth driver for 2014.
EROC's upstream (E&P) operations benefited from higher realized prices for oil, partially offset by lower prices for natural gas. Production grew 4% from Q2 levels to 75.8 MCF/D, with most growth coming from the Golden Trend area in Oklahoma. Another large chunk of growth came from EROC's Flomaton fields in Southern Alabama, which reversed some of the operational issues in encountered in Q2.
Excess Cash Flow is Clearly Not Enough to Lower Leverage in a Meaningful Way
EROC is on track to post around $240M of FY EBITDA yet has nearly $1.2B in debt. Given its size, EROC seems to have way too much debt on its books. In addition, due to multiple quarters of lackluster DCF, EROC's total leverage ratio has continued to climb higher, now reaching 4.90X for Q3 2013.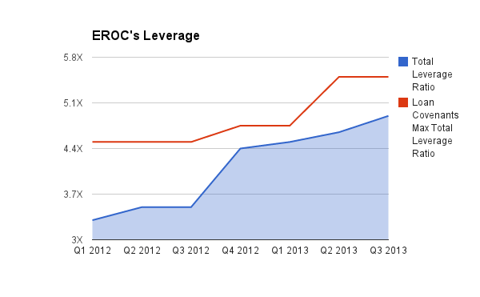 What should be worrisome for current EROC unitholders is that the company is aiming to lower its overall leverage yet seems to have little to no spare cash flow to achieve this goal. Below is the quote from the recent earnings press release:
Management and the Board of Directors continue to explore alternatives to address the Partnership's leverage position, which may include asset sales or purchases, equity financings, the separation of its upstream and midstream businesses or other alternatives.
The above statement from management should be read as a red flag. An asset sale (most likely of upstream assets) would greatly hinder future growth prospects and may also impact borrowings from the revolver, which size is based on total upstream assets. A separation of the company between downstream and upstream segments would be smart, but the question of debt remains.
Below is a chart which tracks EROC's quarter to quarter DCF and distributions trends: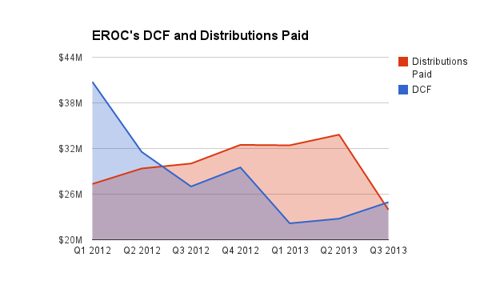 Quite frankly, EROC is not generating nearly enough cash flow to both lower its leverage and payout its current distribution. Even at the reduced rate, EROC is still slated to payout around $24M in distributions per quarter. Given that the company only generated $24.9M in distributable cash flow, or DCF, in Q3, this left under $1M over to pay off debt. $1M in excess cash flow per quarter is clearly not enough given that EROC currently has nearly $1.2B in outstanding debt.
Make no mistake about it, EROC's leverage ratio is a potential ticking time bomb. As shown below, the company had already requested and received an amendment to its financial covenants in July 2013:

Savvy readers would note that EROC's current leverage ratio of 4.90X is above the previous maximum of 4.50X. To put it another way, without these amendments, EROC would have breached its loan covenants this quarter.
Do note that the maximum allowed leverage is slated to decline starting in Q1 2014. Assuming annual EBITDA of $240M, EROC's debt can not exceed:
Q1 2014: $1.26B

Q2 2014: $1.20B

Q3 2014: $1.14B

Q4 2014: $1.08B
By Q3 2014, EROC would need to lower its debt by around $60M. By Q4 2014, this figure rises to $120M. This would be nigh on impossible using only excess cash flow while also maintaining its current distribution.
Therefore, the only opinion that lowers EROC's leverage in a meaningful manner would be an equity raise. This would likely be coupled with another distribution cut as the company has little leeway left due to its already tight coverage ratios.
Final Thoughts
EROC needs a major capital infusion of some sort. The company currently has too much debt and not enough cash flows. The company noted in its CC that it is considering separating in two or outright selling a business unit or two. However, doing so would greatly diminish the future profitability of the company and would not necessarily lower its leverage all that much. The question of cash flow becomes more dire especially considering the large amounts of growth and maintenance capex required to maintain production and develop the SCOOP shale plays. Due to its weak coverage ratio, sky-high leverage, and poor operating performance, I would avoid EROC.
Disclaimer: The opinions in this article are for informational purposes only and should not be construed as a recommendation to buy or sell the stocks mentioned. Please do your own due diligence before making any investment decision.
Disclosure: I have no positions in any stocks mentioned, and no plans to initiate any positions within the next 72 hours. I wrote this article myself, and it expresses my own opinions. I am not receiving compensation for it (other than from Seeking Alpha). I have no business relationship with any company whose stock is mentioned in this article.