Today, in this new era of low interest rates, investors are having to take on additional risk to satisfy their income requirements. Wall Street knows this all too well, as high yield debt ETFs and other products have burst onto the scene to quench investors' thirst for income. But are they all created equal?
On the surface, the PIMCO High Income Fund (NYSE:PHK) seems like an attractive investment for anyone seeking income. It currently pays a distribution of 12.19 cents monthly, which works out to an 11.9% yield. The fund's description is to "seek high current income, with capital appreciation as a secondary objective." And for the most part, the fund has delivered a steady monthly distribution, excepting a small hiccup during the financial crisis of 2008-09.
The fund trades on the NYSE, with an average of 689,000 shares changing hands every day. The management expense ratio is a reasonable 1.06%.
Considering today's low interest rates, how does the fund generate such a large distribution? They do a couple of things, including using leverage and trading in derivatives.
The total value of the fund is $1.285B. This includes $993.2M of common shares, along with $292M worth of preferred shares. Additionally, the yield on the preferred shares is based on the auction rate, meaning they've been frozen at cost of 10 basis points per month since the financial crisis. This is bad for the holders of these preferred shares, but good for investors in the fund.
And, more troubling, investors have bid up the price of this fund in a quest for yield. As I write this, the fund currently trades at $12.31 per share, even though the net asset value is a mere $8.07 per share. This represents a huge premium, and is easily the highest among their peers, as illustrated by the Wall Street Journal. If you look at the distribution based on the net asset value, you get a distribution of over 18%. This seems risky based on the level of leverage and the yields of the underlying securities.
How is PIMCO managing to sustain such a yield? There are two ways, giving back investors their own invested capital and banking profits from trading swaps, options, hedges, etc.
As pointed out by a previous Seeking Alpha article, the fund hasn't been shy in returning capital to investors during times when their quasi-hedge fund trading of various derivatives weren't profitable. 2013 has been a good year for the fund so far, as they've reversed the losses from the derivative trading part of the fund.
If you click through to the fund's annual report (page 65, specifically) you'll see that returns of capital have been quite small over the past two years, coming in at 3.0% and 4.9%, respectively.
The bottom line? The fund's distribution is safe, for now, but is largely dependent on gains from risky securities. This fund belongs in the equity part of your portfolio, not the fixed income part.
The bigger risk is the spread between the fund's value and the NAV. Here's a look at this spread over the years.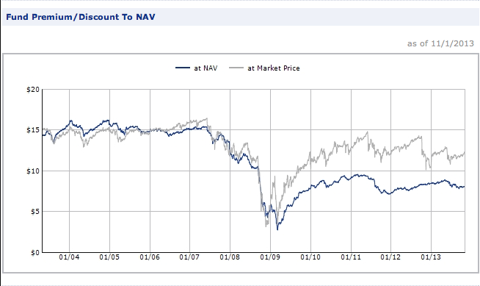 As you can see, the major premium to NAV is a more recent phenomenon, largely emerging after the financial crisis. Additionally, Google Finance only has institutions owning 6% of the outstanding shares, meaning this fund could get scary with just a single distribution cut. Retail investors getting squeamish and stampeding for the exits is a major risk in this name, and the massive premium just compounds that risk.
If you're looking for high yield debt, might I suggest looking elsewhere? PIMCO's High Yield Fund is just too risky.
Disclosure: I have no positions in any stocks mentioned, and no plans to initiate any positions within the next 72 hours. I wrote this article myself, and it expresses my own opinions. I am not receiving compensation for it (other than from Seeking Alpha). I have no business relationship with any company whose stock is mentioned in this article.