About Sunshine Heart's C-Pulse system:
The Sunshine Heart (NASDAQ:SSH) C-Pulse system is a medical device to treat congestive heart failure by assisting the natural heart's pumping function. To further explain:
The C-Pulse system is not blood-contacting and does not take over from the heart. It employs proven counter-pulsation technology to reduce the workload of the heart, and to create additional blood flow to the heart muscle. This provides ongoing permanent support and allows a tired heart muscle some opportunity to rest and recover in a measurable way (NYHA Heart Failure class improvement). For further information see here and here.
Some results from the C-Pulse 20-person feasibility study (data sources: Prospectus filed with SEC August 10, 2012 and Sunshine Heart Corporate Presentation October 2012):
NYHA Heart Failure Class improvement - 12 patients (60%) at 6 months. (Subsequent to completion of the feasibility study 4 patients have now become asymptomatic and have been weaned off the device and another 1 is being considered for weaning);
Re-hospitalizations at 6 months 5% (compares to recent trial published control group re-hospitalization rate of over 40% with similar patient population at 6 months);
Medication Reduction: Diuretics - discontinued, reduced or unchanged for all patients; Inotropes - 4/4 patents successfully weaned (within 48 hours).
Following on the successful completion of the feasibility trial, the FDA has approved a 388-patient pivotal trial addressing NYHA Class III and ambulatory Class IV CHF patients with targeted marketing approval in early 2017. The C-Pulse already has CE Mark approval for commercial sale in the EU. A post marketing approval trial is currently being conducted in the EU to establish reimbursement approval for implants.
Post TCT breakfast presentations
Following presentations at the 25th annual Transcatheter Cardiovascular Therapeutics (TCT) scientific symposium the following presentations were given at a breakfast organized by Sunshine Heart -
1) Professor Thomas Krabatsch, The German Heart Center, Berlin - Initial Clinical Observations on the OPTIONS HF Trial (Powerpoint slide show);
2) Dr. Andrew Kao, St. Luke's Mid America Heart Institute, Kansas City - Single Center Experience with C-Pulse Patient Weaning (Powerpoint slide show);
3) Dr. William Cohn, Texas Heart Institute - Progress with Fully Implantable Pump, Next Steps (Powerpoint slide show);
The audio for the above presentations and the subsequent Q&A session (1hr16min duration) can be accessed via a webcast on the Sunshine Heart website and here.
A brief summary of the content of the presentations as issued by Sunshine Heart can be found here.
Highlights of the post TCT breakfast presentations
For me, the following highlights were found from the presentations and the Q&A session (all of the detail and reference for the following can be found by reading/listening to the above referenced presentations):

In the EU post marketing approval study, the C-Pulse is providing similar patient benefits to the Feasibility study, with one EU patient describing his improvement as a "miracle";
The number of CHF patients from the 20 patient feasibility trial who have recovered sufficiently to be weaned from the device has now reached 4 with another 1 undergoing the process. It needs to be understood that these were patients with very serious and worsening congestive heart failure (CHF) who were no longer responding to optimal medical therapy. This weaning rate of 20% to 25% compares to LVAD experience of ~0.5%;
Uptake will not be an issue for either the current PIL model or the fully implantable model (C-Pulse 2). There are millions of Congestive Heart Failure (CHF) patients who have progressed beyond the stage where optimal medical therapy (OMT) is effective, but are not yet able to qualify for an LVAD or heart transplant. For these patients C-Pulse uniquely offers the possibility of a halt to worsening CHF and a possibility of improvement in their condition;
In the future, fully implantable C-Pulse systems will be as readily accepted as bi-ventricular pacers are today. Who would refuse a C-Pulse implant if they are suffering from advanced CHF in NYHA Class III or ambulatory Class IV? Because of congestion, and despite diuretics, many of these patients are forced to sleep sitting up.
No comparison to LVADs in complications
On the last point above, I have put together the following Table 1, comparing the advantages and disadvantages of C-Pulse compared to the LVADs from Thoratec and HeartWare.

Table 1 - Comparison of advantages and disadvantages of C-Pulse and LVADs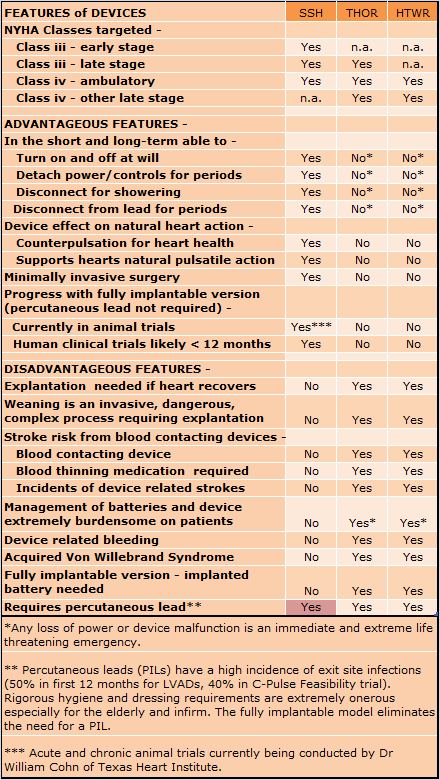 It will be seen from Table 1 above, the LVADs have none of the advantages of C-Pulse and C-Pulse has none of the disadvantages of the LVADs, bar the need for a percutaneous interface lead (PIL) creating the risk of exit site infections.
But the PIL will be eliminated for C-Pulse once the fully implantable C-Pulse 2 is made available.
Thoratec and HeartWare face extreme difficulties in developing a feasible fully implantable model because of the need for an internally implanted battery (described as like implanting a "bomb").
Mr Dave Rosa, CEO of Sunshine Heart, in responding to a question in the Q&A session, advised a timeline on gaining approval of C-Pulse 2, for human implantation, would be given at the scheduled 1st quarter conference call on 11 November. A full update on trial results would also be given at that call.
That will be a very important call. I will delay Part II of my recent article, "Sunshine Heart: Potential '10 To 100 Bagger' Re-Visited - Part I" until after that date, so I can take into account all new information.
Latest share prices
As regular readers of my articles will know, I am reluctant to attempt to project share prices as determined by "Mr Market."
However, market share prices are all important when entering or exiting an investment. At those points the market reigns supreme over the underlying fundamental value of a share.
In order to try to make some sense of what the market is doing, I have put together the statistics in Table 2 below.
Table 2 - Sunshine Heart share price statistics

As can be seen, despite the wild gyrations on a daily basis, the market share price does appear to be progressively climbing to new and higher levels. Based on recent positive data and impending announcements, I see no reason for this not to continue.
Analysts' forecasts of Sunshine Heart share price
Back in April of 2013 the high estimate from 5 analysts offering 12 month price targets for Sunshine Heart was $26.
Currently, the high estimate from 5 analysts is just $16.00, despite improving fundamentals.
Could it be the decrease in projected price is due to an uninformed "Mr Market" ignoring the fundamentals and setting unjustifiably low prices, which in turn has put downward pressure on analysts' forecasts?
Conclusions
The highlights from the TCT breakfast session confirm my belief in Sunshine Heart as a "multi-bagger" investment opportunity at current share prices.
Caution: As always, please do your own research before any buy or sell decisions. Use of information and research in the article above is at your own risk.
Investing in micro cap companies is not suitable for all investors and can be risky. It's important that investors thoroughly perform their own due diligence and analyze the potential risks. Due to illiquidity, share prices can fall despite strong fundamentals and possible inability to raise sufficient additional cash to continue to fund ongoing operations is always a serious concern. Fuller details of risks associated with Sunshine Heart as identified by the company may be found with their form 10-12B/A registration filing with the SEC and their other SEC filings.
Disclosure: I am long SSH. I wrote this article myself, and it expresses my own opinions. I am not receiving compensation for it. I have no business relationship with any company whose stock is mentioned in this article.