By David Russell
Great Atlantic & Pacific Tea (GAP) has spent the last two months consolidating above $10, and now traders are looking for the heavily shorted grocer to push toward $13.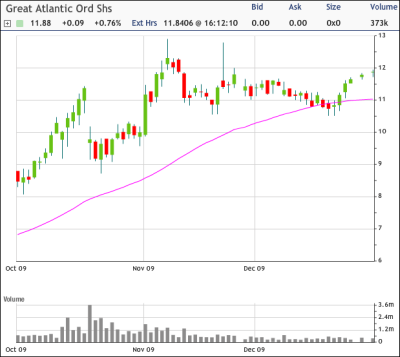 optionMONSTER's Heat Seeker tracking program detected heavy buying of the January 12.50 calls for $0.50 yesterday. Some 2,749 contracts changed hands against open interest of 2,088 in two bursts of activity late this morning and early in the afternoon.
GAP rose 0.76% to $11.88 yesterday. The company, which operates the A&P and Waldbaum's chains, reported a wider loss the last time it published results on Oct. 20 as same-store sales contracted and its chief executive departed.
The shares gapped lower on the news but have fought higher since then. Short interest represented 33% of the float on Nov. 30, so forced buying may be contributing to the gains.
Today's activity pushed overall options volume in GAP to six times greater than average. Calls outnumbered puts by 107 to 1.
(Chart courtesy of tradeMONSTER.)