By David Russell
One big investor extended a bullish bet on Myriad Genetics (NASDAQ:MYGN), which is starting to outperform after missing out on this year's broad-market rally.
optionMONSTER's tracking systems detected the sale of 1,500 February 25 calls for $2.70 against open interest of 2,191 contracts. Seconds later, an equal number of May 30 calls were purchased for $1.45 against open interest of 1,140.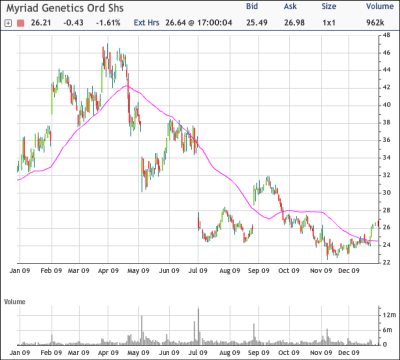 MYGN fell 0.94% to $26.40 in afternoon trading. The maker of medical diagnostic equipment has been trending lower since early April, handing investors a 42% loss while the S&P 500 has gained 42% over the same period.
However, it is up 9% in the past five sessions after breaking above its 50-day moving average. That came after the shares made a lower low around $22.40 at the same time its moving average convergence/divergence (MACD) oscillator made a higher low, which chart watchers may interpret as a bullish-divergence reversal pattern.
MYGN is also scheduled to make a presentation at the JPMorgan Healthcare Conference at 1:30pm eastern time on Jan. 13.
The call-roll strategy yielded a net credit of $1.25 and will give the investor an extra three months of exposure to the stock.
The trade pushed overall options volume in MYGN to three times greater than average, with the number of calls exceeding puts by 89 to 1.
(Chart courtesy of tradeMONSTER)