Cisco Systems (NASDAQ:CSCO) is not getting its rightful reward for being a great company. The market is still not giving Cisco its true valuation. The current stock price of CSCO is only $22.57, giving it a low P/E ratio of 12.13. Compare this to Coca-Cola (NYSE:KO), which has a very high 20.53 P/E ratio, or Colgate-Palmolive (NYSE:CL), which has an even higher 27.19 P/E index.
Cisco is the global undisputed leader in providing networking solutions to governments and multinational corporations. No other competitor can match its worldwide web of routers, switches, modems, and networking operating systems. Cisco has a dominant 65% market share in enterprise network switches and 70% in routers. How come the market is not giving much credit to this overriding leadership of Cisco? Yes Coca-Cola is a global iconic brand but soda sales are already in a steady decline.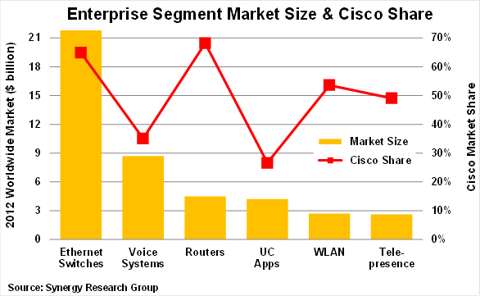 Click to enlarge
Cisco is also a premium IP brand that is recognized in more than 150 countries. This company is also in a business where exponential growth is still possible, much better than beverage companies that are stuck in a slow, even declining sales trend. Yes, Cisco's stock price has enjoyed a healthy 31% increase over last year's price of $17.00. That is still an inadequate market reward for the great and consistent year over year performance of Cisco.
Intrinsic Value
Based on ModernGraham's analysis, Cisco's intrinsic value is not being properly recognized by the stock market. Value investors should read the link given above and review the theory behind this claim. Cisco deserves a higher stock price if only investors take into account the intangible but important qualities of the company.
Based on Benjamin Graham's requirements for intelligent investing, Cisco qualifies on all major prerequisites. It has a larger than $2 billion in market capitalization. Based on current stock price valuation, Cisco has a massive 121.5 billion in market capitalization. Cisco is also in a very strong financial condition. As of July 1, 2013, the company had gross revenue of $48.6 billion. Out of that amount, the company earned a net income of $9.98 billion.

Click to enlarge
For the past 10 years, Cisco has delivered a steady increase in revenue and net profit. Cisco achieved positive earnings per share since 2003. Earnings per share also increased for 3 or more years within the past decade. Graham also requires that perfect companies should have a Price/Earnings ratio less than 20, and Cisco has a low 12.13. The company's earnings per share for 2013 is $1.86 - higher than last year's $1.49.
Should value investors realize that Cisco deserves a boost, and the stock shoots up to 16x P/E or $29.76, it will still qualify under Benjamin Graham's less than 20 P/E. There's a large upward leeway for Cisco's stock for it to achieve its fair intrinsic value. A few institutional investors can start a rally for Cisco if only they start investing using Graham's methodology. Sadly, most investors now prefer boring slow-growth cash dividend machines like Coca-Cola and Colgate-Palmolive. Cisco offers a better fundamental value than those two, and yet its stock is languishing in the low $20s.
The Internet of Everything
There is another good reason for Investing in Cisco. The company is making a great transition towards the Cloud. Its new catchphrase "Internet of Everything" is the company's new war cry towards dominating the wireless internet for the next 20 years. This push is aimed at both corporate clients and ordinary consumers.
The company is diversifying outside its network hardware-centric core business. It is expanding its reach towards the mobile internet and data server market. Cisco has already achieved the #2 position in the global x86 blade server markets, a good indication that the company can effectively compete in the compute sector. The company's Unified Computing Servers is now used by 19% global business, and 28% by US corporations.
For 2013, Cisco attained a very impressive 89% annual increase in global unique sales of Unified Computing Servers. Despite its new entry to the corporate data server business, it is fast catching up to market leaders: International Business Machines Corp. (NYSE:IBM), Dell (NASDAQ:DELL), and Hewlett-Packard (NYSE:HPQ). Cloud computing is increasingly more lucrative now that most companies move toward it. Cisco is on track to profit from this shift towards virtualization of data and cloud internet traffic.
Cisco is also making a big push towards mobile computing. Its latest Collaboration Architecture is focused on building a simplified framework for cross-platform and universal, device-independent process for cooperative work. The new Cisco Expressway exemplifies this. It lets consumers and corporate clients connect with each other irrespective of their hardware devices. Voice, Video, chat, and collaboration can be done without hardware or software conflicts. This any-to-any collaboration technology is indicative of Cisco's Internet of Everything slogan.
Conclusion:
The current undervaluation of Cisco's stock will not go on forever. Informed investors will realize that this company, sooner or later, will get noticed by large investors looking for bargains. CSCO may soon win market infatuation and let it fly towards the more reasonable $26-30 price level. A P/E of 12 is just unfair for a high-growth and highly-profitable company like Cisco.
Disclosure: I have no positions in any stocks mentioned, and no plans to initiate any positions within the next 72 hours. I wrote this article myself, and it expresses my own opinions. I am not receiving compensation for it (other than from Seeking Alpha). I have no business relationship with any company whose stock is mentioned in this article.