"Capital has its rights, which are as worthy of protection as any other right." - Abraham Lincoln
It is no secret that after May 22, 2013, when the Federal Reserve FOMC meeting minutes release presented the first talk of a taper, or reduction of bond-purchases, the global bond market took a dive.
Bond Outflows Temper Pricing In 2013
CEO and co-CIO of PIMCO Mohamed El-Erian, stated in his September 6, 2013 Viewpoints column that: approximately $106 billion has exited global fixed income mutual funds in 2013, with U.S. retail funds particularly hard hit.
In the third quarter alone, $61.5 billion was pulled from bond funds, with $41 billion coming out of the U.S. market, according to EPFR Global (source: Reuters).
In response, the value of U.S. bond funds has fallen in 2013 as measured by the iShares Investment Grade Corporate Bond ETF (NYSEARCA:LQD) and the Vanguard Total Bond Market ETF (NYSEARCA:BND), which are down 5.36% and 3.61% year-to-date, while yielding 3.98% and 2.68%, respectively.
The LQD tracks a U.S. investment-grade corporate bond index, while the BND tracks the Barclays U.S. Aggregate Float Adjusted Index, which includes government, corporate and international dollar-denominated bonds, as well as mortgage-backed and asset-backed securities. Both funds are down this year at a rate that exceeds their current yield of x.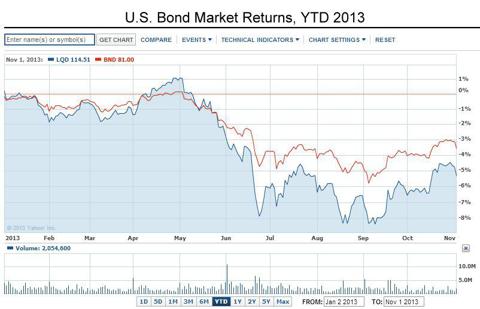 While bonds have been influenced to the downside through "fed-speak," El-Erian believes that this is a temporary and reversible influence. He also states that bonds will continue to play an important role in diversified investment portfolios moving forward. According to the conclusion in El-Erian's September 2013 earlier mentioned Viewpoint column,
History will regard the ongoing phase of dislocations in the bond market as a transitional period of adjustment triggered by changing expectations about policy, the economy and asset preferences - all of which have been significantly turbocharged by a set of temporary and ultimately reversible technical factors. By contrast, history is unlikely to record a change in the important role that fixed income plays over time in prudent asset allocations and diversified investment portfolios - in generating returns, reducing volatility and lowering the risk of severe capital loss.
With this being said, an opportunity may lie in the bond market as U.S. index bond funds remain at losses that exceed their annual yield payout.
Searching For Bond Funds In The Rubble
As an income investing strategy, diversified bond funds play a role in providing both capital stability and stable dividends. Currently the LQD and BND are granting investors monthly income at a 3.98% and 2.68% annual rate, as noted earlier.
By exploring higher-yield options, income investors may increase their aggregate bond portfolio yield with several bond funds yielding over 7% today. The following bond funds are operated by PIMCO, owned by PIMCO founder Bill Gross, have assets of over $100 million, use leverage to enhance returns, have monthly distributions, are closed-end funds trading at a premium or a discount and are priced at over $10 per share.
Also, each fund yield is based on the monthly dividend. All four funds have historically created a second December distribution during profitable years, which in this case could shoot yields up over 10% on an annual basis.
1. PIMCO Corporate & Income Opportunity Fund (NYSE:PTY)
Launched in 2002, PTY is managed by Bill Gross and holds over $1 billion in assets. The fund yields 8.33% and Bill Gross owns over $17 million worth of shares. The fund strategy is to invest an 80% minimum in corporate debt as well as non-corporate issuers. The fund normally invests a minimum of 25% of assets into corporate debt and corporate income-producing securities. Also, the fund has limit levels in emerging markets debt (10% maximum) and non-dollar denominated securities (25% maximum).
2. PIMCO Dynamic Income Fund (NYSE:PDI)
PDI was launched in 2012 and holds $1.391 billion in assets. The fund is managed by three PIMCO managers and distributes a monthly yield of 7.77%. Bill Gross bought over $2.9 million worth of shares in late October as the fund was trading at a discount to net asset value. The current discount is 5.93% and the market price is $29.51. This is an open-strategy fund that is highly concentrated in mortgage-backed securities.
3. PCM Fund Inc. (NYSE:PCM)
PCM was created in 1993 to invest in commercial mortgage-backed securities, of which the fund targets over 50% of its holdings. The fund is managed by Dan Ivascyn, also one of the PDI managers, who is a member of PIMCO's executive committee, the head of PIMCO's mortgage credit portfolio management team and a lead portfolio manager for PIMCO's credit hedge fund. The yield is 8.29%, the current premium is 1.49% and Bill Gross recently added to his position this September. To read about the opportunity in mortgage-backed securities in today's market, read PIMCO's October viewpoint here.
4. PIMCO Corporate & Income Strategy Fund (NYSE:PCN)
Launched in 2001 and also managed by Gross, PCN has a similar income strategy to PTY as it also holds at least an 80% minimum in corporate debt and non-corporate issuers. The market yield is slightly lower than PTY at 7.92% and the premium is 6.6%. Gross has not purchased PTY shares since 2012; however, he initiated a new position in PCN this year worth over $13 million with a most recent transaction of over $11 million on September 10, 2013.

Conclusion
Bonds have been out of favor since late May 2013, however fixed-income securities have historically played an important role in the investor portfolio. According to Mohamed El-Erian, the importance of fixed income will continue to play a role moving forward in prudent asset allocations and diversified investment portfolios.
While the two U.S. bond index ETFs mentioned earlier, the LQD and BND, are currently granting investors monthly income at a 3.98% and 2.68% annual rate, higher-yielding options do exist. With diversification into higher yielding bond funds, the income investor may increase their fixed-income aggregate yield.
As bond funds across the board are generally discounted from beginning year values, it may be an opportunistic time to buy. PTY, PDI, PCM and PCN are a few diversified bond fund options that each yield over 7%, all of which offer fixed-income strategies, leverage and diversification that are unavailable to the average investor.
Disclosure: I have no positions in any stocks mentioned, and no plans to initiate any positions within the next 72 hours. I wrote this article myself, and it expresses my own opinions. I am not receiving compensation for it (other than from Seeking Alpha). I have no business relationship with any company whose stock is mentioned in this article.