Linn Energy (LINE), a leading upstream MLP, has had an unusually wild ride this year shown in the chart below. The difficulties of the business were magnified by articles with information fed by hedge funds that were short LINE. Publicity and the positions of the 2 sides received heavy coverage, especially on the internet. Assuming the shorts covered their positions, they were rewarded handsomely:
LINE -- 2013 YTD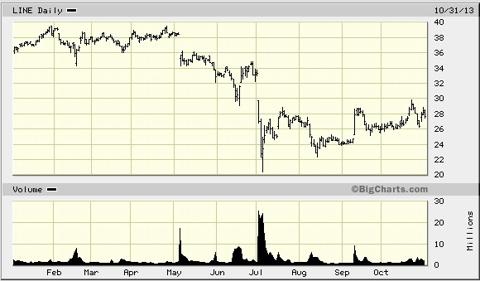 This type of volatility is unusual for MLPs, aside from the plunge in late 2008 (which was partially related to the demise of Lehman in September 2008). The Alerian MLP Index (AMZ) had a low beta, more than 1% daily moves were uncommon. The index recovered, establishing a new record in May at 468 and is currently 455.
LINE is a rapidly growing MLP, largely from acquisitions of energy properties. Most MLPs are midstream, they move oil and gas from the source in the ground to the destination markets. Their assets are basically pipelines and terminals used for storage. However LINE is an upstream MLP. It extracts energy from the ground using fracking technology. To help plan for the future it uses hedges (as do many corporations that deal in commodities which are subject to price swings). But its use of hedges caused problems for detractors.
Early in the year there were a number of articles questioning its accounting treatment of hedging. The source for this thinking came from hedge funds that were short LINE, suggesting a conflict of interest. LINE slid from 42 to the high 38s by the end of May.
Then LINE collapsed, in July and August, to a low of 20. The SEC requested financial documents from LINE regarding its accounting for hedges and the proposed merger with Berry Petroleum (BRY) which would increase production by 30%. With the subsequent controversy, the merger has been put in doubt. Since the trough in early August, the units have been climbing back to 30 as a sense of relative calm has returned. In the last week LINE units shot up 15%, going over 30, on a sense of relief over Q3 earnings and hopes the BRY merger would go through.
Energy business for LINE has been moving forward. Q3 results were reported last week and the limited numbers were promising. Daily production of 823 Million of Cubic Feet Equivalent (MMcfe/d) compared to 782 MMcfe/d in 2012. Oil, natural gas and NGL sales were $538 million compared to $444 million last year. Operations produced $2 million excess distributable cash flow over what was paid in distributions. The Q3 net loss was 13¢ per unit compared to a net loss of $2.18 last year (including non-cash charges of unsettled commodity derivatives of 42¢ per unit, and $2.63 per unit last year, respectively).
In September LINE agreed to pay $525 million for the East Goldsmith Field in the Permian Basin and should close by year-end. This was the only acquisition after the BRY merger announcement in February. It will be financed primarily with proceeds from a $500 million loan. The acquisition increases exposure to oil for LINE. Net production in the first year should be 4,800 Barrels of Oil Equivalent Per Day (Boe/d) primarily from the Clearfork formation with proved reserves of approximately 30 million barrels of oil equivalent (MMBoe). Production is approximately 70% oil and reserves are expected to last 17 years. There are 124 producing wells and an estimated 300 identified future low-risk, drilling locations. The transaction will be immediately accretive.
Linn has an active history of making presentations to tell its story, pretty much on a monthly basis (listed on the website). After the presentation at Howard Weil on June 11, they were put on hold until the Deutsche Bank Leveraged Finance Conference on October 1. As part of the October presentation, LINE said that it has 17 years of energy production on its properties along with comments on the East Goldsmith acquisition and BRY.
One year ago, LINE had a $1.2 billion offering for LinnCo (LNCO) stock. Each share of LNCO is backed by one unit in the partnership and the dividend is comparable to the distribution paid. Last year's first dividend was not taxable and this year's $2.90 dividend is guided to be less than 5% taxable. The purpose for the offering was to raise funds for capital expenditures and have a security to be used for purchasing energy corporations (such as BRY).
November 1, 2013, LINE said that the SEC had no further comments on the Form S-4 filed on July 1. Last week, LINE soared 15%, highlighted by an 11% gain ($3.12 to $30.82) following that announcement. Volume on Friday exceeded 10 million units which compares with 2+ million in prior days last week. No comments from the SEC on November 1 were seen as a positive signal that the BRY merger would go forward.
But that merger has math problems. Under the terms, BRY shareholders would receive 1.25 LNCO shares. BRY closed at $48.75 and LNCO closed at $33.21, indicating only $41.51 in LNCO stock. However for dividend people, like me, the math is favorable. 1.25 shares of LNCO stock pays $3.62 in dividends, far above the 32 cent BRY dividend. In addition, LINE is interested in increasing the dividend and distribution on the units. Earlier this year, LINE guided a $3.08 annual rate in Q4 which was based on the merger going through. However I believe most stockholders will care more about the stock price loss.
I still like Linn and an letting my dividends reinvest to buy more LNCO shares for 3 reasons:
(1) Insiders have been purchasing Linn Energy units and shares for half a year with significant purchases in the troubling June-July period (with no sales):
LINE Insider Trades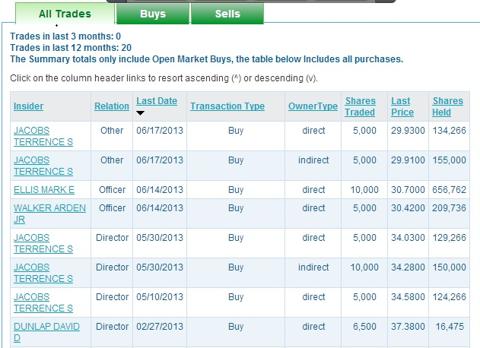 Source: Nasdaq
(2) Short units have stabilized during the selloff. Future data may show that short interest decreased with the heavy trading on Friday.
LINE Short Interest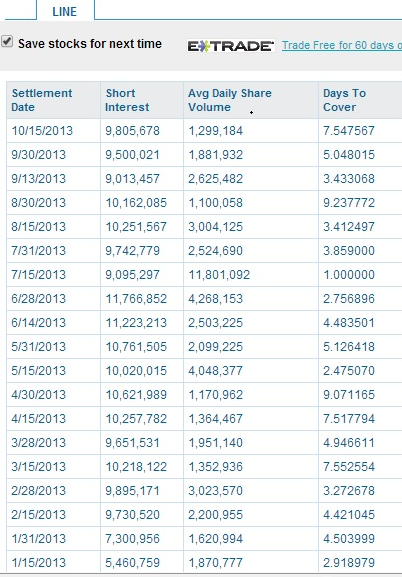 Source: Nasdaq
(3) The outcome for the BRY merger should be made clear on a scheduled Wednesday conference call. Even if it is called off, the outlook is for more energy growth at Linn Energy. Existing properties, the East Goldsmith Field and future acquisitions should bring increased distributions/dividends. Management has done well in Q3 given all the distractions (filings, etc.) not related to running an ongoing business activity while looking for properties to acquire.
But I'm also keeping my fingers crossed. Linn Energy is not for the faint-hearted.
Disclosure: I am long LNCO. I wrote this article myself, and it expresses my own opinions. I am not receiving compensation for it (other than from Seeking Alpha). I have no business relationship with any company whose stock is mentioned in this article.